Adidas faces lawsuit from Ye collab, L.L.Bean takes the month off and more
Plus: Shein tries to rebuild and diversify.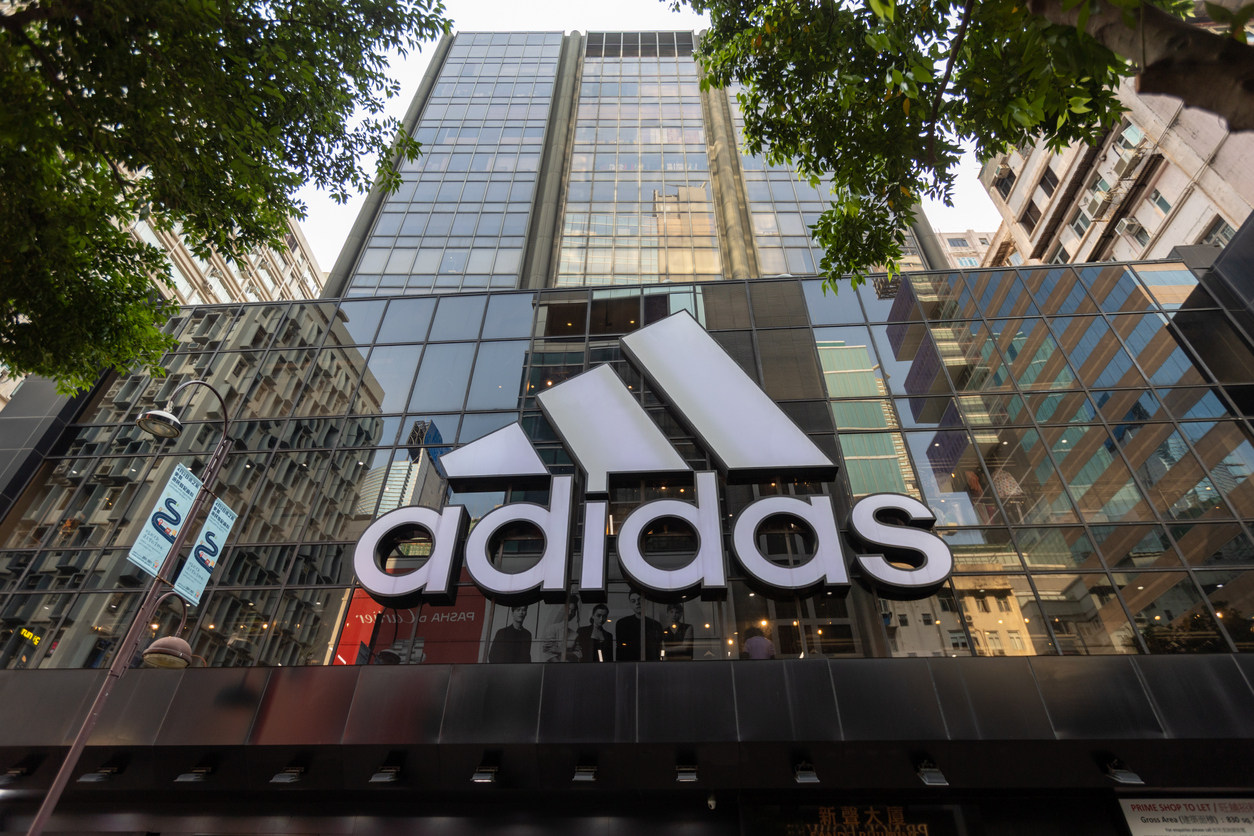 As the writers' strike brings Hollywood to a halt, some popular television shows are pausing for now, NBC News reported.  
The Writers Guild of America and the Alliance of Motion Picture and Television Producers' trade association are at opposite ends of the table as writers say they're grappling with an "existential crisis" caused by changes to the film and television industry, including the shift to streaming. As both sides are squabbling about who is right, in the meantime, fear not about what you'll watch. This opportunity means extra downtime for you and ways to get your brand more traction. As late night and other sources of entertainment go dark, you might find ways to grab that loose attention with a clever TikTok or video.  
And it's a reminder of the incredible power writers wield.   
Adidas faces lawsuit over Ye 
Some shareholders are coming for Adidas in a lawsuit over their failure to inform them about antisemitic comments made by Ye (formerly Kanye West) and reported bizarre antics, The Wall Street Journal reported.  
Ye and Adidas' Yeezy shoe partnership made up 8% of it's the company's yearly revenue. Their bottom line was impacted when that collaboration ended, the article adds.  
The article explains:  

The proposed class-action lawsuit, filed in U.S. District Court in Oregon on Friday, alleges former CEO Kasper Rorsted and Harm Ohlmeyer, the company's chief financial officer, were involved in disseminating false and misleading statements about Adidas's relationship with Mr. West, who legally changed his name to Ye.   

"Adidas was aware of his behavior," the lawsuit adds.  
An Adidas representative said in the article that they plan to "take all necessary measures to vigorously defend ourselves against them."  
Why it matters: This collaboration shows everything that could possibly go wrong with a brand partnership. Whether or not Adidas knew of Ye's repellent views and erratic behavior before it became public, they still clung to the rapper long after other brands cut bait. That association is going to cling for a long time – and could have legal ramifications. 
This is a reminder for everyone to carefully vet all influencers, spokespeople or collaborators. If they go rogue without warning despite your vetting, distance yourself as quickly as possible.  
Airlines are rebuilding trust after disastrous winter 
After some turbulence with airlines – primarily Southwest – canceling thousands of flights, trust is on the rebound with travelers, The Morning Consult reported.  
According to the survey, "smooth spring break trips" gave solace to some weary fliers.  
According to the survey, adults noted that their trust in airlines increased to 64% last month – an uptick of four points in comparison to February. And "intent to fly" is also seeing a boost.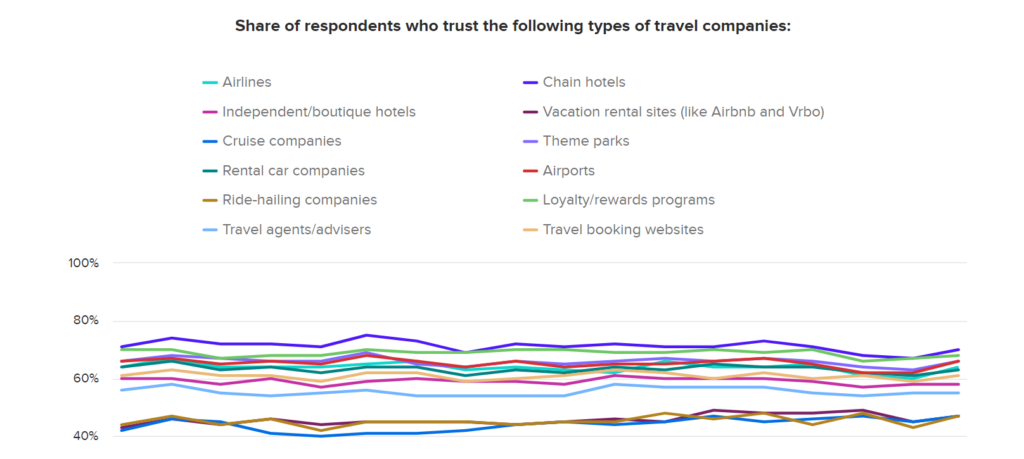 "The share of those with travel plans in the next three months who said they'd travel by plane rose 3 points month over month," the survey adds.  
Why it matters: Given the problems Southwest and various airlines faced, regaining the public's trust is a big factor for these brands recovering from the shaky territory last winter.  
Now with more travelers on board (pun intended) to fly, airline brands can breathe easier for now as they're bouncing back from a crisis with a better start to a new season. It looks like clear skies are up ahead. 
L.L.Bean takes a month off from social media  
L.L.Bean is hitting snooze on social media and pausing their updates during this month, according to a LinkedIn post.  
The outdoor apparel retailer's Chairman Shawn Gorman posted about being "off the grid" for May during Mental Health Awareness Month as part of its partnership with Mental Health America, per the post. It's the second year the company has gone silent during May. 
"I'll admit, initially I had some concerns," Gorman said. "Companies rely on their online presence to share brand stories and eliminating those activities for a day — much less a month — can be risky."  
Gorman said that he learned the power that nature provides and that being outside is healthy and impactful.   
"As we log off and head outside for Mental Health Awareness Month, we hope it inspires you to find some time to do the same," he posted.  
Gorman's post received over 21,000 reactions and 440 comments. The move has also garnered media coverage.  
Why it matters: L.L.Bean struck a chord with stakeholders and its community by posting about relatable matters involving ways to boost one's mental health. The brand's plans to be quiet for a month made a loud splash across the web because who doesn't love the outdoors? L.L.Bean not only recognized the significance of its actions with this month but it tied everything back to its mission of helping people "enjoy the outdoors." Whether you're supporting a cause or celebrating a month of meaning, find a way to genuinely connect it to your brand's core values and see the impact it makes.  
Shein looks to diversify its brand while swaying nonbelievers   
Shein's on trial in the court of public opinion.  
The New York Times reported on how the 10-year-old e-commerce clothing brand fell out of favor with people accusing them of taking advantage of import laws, contributing to landfill waste with its fast fashion and stealing other designers' styles as their own. The company is rebuilding its image and attempting to counter these claims.  
"We're trying to engage with lots of stakeholders," Peter Day, head of Strategy and Corporate Affairs at Shein, said in the article. "We're an emerging brand, and we've done a lot of things well. There are some things that we still need to learn how to do, and the best way to do it is to talk to the community."  
When fashion designer Justin Romero spoke against Shein copying clothes that looked similar to his fashion brand, per the article, Shein beefed up its messaging about their attempts to collaborate with designers. 
At a recent summit in Los Angeles, they emphasized this message regarding their efforts to "work with and not against them." 
The article adds that Shein wants to add diverse designers to its roster and develop a "pipeline of potential industry ambassadors" and has started doing so.  
Why it matters: Shein is overhauling its messaging in an attempt to appear more relevant and relatable to a more environmental crowd will be one to watch. While it's clear that you can't please everyone, Shein is trying to rethink the way it does business for stakeholders looking for something more. Consider ways to expand and better your brand and communicate that message loud and clear to those who think otherwise.    
Sherri Kolade is a writer at Ragan Communications. When she is not with her family, she enjoys watching Alfred Hitchcock-style films, reading and building an authentically curated life that includes more than occasionally finding something deliciously fried. Follow her on LinkedIn. Have a great PR story idea? Email her at sherrik@ragan.com. 
COMMENT
One Response to "Adidas faces lawsuit from Ye collab, L.L.Bean takes the month off and more"
Ronald N Levy

says:

Who's your buddy? Adidas is learning what Budweiser has learned even more painfully: Who you endorse, and who seems to be in bed with you (probably an unfortunate choice of words) can influence your sales as they say in wedding vows "for better or for worse."

Also for richer or for poorer but probably not until death do us part. Maybe only until top management asks "who got us into this relationship and when will we hire someone smarter?"

THEN. Years ago it was a quest for "gelt by association" when a company hoped to make money by tying corporate reputation and goodwill to the reputation and goodwill of an athlete or other celebrity. NOW top managements are keenly aware of the wisdom that people and companies are judged by the associates they keep.

PR wisdom that wins management's approval may be to endorse and associate with not just athletes and celebrities who can get you into trouble but with doctors, safety experts and even police who save lives and may help get your
company adored.

At Memorial Sloan Kettering Cancer Center, the world's top cancer hospital, awesome Dr. Prioty Islam and a team of her medical allstars is working to find a cure for myelodysplastic syndromes (MDS), a preleukemia. So three questions:

.1. Which sponsorship, Dr. Islam and her team or even the famed Aaron Judge and all the Yankees combined, could more likely bring your company worldwide acclaim as a hero of happiness for the public? Plus evening TV and major daily coverage of what the doctors and your company are doing to end one of the most common forms of cancer that threatens all of us?

.2. Which sponsorship, the athletes or the doctors, could bring your company grief and your job to an end caused by behavior the public disapproves?

.3. Which sponsorship, if a senior exec of your company ever needs one of the world's greatest cancer doctors, is most likely to secure for you a great job and your management's admiration for life?

If Budweiser had sent Sean Devlin a case of ale in time, he might have helped that company make good choices in answering the questions of who's your buddy and which Bud is for you.

Admittedly it might look odd for an ad to announce "this Islam is for you!"