Amazon launches social audio app, McDonald's and PepsiCo pause Russian operations and how podcast ad spending exploded in 2021
Also: RetailMeNot offers customers an extra dollar to shop during its Daylight Savings event.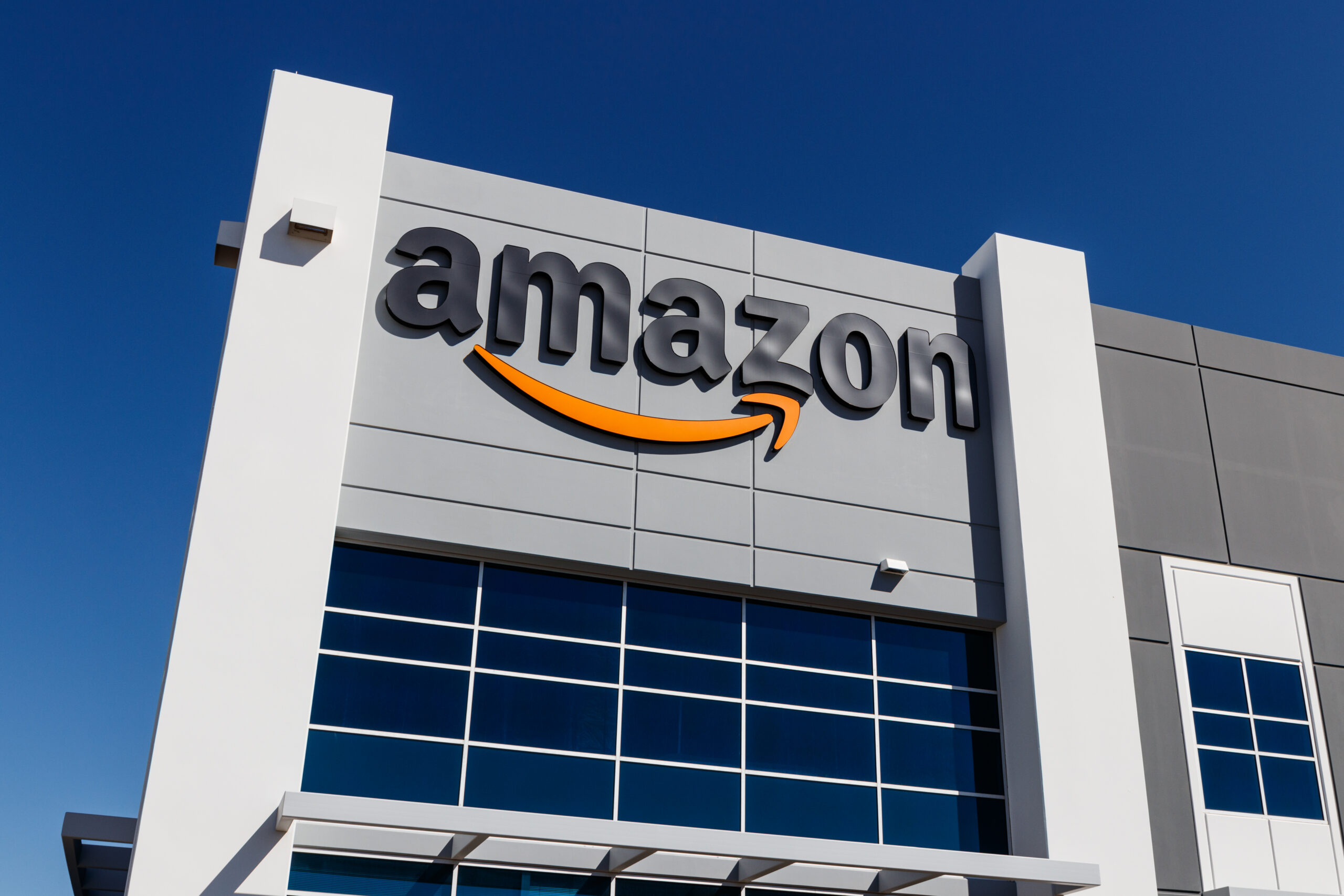 Hello, communicators:
Daylight savings is right around the corner, and RetailMeNot is offering shoppers a chance to make a buck while suffering through sleep deprivation.
During its first Daylight Savings event, the retail deals aggregator will offer exclusive coupons and cashback offers—plus an extra $1 to shoppers who create an account during the event.
"While the time change ushers in sunnier days ahead, no one likes to lose an hour of sleep or productivity. Especially when day-to-day life has become more expensive and people are feeling stretched, both mentally and financially," says Kristin McGrath, Shopping Expert at RetailMeNot. "With the Daylight Savings event, we're excited to give shoppers something to look forward to along with the opportunity to save money on everything they need this spring. Whether it's a new wardrobe to shake off the winter blues or a deal to book a deferred family vacation, there will be something for everyone."
Here are today's other top stories:
Amazon launches social audio app, Amp
This week, Amazon launched its answer to Clubhouse, the audio-only social media app that stormed into popularity last year.
The Verge reports that Amazon's "Amp" is "more about listening to music than sitting around and chatting." The Amp website offers users the opportunity to "create live, shared radio shows with the music they love."
Amazon is positioning this as more of a radio-style service than a live chat service (there's even a five-person cap on callers right now), which is probably for the best. Clubhouse and Twitter Spaces already have a big presence in the live audio space, and Facebook is taking a crack at it, too. But none of them have the music licensing agreements in place that Amazon does, and so those services have focused far more on conversations between hosts and guests. Amazon has a chance to let hosts do something very different here, giving everyone a shot at being something like a college radio DJ.
Amazon has partnered with radio and podcasting veteran Guy Raz of "How I Built This" and pop star Nicki Minaj to promote the venture.
I'm playing music and answering questions tonight 8PT/11ET on @OnAmp_ You can download AMP here https://t.co/zE4gxpMu6J and use access code GUYRAZ

— Guy Raz (@guyraz) March 9, 2022
Keep #QueenRadio in your tweets & I'll address this press release & other questions on my IG live @1PM PST 📻 we bouta get into some THANGZ!!! 😝

Oh, don't tell nobody but the secret code for #Barbz ONLY on the app IS nickiminaj 🤫 download it & I'll see you soon🎀@OnAmp_ pic.twitter.com/jBfklGyZ5w

— Nicki Minaj (@NICKIMINAJ) March 8, 2022
The app is currently in beta, which means users will need an invitation to join.
Why it matters: Amazon's venture into social audio follows the rising popularity of Twitter's Spaces and the slow growth of "Reddit Talk." Brands should take these platforms into consideration when deciding which social media channels to join and use for audience engagement and marketing. Amp offers something a little unique in the social audio sector, so be on the lookout for the app to take off once it's past its beta stage.
---
MEASURED THOUGHTS
Research from Insider Intelligence's eMarketer shows BetterHelp topped the charts in podcast ad placement spending last year, shelling out $76.9 million.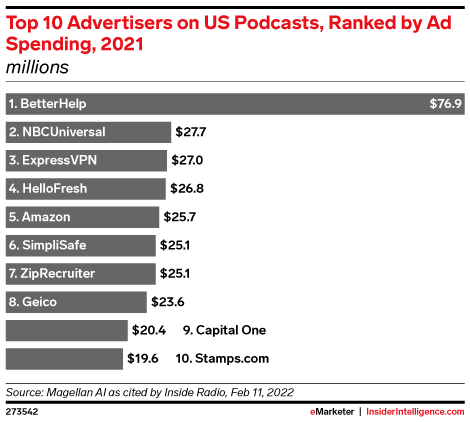 BetterHelp's ad spending was nearly triple that of its nearest contender for the top spot, with NBCUniversal paying $27.7 million.
Podcast ad spending swelled in 2021, with the top 10 podcast advertisers investing more than double the $145 million they spent in 2020.
How are you looking to engage with podcast audiences? Be sure to let us know what you are thinking in the comments or tweet @PRDaily.
View more from Insider Intelligence here.
---
TAKE OUR SURVEY
We want to know about your career as a social media professional.
How big is your team? Are you valued at your organization?
If you're interested in helping benchmark the career path potential of social media professionals and shedding light on how social media is internally managed, viewed and evaluated, take our survey. The Social Media Career Survey is a follow-up to a 2020 report by the Institute for Public Relations, Ragan Communications and the University of Florida.
Whether you're in charge of company social media or involved in social media for a client, we welcome your participation.
Respondents will receive a full report on the findings, which will also be shared on PR Daily.   Responses will remain confidential.
Fast-food and beverage chains respond to criticism of Russia operations
McDonald's, Starbucks, PepsiCo and Coca-Cola have halted sales in Russia following days of pressure from consumers and government officials.
In a statement sent to employees, PepsiCo CEO Ramon Laguarta acknowledged the company's history in the region, dating back to the height of the Cold War, writing that the beverage company "helped create common ground between the United States and the Soviet Union." Laguarta pins the current sales pause on "horrific events occurring in Ukraine."
Kevin Johnson, Starbucks CEO, wrote to stakeholders yesterday as well. The publicly shared statement says Starbucks will close its Russian stores and "provide support to the nearly 2,000 partners in Russia who depend on Starbucks for their livelihood."
McDonald's will also continue to pay its Russian employees amid the temporary shuttering of its Russia-based restaurants.
McDonald's has long played a symbolic role in Russia as well. The chain opened its first location in the Soviet Union 32 years ago in Moscow, months before the state collapsed.

"In the thirty-plus years that McDonald's has operated in Russia, we've become an essential part of the 850 communities in which we operate," Kempczinski wrote in his letter. "At the same time, our values mean we cannot ignore the needless human suffering unfolding in Ukraine."
What you should know: Public opinion matters to brand reputation. While closing hundreds of restaurant locations may not be as simple as pausing retail operations, these major multinational companies' hesitancy to halt business in Russia might have come across as putting profit before people in the face of Putin's unprovoked aggression.
Taking action to show where your organization stands can mean the difference between being seen as supporting a dictator and standing with innocent people.
COMMENT