Apple addresses EU antitrust lawsuit, Amazon ends paid COVID-19 leave and tech companies get the blame on internet security issues
Also: Goodable asks Twitter users to pick celebrities for a dinner party and Paramount takes down fan-made Spongebob film.
Hello, communicators:
Imagine having dinner with Dolly Parton, Ryan Reynolds and LeVar Burton.
That's exactly what positive news app Goodable recently asked Twitter users to do. The brand tweeted photos of 16 fan-favorite celebrities and told users to pick three figures to have dinner with:
You can have dinner with three of the most Goodable people on this list.

Who do you choose? pic.twitter.com/F1ys5DpaPs

— Goodable (@Goodable) May 1, 2022
The tweet garnered more than 4,400 replies and nearly 6,000 retweets. It's a great example of how to get your audience to engage with your brand in a way that encourages conversation.
Who would you choose? Let us know on Twitter @PRDaily.
Here are today's other top stories:
Apple defends Apple Pay as "easy and secure" following E.U. antitrust charges
The European Union is continuing its crackdown on tech and social media companies. Its latest lawsuit claims Apple "has abused its dominance in consumer electronics by not allowing PayPal and others to access technology in the iPhone and Apple Watch," according to The New York Times.
The charges against Apple, following an investigation that began in 2020, were announced in Brussels on Monday by Margrethe Vestager, the European Commission executive vice president in charge of antitrust enforcement. Apple will now have a chance to respond before a final judgment is announced. The company could be fined up to 10 percent of its global revenue. It could also reach a settlement with regulators.
"Apple Pay is only one of many options available to European consumers for making payments, and has ensured equal access to NFC while setting industry-leading standards for privacy and security," Apple's statement to the Times reads. "We will continue to engage with the commission to ensure European consumers have access to the payment option of their choice in a safe and secure environment."
Why it matters: Apple's response to the lawsuit indirectly acknowledges the allegations without actually addressing the lawsuit itself, reinforcing the company's stance that it has not broken the law. The E.U.'s latest crackdown on a major tech company is indicative of growing global backlash against big tech and social media companies amid concerns about personal and data privacy.
---
MEASURED THOUGHTS
A new report from Morning Consult indicates that Americans think social media and tech companies share more responsibility for creating a secure internet than the U.S. government.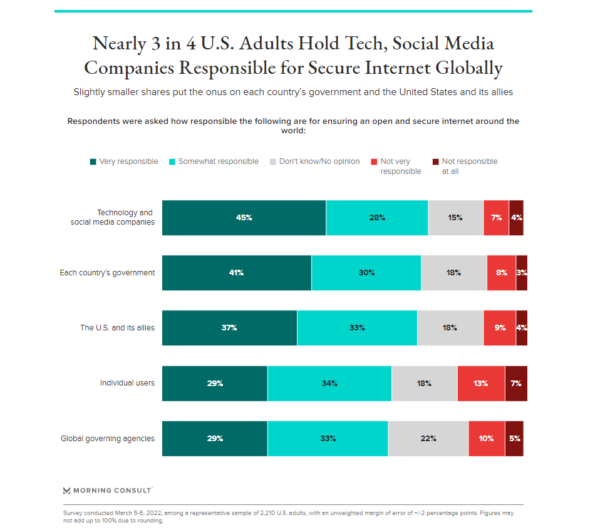 Seventy-three percent of poll respondents said technology and social media companies are "very" or "somewhat" responsible for "ensuring an open and secure internet around the world," while 71% said the same of individual country governments and 70% said the same of the United States and its allies.
The data speaks to the power and importance of social media and technology companies — and Americans' expectation that they use that power for the good of society.
Read more from the Morning Consult report here.
---
#ICYMI
This weekend, diehard fans of the long-running TV show "Spongebob Squarepants" gathered around their computer monitors to watch a fan-made movie about the squishy yellow character and his star-shaped best friend.
To their dismay, the premiere of the movie was cut short when the video was abruptly removed from YouTube. What remained was a black screen with a message saying that Paramount, which owns the Spongebob character and intellectual property, had blocked the video on copyright grounds:
one of the most anticipated fan projects 2 years in the making… gone like 30 minutes during its premiere

eat shit viacom and paramount#JusticeForSpongebob pic.twitter.com/HmlV5fa5OU

— metal 🐉 (COMMS OPEN) (@a_Mr_Metal) May 2, 2022
Fans were unhappy, to say the least, as #justiceforspongebob trended on Twitter.
oh, so Viacom can't read? #JusticeforSpongebob pic.twitter.com/8mrBJHZP0O

— Blood Hacker (@knee_ahhh) May 2, 2022
Literally hasn't even been a HOUR! This is disgusting. Two whole years of work blocked cause some dumb businessmen don't know how copyright works. #JusticeForSpongebob #SBRehydrated pic.twitter.com/YmtEdHTrzG

— S.S.R The Mighty Gatekeeper (@SSRGatekeeper) May 2, 2022
As of publication, Paramount has not publicly addressed the issue. The fan reaction is a reminder of the increasingly complicated relationships between brands and fans who feel they own a piece of their favorite products and companies. You might have the right to take down a piece of content that infringes on copyright, but that doesn't always mean it's the best option.
Amazon ends paid COVID-19 leave for employees
Amazon will no longer give its employees paid time off for COVID-related absences, the company announced this weekend.
The Verge reports an Amazon internal memo indicates that the company will now offer five days' worth of unpaid, excused leave.
Amazon initially offered 14 days of PTO at the start of the pandemic, but later shaved one week off this policy in line with the Center for Disease Control's (CDC) updated guidance. The company now says workers with "confirmed" COVID-19 cases can submit a request for paid time off per its "standard sick leave policy," regardless of vaccination status. It will also stop giving workers excused time off when waiting for their COVID-19 test results, citing the wide availability of rapid tests.
"The sustained easing of the pandemic, ongoing availability of COVID-19 vaccines and treatments, and updated guidance from public health authorities, all signal we can continue to safely adjust to our pre-COVID policies," the memo reads, as reported by The Verge. "We are monitoring conditions closely and will continue to adjust our response as appropriate."
What it means: Companies that regularly deal with accusations of employee mistreatment should be wary of communicating policies that may negatively affect their workforce — especially when it comes to health and safety. Amazon's statement allows some wiggle room, noting that the company will "continue to adjust our response as appropriate," which could mean walking back the policy if the facts change about the current state of the pandemic.
---
ATTEND OUR MEDIA RELATIONS CONFERENCE
Join us in New York City on May 11 for a one-day, in-person conference all about media relations and measurement.
At PR Daily's Media Relations & Measurement Conference, you'll learn how to score the coverage your brand deserves and generate results—and then showcase those results to management. You'll also learn the latest measurement tools and methods for everything from internal comms and media relations to social media.
Each attendee will receive a Media Relations & Measurement Conference Certificate of Completion.
Register here before April 27 to receive a special attendance rate.
COMMENT