Apple pauses all product sales in Russia, consumers want corporations to foot the bill on climate change and Ukrainian PR pros fight misinformation
Also: NBA star LeBron James teams up with Fruity Pebbles and Nike for exclusive sneaker release.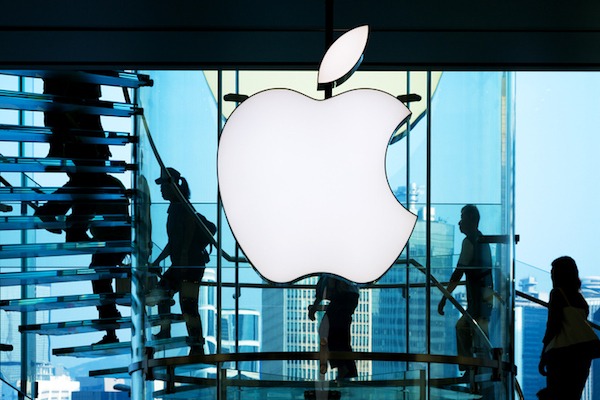 Hello, communicators:
You might not want to put your foot in your mouth, but Fruity Pebbles is hoping its sneaker drop with Lebron James will still be tasty.
The three-way collaboration (Lebron, Nike and Post's Fruity Pebbles) is meant to promote the cereal brand's new variety, Magic Fruity Pebbles, for National Cereal Day on March 7.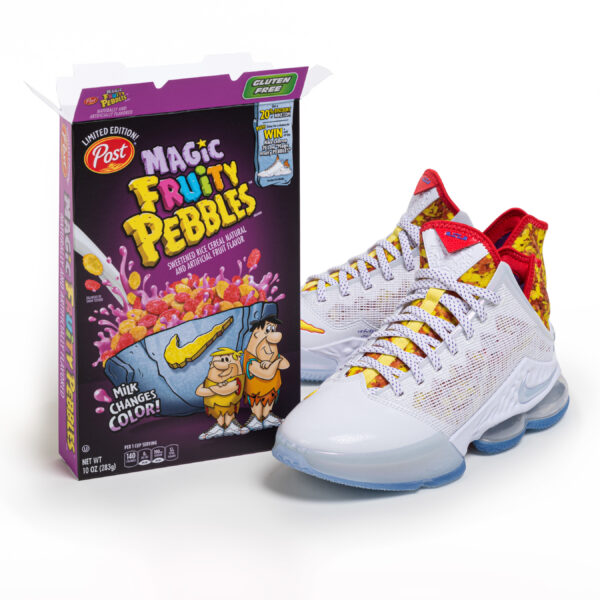 "The PEBBLES brand is all about finding new ways to surprise and excite fans," said Leah Broeders, Head of Licensing for PEBBLES cereal. "We're thrilled to be partnering with Nike to launch this one-of-a-kind color-changing collab just in time for National Cereal Day. When we learned that LeBron was a HUGE fan of the cereal when he was a kid, we knew this was a no-brainer. It's truly the biggest partnership since the stone ages!"
A celebrity partnership and nostalgia marketing? Yum.
Here are today's other top stories:
Apple shuts down product sales in Russia
Apple announced this week it will no longer sell its products in Russia in response to the country's invasion of Ukraine, becoming the latest Western company to distance themselves from Russia.
While Apple doesn't have any physical stores in Russia, all products on the online Apple Store are now listed as "unavailable."
Apple joins Nike and Dell, among other businesses, in pulling its online products from the country.
"We have taken a number of actions in response to the invasion. We have paused all product sales in Russia. Last week, we stopped all exports into our sales channel in the country. Apple Pay and other services have been limited. RT News and Sputnik News are no longer available for download from the App Store outside Russia. And we have disabled both traffic and live incidents in Apple Maps in Ukraine as a safety and precautionary measure for Ukrainian citizens," an Apple spokesperson told CNBC in a statement.
What it means: Major multinational companies are feeling pressure to respond to Russia's unprovoked invasion to the Ukraine. A recent Morning Consult study found that most Americans are in favor of businesses cutting ties with the country completely. In this case, taking a stand on a political issue also means taking a stand on a humanitarian issue; Consumers around the world have decided that what Russia is doing is wrong, and expect companies to take action.
---
MEASURED THOUGHTS
New Morning Consult data shows people would prefer companies to cough up the funds to fight climate change, rather than funding the effort through raising prices on consumer goods.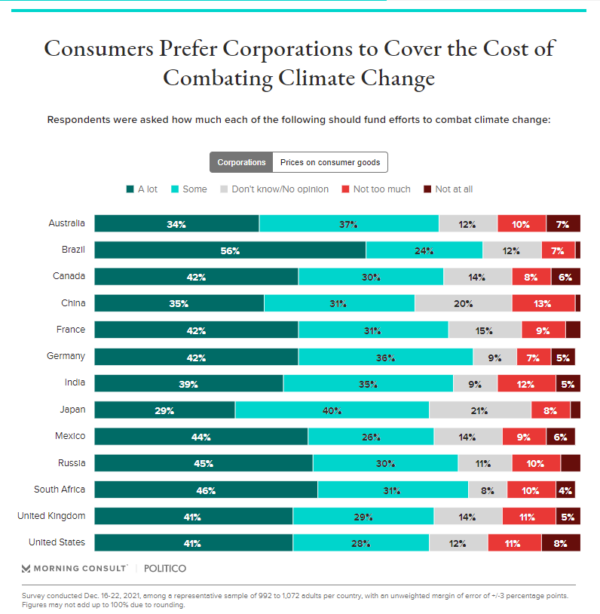 Morning Consult's Jason McMann writes that the dollar amount needed to reach the United Nations' goal of net-zero carbon emissions by 2050 is $9.2 trillion a year—"an increase that's equal to half of annual global corporate profits for 2020."
Communicators face a quandary here: Does the responsibility to be transparent about price increases outweigh the fact that consumers overwhelmingly do not want to foot the bill for companies' green efforts?
To avoid having to make that choice, McMann suggests that companies move quickly to adopt green practices while the price of doing so is still relatively affordable.
"…those that do move fast and early to green their supply chains are likely to secure long-term benefits in the form of greater market share, as long as they are able to bear the upfront costs," McMann writes. "By contrast, late movers and companies that don't heed consumers' price hesitancy risk ending up green with envy."
Download the full report from Morning Consult here.
---
TAKE OUR SURVEY
We want to know about your career as a social media professional.
How big is your team? Are you valued at your organization?
If you're interested in helping benchmark the career path potential of social media professionals and shedding light on how social media is internally managed, viewed and evaluated, take our survey. The Social Media Career Survey is a follow-up to a 2020 report by the Institute for Public Relations, Ragan Communications and the University of Florida.
Whether you're in charge of company social media or involved in social media for a client, we welcome your participation.
Respondents will receive a full report on the findings, which will also be shared on PR Daily.   Responses will remain confidential.
Ukrainian PR pros create online media repository to fight misinformation
Communications professionals in Ukraine have created a Google form where journalists can request verified first-hand information, photos and videos from eyewitnesses in Ukraine.
Journalists can request on-the-ground information by filling out the form, and can expect to receive "truthful, undoctored" content from the comms pros running the effort, per the press release shared with PR Daily.
"Before February 24th, 2022, we were communication specialists in different companies," the press release says. "But due to Russian terror in our homeland, we had to leave our jobs and unite our power to protect our land on the information front. We are volunteering to give the voice of truth from Ukraine. Because we believe that its power is stronger than lying Russian propaganda. Now we connect the media with the eyes, ears, voices, and minds of Ukrainians who had to fight for sovereignty and democracy values in the 21st century."
Why it matters: To journalists, information is currency. In times of war and government upheaval, it can be difficult to verify witness accounts, photos and videos if reporters are unable to be on the ground capturing them themselves. This is a good faith effort by PR pros to volunteer their time—and potentially risk their personal safety—to make sure reporters are getting accurate, nonbiased information.
It's also an example of how PR pros can become essential resources for journalists by prioritizing accurate information, and assets to help tell compelling stories.
COMMENT