Arctic winds offer a Texas-sized lesson in crisis communications
An agency leader reflects on the takeaways from the crisis that left thousands of Texans without power as cold temperatures shut down power plants and compromised water treatment facilities.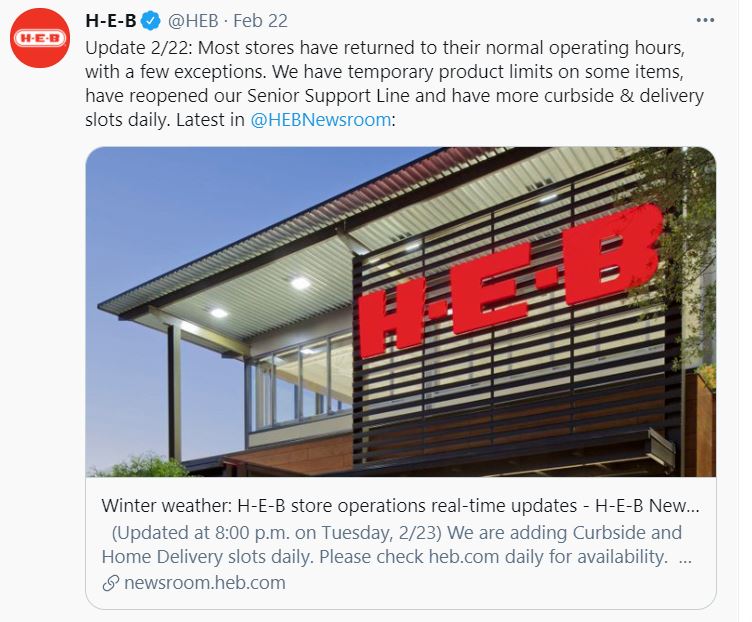 Following the recent winter snowstorm that gripped Texas, many companies are using the experience to prioritize communications and crisis preparedness.
The brands that will be most successful in 2021 are no longer treating their customers as transactional, but as part of their community. Companies who win in the long run have a deeply knitted, purposeful relationship with stakeholders. They see customers as part of their brand and rooted in their core values – a true asset they will invest in to protect.
A great example of a purpose driven brand is Texas-based retail grocery chain H-E-B. The company has proven time and time again to be a vital, reliable source that their customers, employees and communities can rely on in any situation. This recent crisis was no different.
H-E-B, referred to as "the moral center of Texas," communicated with both internal and external audiences to set expectations that accounted for the health and welfare of everyone. They were a lifeline when the community needed it – sharing resources and messages in an efficient manner to ensure all audiences with or without power were reached.
H-E-B is paving the way for how companies should communicate to become a more trustworthy brand and provide vital support within its communities.
While the severe weather briefly interrupted the food supply chain, our stores remain open and H-E-B trucks are back on the road! Hear more from our President, Craig Boyan, on what you can expect in the days to come as we help Texas: https://t.co/POlIppo8os#TexansHelpingTexans

— H-E-B (@HEB) February 19, 2021
We're thankful for #TexansHelpingTexans across the state taking care of our Partners during this weather, like this couple who helped our @Favor Runner! @CNN https://t.co/C9c7YCcP3q

— H-E-B (@HEB) February 20, 2021
Update 2/22: Most stores have returned to their normal operating hours, with a few exceptions. We have temporary product limits on some items, have reopened our Senior Support Line and have more curbside & delivery slots daily. Latest in @HEBNewsroom: https://t.co/qsxmK2Ohbn

— H-E-B (@HEB) February 22, 2021
When the unexpected happens, it exposes many businesses' underlying issues. And often, communication falls by the wayside as companies are frantically addressing these issues, which can create a crisis on top of a crisis. For example, while Electric Reliability Council of Texas (ERCOT) providers were communicating with elected leaders and the broader news media about an unprecedented power crisis, many customers felt left in the dark on what could be considered life-saving questions. Consider these takeaways:
Be aware of potential business issues and what normal expectations your stakeholders might have of your brand in a crisis. You must plan for the worst and unexpected scenarios and know how your leadership and business will respond.
History repeats itself. When crisis planning, audit past crises that have affected your company and evaluate how leadership responded at the time. Learn from what they did well and what could have been done better. Audit your category of business to understand what crises other brands endured and how they have managed. It's rare, but Texas had past winter storms that caused disaster and destruction that leaders could have used to plan "what if" scenarios.
You want to be empathetic in a time of a crisis. ERCOT's tweets during the crisis were a further misstep, coming across as insensitive and inappropriate. Consider your tone and the needs of your audience.
A good communicator knows that social media drives news and news drives social media – it's a crisis whirlpool. For ERCOT, it was the perfect storm, a combination of exposed business issues with an inadequate response plan and poor communication. As a result, consumer trust was lost. Once that trust is broken, it's hard to regain.
Close your blinds to conserve heat. You already know what it looks like outside. #conserve pic.twitter.com/XApaVOBXQD

— ERCOT (@ERCOT_ISO) February 14, 2021
Unplug the fancy new appliances you bought during the pandemic and only used once. #conserve #stopphantomenergy pic.twitter.com/pq33K9sF5O

— ERCOT (@ERCOT_ISO) February 14, 2021
Laundry on Valentine's Day? No. #conserve #dontuseappliances pic.twitter.com/U7MO4SrNqR

— ERCOT (@ERCOT_ISO) February 14, 2021
While brands are treating crisis communications more seriously than ever, they need to remember their core values when determining a response and the role communications plays with all audiences.
In a crisis, leadership need to be able to make decisions quickly. The best way to do this is to filter decisions through your brand's core values. If the direction aligns with your core values, vision/mission or purpose keep moving forward. If it doesn't, go another direction.
A communicator's basic survival kit should include a clear response process, access to the right tools to communicate (social media, text messaging, community posts, etc.) and a crisis communications engagement guide. This will help ensure you aren't stuck in the middle trying to untangle a mess and convince leadership how to respond. Whether it's internal or external, make sure to expect the unexpected and keep your community updated in a timely, effective manner.
Jessica Nunez is founder and president of TruePoint Communications. Connect with her on LinkedIn.
COMMENT