Brands cash in on March Madness NIL deals, customers bash Netflix's efforts to prevent account sharing and why PR pros should value Twitter 'lurkers'
Also: Grape-Nuts marks Women's History Month by financially supporting female explorers.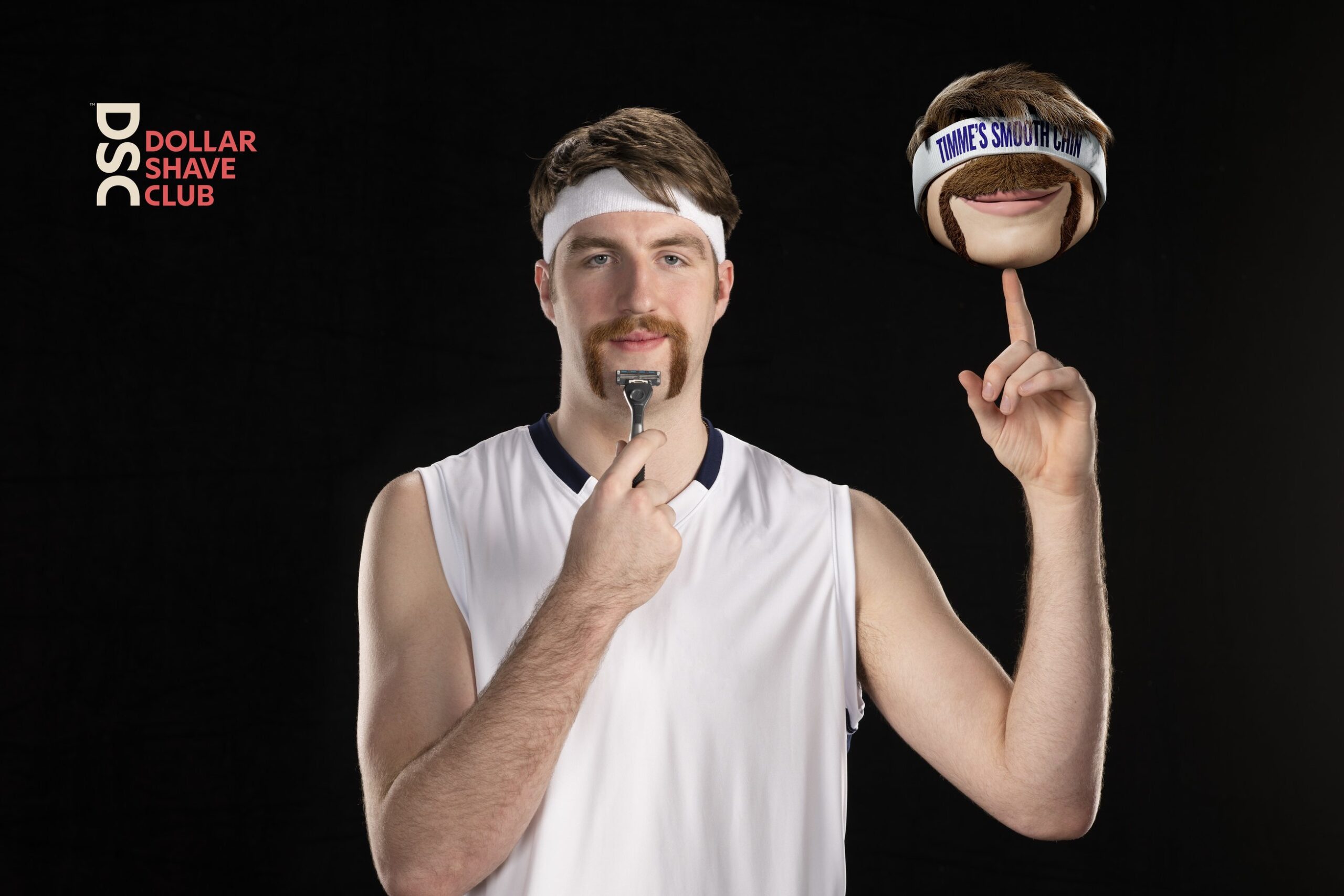 Hello, communicators:
In honor of Women's History Month, Grape-Nuts will award money to 10 female adventurers who are seeking support in their quests to explore Mount Everest and Antarctica.
The 125-year-old cereal brand has a history of working with explorers and adventurers. It sponsored Sir Admiral Byrd's historic 1933 expedition to Antarctica, as well as Edmund Hillary and Sherpa Tenzing Norgay's 1953 Mount Everest climb.
"Throughout history, Grape-Nuts has inspired modern-day pioneers to rise up and make history," said Lauren Jamnick, Grape-Nuts' associate brand manager. "One hundred and twenty-five years later, I'm thrilled to say that we're still fueling adventures — and now we're even breaking glass ceilings. We're so proud to have fueled pioneering adventures from the likes of Sir Admiral Byrd in the past, but the opportunity to support female explorers as they take those first bold steps towards breaking new ground is truly an honor. Onwards and upwards!"
Grape-Nuts will award a total of $125,000 to female adventurers who are seeking financial support through GoFundMe.
Here are today's other top stories:
Brands, college athletes cash in on March Madness
NPR reports that brands are predicted to spend about $600 million on sponsorship deals with college athletes by the first anniversary of the NCAA's new name, image and likeness (NIL) policy for student-athletes.
The March Madness men's college basketball tournament officially begins today, while the women's tournament starts Friday. CBS Sports and Turner Sports will carry the men's games, while women's games will air on ABC and ESPN (both Disney properties). CNBC reports the networks say ad slots are completely sold out for the men's tournament.
While TV ads have long been a lucrative way for brands to grab attention during the popular tournament, NIL deals provide another avenue for companies looking to capitalize on the popularity of college sports.
Here's a quick list of just a few of the men's and women's college basketball players who have nabbed NIL deals ahead of the tournament, as detailed by NPR, VolsWire and Boardroom.
Drew Timme, Gonzaga University—Dollar Shave Club
Adrien Nunez, University of Michigan—Amazon, Coach, Spotify
Brock Jancek, University of Tennessee—Sheets & Giggles
Aliyah Boston, University of South Carolina—Bojangles, Bose, ProSolar
Paige Bueckers, University of Connecticut—StockX, Gatorade, CashApp
Rhyne Howard, University of Kentucky—Reebok, Direct Auto Insurance
Why it matters: Influencer marketing is nothing new for brands looking to find dynamic, original spokespeople. By taking advantage of the NCAA's new rules on NIL deals and partnering with college athletes, companies can easily reach new demographics and boost their brand awareness with social media content and partnership as the basketball season reaches its annual fevered finale.
---
MEASURED THOUGHTS
New polling from Pew Research shows that Twitter "lurkers" are more likely than frequent tweeters to use the app to stay informed and seek out differing points of view.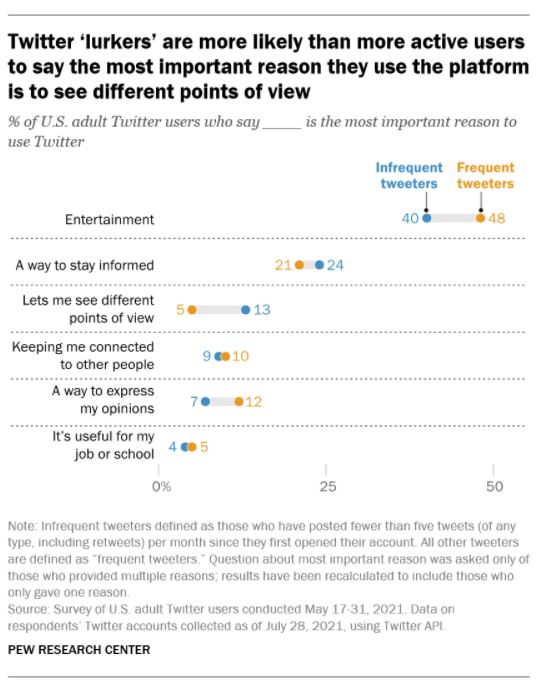 Pew defines Twitter lurkers as adult users who have posted an average of fewer than five tweets per month since they opened their account.
"[L]urkers are more likely than more frequent users to say they visit the platform because it lets them see different points of view: 13% say this is their main reason for visiting the site, compared with just 5% of more active tweeters," the report says.
It's an important reminder that your audience on social media is not just made up of the people who respond to your content. There are many more people who view your posts and don't interact further on the platform, but still have consumed your messaging.
View more from Pew Research here.
---
TAKE OUR SURVEY
We want to know about your career as a social media professional.
How big is your team? Do you feel valued at your organization?
If you're interested in helping benchmark the career path potential of social media professionals and shedding light on how the discipline is internally managed, viewed and evaluated, take our survey. The Social Media Career Survey is a follow-up to a 2020 report by the Institute for Public Relations, Ragan Communications and the University of Florida.
Whether you're in charge of company social media or involved in management for a client, we welcome your participation.
Respondents will receive a full report on the findings, which will also be shared on PR Daily.   Responses will remain confidential.
Twitter users slam Netflix push to end account sharing
Streaming giant Netflix announced it has begun testing a feature that will require users to pay extra to share their accounts with people outside their households.
According to the Netflix terms of service, a customer's account "may not be shared with individuals beyond your household." After years of turning a blind eye to password-sharing behavior that falls outside that requirement, the company last year ran a limited test prompting users to enter their account credentials as a way to nudge freeloaders into paying for their own accounts.
In a company blog post, Chengyi Long, director of product innovation for Netflix, names multi-household accounts as a barrier to "our ability to invest in great and new TV and films for our members."
Netflix users took to Twitter to voice their opposition to the move:
Let me tell you something…. Netflix don't slap enough to be making demands https://t.co/KTR65NVZ2P

— So_a_king 🤌🏿 (@solomonmissouri) March 17, 2022
I will soon launch a test where if Netflix does this I cancel the service pic.twitter.com/81TOYUHmTQ

— ostonox (@ostonox) March 16, 2022
Netflix trying their best to lose subscribers https://t.co/bNTG2js4Js

— kira 👾 (@kirawontmiss) March 17, 2022
What you should know: Netflix's potential new feature would change the way people use the service—and drive a major increase in revenue for the company. If Netflix were to decide to permanently implement the changes worldwide, this preemptive backlash is just a preview of how customers might react.
It's a good reminder to use those social listening tools, but make sure to offer comms counsel that is rooted in the fundamentals of the business.
COMMENT