Clubhouse nixes SXSW appearance, sports fans split on teams' ties to Russia and Rivian CEO's apology letter walks back unexpected price increases
Also: Hotels.com found out just how many of you want to soak in the tub on vacation and more.
Hello, communicators:
Who doesn't love a good, long soak in a bathtub at a nice hotel?
New analysis from Hotels.com shows searches for hotel rooms with tubs have increased by 35% in the last three years, showing travelers still love their bath time.
"The pandemic impacted nearly every aspect of our lives, including how we search for our next hotel stay," said Mel Dohmen, senior brand manager at Hotels.com. "The amenities we love and are looking for in 2022 reflect everything we've felt and experienced over the past few years. From hotels that helped us relax and take the edge off to those that complemented new hobbies like cooking and skiing, there's a lot to learn about where travelers are going this year based on how they search for the perfect hotel stay."
The campaign shows how you can drive media stories with proprietary user data—particularly when you can use that data to explain hot trends in the market.
Here are today's other top stories:
Clubhouse backs out of SXSW over Texas' discriminatory LGBTQ+ policies
Social audio company Clubhouse announced this week it won't send representatives to this year's South by Southwest (SXSW) conference in Austin, alluding to Texas Gov. Greg Abbott's recent orders to investigate the families of transgender children.
"We realized we wouldn't feel comfortable asking LGBTQ+ voices from the Clubhouse community to come to Texas…and if we feel that way, we shouldn't be there at all," the company shared on its official Twitter account.
instead, we'll be holding our panel "The Power of Voice" in Clubhouse and donating SXSW travel costs to local organizations. we're also going to hold a series of rooms supporting trans speakers and creators 🏳️‍⚧️

— Clubhouse (@Clubhouse) March 2, 2022
A subsequent tweet described how Clubhouse will instead donate funds to local organizations, host its panel on its own audio-only app and plans to "hold a series of rooms supporting trans speakers and creators."
Maya Watson, head of marketing for Clubhouse, followed up with a tweet inviting other brands to forego the conference and host panels on the Clubhouse app instead:
This was an easy decision and welcome and support brands, talent and other panels to host on @clubhouse. https://t.co/rgpOwJXQQz

— Maya (@mayawatson) March 2, 2022
Why it matters: With several states adopting restrictive and controversial LGBTQ legislation, companies that have openly supported the LGBTQ community are faced with a choice. Some are starting to keep track of the companies supporting and engaging with lawmakers that are pushing bills that critics say are causing real harm in their communities.
Companies and organizations rallied against states that passed controversial bathroom laws that targeted trans Americans and Clubhouse's move could signal more companies rethinking their investments.
---
MEASURED THOUGHTS
A survey from Morning Consult shows Americans are split 50/50 about whether they'd boycott their favorite sports team if it had a sponsorship agreement with a company with ties to the Russian government.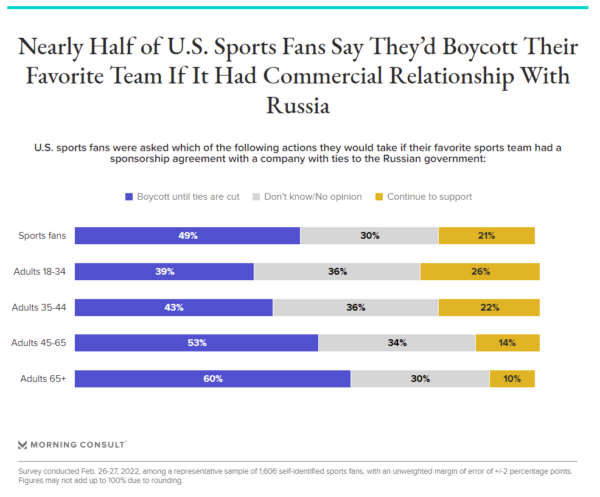 On average, 49% of respondents said they would boycott their team until sponsorship ties were cut, while 21% said they'd continue to support their team. Thirty percent of respondents said that they didn't know or had no opinion.
Morning Consult's Alex Silverman reports:
The most notable example of an American sports entity caught up in the fallout from the invasion is the Haas F1 Team, the lone U.S.-based team competing in the mostly European Formula 1 racing series. Haas added Russian fertilizer producer Uralkali as a title sponsor prior to the 2021 season and named Nikita Mazepin, son of Uralkali co-owner Dmitry Mazepin, as one of its two drivers. The elder Mazepin has close ties with Putin and even met with the leader on Thursday following the start of the Ukraine invasion. In preseason testing last week, Haas stripped its car of Uralkali branding and its Russian flag-themed livery, but has yet to determine whether Mazepin will keep his spot on the grid.
Many U.S.-based multinational companies have already moved to sever ties with Russian businesses and its government, including Apple, Google and Nike.
View the full report from Morning Consult here.
---
TAKE OUR SURVEY
We want to know about your career as a social media professional.
How big is your team? Are you valued at your organization?
If you're interested in helping benchmark the career path potential of social media professionals and shedding light on how social media is internally managed, viewed and evaluated, take our survey. The Social Media Career Survey is a follow-up to a 2020 report by the Institute for Public Relations, Ragan Communications and the University of Florida.
Whether you're in charge of company social media or involved in social media for a client, we welcome your participation.
Respondents will receive a full report on the findings, which will also be shared on PR Daily.   Responses will remain confidential.
Rivian backtracks on price increases after outrage from preorder customers
Electric vehicle company Rivian is reversing the price increases it announced earlier this week for people who had preordered its electric pickup truck and SUV.
TechCrunch first reported that the company announced it would raise the price of its pickup by 17% and its SUV by about 20%, pushing their respective base prices to $79,000 and $84,000. At that point, Jiten Behl, chief growth officer for Rivian, blamed the sizeable increase on "inflationary pressure, increasing component costs, and unprecedented supply chain shortages and delays for parts (including semiconductor chips)."
Customers were not happy, some of whom had placed their order years before a single car came off the assembly line.
There are price hikes that sting, there are price hikes that are offensive, and then there are price hikes that verge on sociopathic. My R1T going from $74,950 up to $92,700 overnight is the latter.

— Bradley Kent (@bradley_kent) March 1, 2022
Two days later, Rivian CEO RJ Scaringe published a letter to customers addressing the "broken trust" that the price increases had caused.
"As we worked to update pricing to reflect these cost increases, we wrongly decided to make these changes apply to all future deliveries, including pre-existing configured preorders," Scaringe wrote. "We failed to appreciate how you viewed your configuration as price locked, and we wrongly assumed the announced Dual-Motor and Standard battery pack would provide configurations that would deliver price points similar to your original configuration. While this was the logic, it was wrong and we broke your trust in Rivian."
Scaringe also acknowledged that the company's comms strategy could have been better, writing that it didn't give consumers enough insight into the rationale for the price hikes.
Now, Rivian says it will honor the original price for all preorders placed prior to March 1, and offers to reinstate original pricing for customers who had canceled their preorders following the price hike news.
What you should know: Even for consumers who can afford a luxury electric vehicle, an unexpected price increase of nearly $20,000 is often untenable. Scaringe's letter offers an exemplary mea culpa as the car company tries to rebuild trust with audiences that feel betrayed by the price hike. Not only does the letter take responsibility for the company's mistake, it explains why it happened and why it's being reversed in great detail. Comms pros should look to Scaringe's letter as a great example of audience-first CEO messaging.
COMMENT