Coinbase tries to walk back CEO tweets, YouTube the top short-form video content platform and Meta launches Facebook Reels globally
Also: Leinenkugel sells out of goofy heated shorts in stunt to promote Summer Shandy.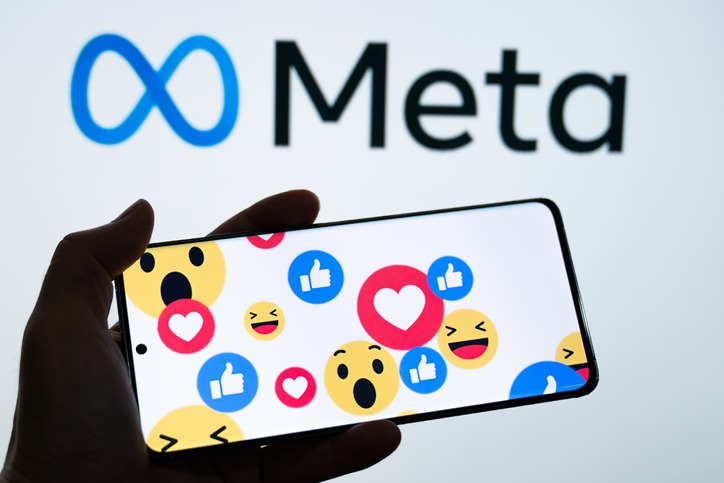 Hello, communicators:
We all know a guy who wears shorts year-round, no matter the weather.
Apparently, all those guys got together and bought up all of Leinenkugel's latest product—a pair of rechargeable, heated unisex "Shandy Shorts"—in less than two hours earlier this week.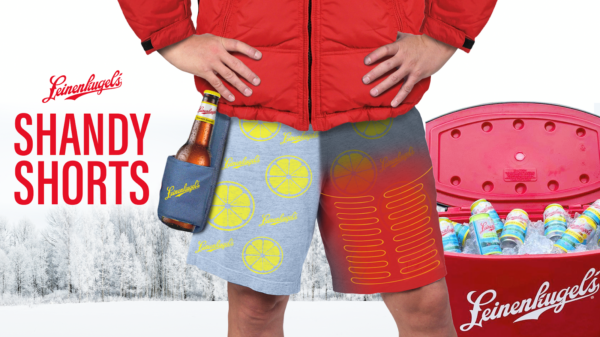 The shorts, which work like a heated blanket, are a promotion for the brand's seasonal Summer Shandy beverage, which returns to stores this month.
Here are today's other top stories:
Coinbase attempts to reframe CEO's tweet on Super Bowl ad
Brian Armstrong, CEO of cryptocurrency exchange platform Coinbase, is in hot water this week after falsely claiming the company's much-lauded Super Bowl ad was made without any input from an ad agency on Twitter:
1/ Some folks asked for details of how our super bowl ad came to be, here is the quick back story…

— Brian Armstrong – barmstrong.eth (@brian_armstrong) February 21, 2022
Armstrong said the concept for the brand's unique floating QR code on a blank screen was an "original idea" and avowed that "no ad agency would have done this ad."
Kristin Cavallo, the CEO of ad agency The Martin Agency, was quick to rebuff these claims in her own series of response tweets:
It was actually inspired by presentations our agency showed your team on 8/18 (pages 19-24) and 10/7 (pages 11-18) with ad concepts for the Super Bowl with floating QR codes on a blank screen.

— Kristen Cavallo (@Cavallokristen) February 21, 2022
Except an ad agency did do that ad.

— Kristen Cavallo (@Cavallokristen) February 21, 2022
Coinbase CMO Kate Rouch took to Twitter to try and walk back Armstrong's tweets and claimed that his confusion came from being unable to differentiate agency employees from his own team:
Thread 🧵
1/5: Hi @cavallokristen – The Coinbase team and I deeply value our partners. The fit with our creative partner Accenture Interactive (AI) was seamless – so much to that extent our CEO actually thought we were a single team when presenting work.

— Kate Rouch (@kate_rouch) February 22, 2022
Why it matters: C-suite leaders should be active on social media—it helps build visibility and trust in the brand. The danger, of course, comes when top-level execs go rogue.
Because of their outsized visibility, CEOs should be mindful of exactly what they share on social platforms, down to the minutiae of the tone they use to make their claims. PR pros would be wise to share (a reshare) social media guidelines with influential players at their organizations—or risk having to launch a Twitter apology tour when things go wrong.
---
MEASURED THOUGHTS
Data from a 2021 survey of U.S. social content users shows YouTube is the most popular platform for watching short-form video content, outranking both Facebook and TikTok.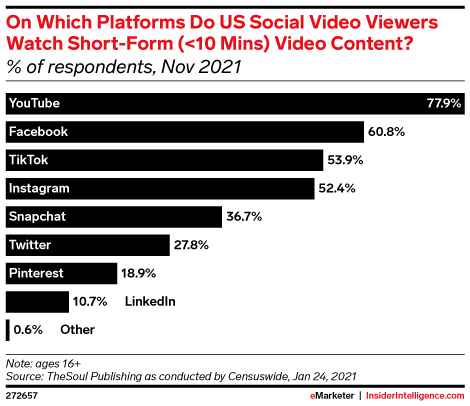 The study characterized short-form video as content that was under 10 minutes in length. Seventy-seven percent of respondents named YouTube as their top platform for shorter videos, followed by Facebook (60.8%) and TikTok (53.9%).
Check out more from the Insider Intelligence chart here.
---
TAKE OUR SURVEY
We want to know about your career as a social media professional.
How big is your team? Are you valued at your organization?
If you're interested in helping benchmark the career path potential of social media professionals and shedding light on how social media is internally managed, viewed and evaluated, take our survey. The Social Media Career Survey is a follow-up to a 2020 report by the Institute for Public Relations, Ragan Communications and the University of Florida.
Whether you're in charge of company social media or involved in social media for a client, we welcome your participation.
Respondents will receive a full report on the findings, which will also be shared on PR Daily.   Responses will remain confidential.
Meta launches Facebook Reels globally with more ad opportunities
Meta announced this week it will expand its short form video feature, Reels, to Facebook in more than 150 countries. The Facebook feature launched in the U.S. in September of 2021.
Reels, originally housed on Instagram, is Meta's answer to TikTok. It allows users to shoot, edit and post short videos to their feeds and offers a Reels homepage for discovering more creators and videos.
We're creating a variety of opportunities for creators to earn money for their reels. Our Reels Play bonus program, part of our $1 billion creator investment, pays eligible creators up to $35,000 a month based on the views of their qualifying reels. These bonuses have helped creators like Jason the Great fund their reels creation and better understand what types of content works on Facebook. In the coming months, we'll expand the bonus program to more countries, so more creators can get rewarded for creating reels that their communities love.
Additionally, Meta said, it is testing a semi-transparent overlay advertising feature to allow creators to earn a portion of the ad revenue.
What it means: Influencer marketing has been big for a while, but Meta's attempt to broaden the reach of its version of TikTok means more opportunities for individual creators—and brands. PR pros should see the global launch of Facebook Reels as an opening to reach audiences with short-form video who are not using TikTok, (e.g., older demographics).
---
EVENT ALERT
How is your organization sharing its brand purpose for 2022?
To outline the best practices, pitfalls to void and measurement must-haves, we've got a special virtual event featuring industry experts with tips and tactics you can implement right away. Join us for PR Daily's Purpose and Corporate Social Responsibility Summit on March 1, 1-4 p.m. Eastern to learn essential strategies for the year ahead.
Top sessions from the afternoon include:
The essential ingredients for ESG in 2022
How to tap employee advocates and brand ambassadors
Measurement strategies to demonstrate impact
How purpose has changed—and what it means for communicators
Sign up now for this important virtual event and join the conversation.
COMMENT