Companies take a stand on abortion rights, LinkedIn addresses legal settlement on gender pay gap and 47% support legalized abortion nationwide
Also: Domino's Pizza goes after your crusty ex.
Hello, communicators:
Domino's Pizza brand Twitter account stirred the pot this week with a tweet about, ahem, your ex:
pizza your ex​
🤝​
crusty

— Domino's Pizza (@dominos) May 3, 2022
Regardless of whether their ex-partners are actually physically crusty, users enjoyed the shady tweet:
Dominos has me rolling 😂🤣 https://t.co/76gjZNq6Pv

— elda (@7elda7) May 4, 2022
LMFAOOOO 🐐 https://t.co/VnmCaonja3

— problem child (@shythegenious) May 3, 2022
It's a fun example of wordplay on social media. If you manage social media for your organization and are hitting a wall in terms of creativity, try an exercise where you write down any and all descriptive words that relate to your brand. Sometimes just seeing the nouns and adjectives in front of you can spark an imaginative post.
Here are today's other top stories:
Companies take a stand on abortion rights ahead of SCOTUS decision
As most corporations remain silent on the implications of the leaked Supreme Court opinion overturning Roe v. Wade, some companies have chosen to speak out publicly.
Online dating platform OkCupid didn't mince words, and shared a link to an initiative for corporations supporting access to reproductive care, including abortions:
#RoeVWade being overturned is unacceptable. OkCupid has proudly supported reproductive rights for years, and we're not stopping now. Gender equality is at stake and more brands need to step up. Tag a brand you want to see take action and sign https://t.co/vNANqnhBL4.

— OkCupid (@okcupid) May 3, 2022
Denim giant Levi's gave The New York Times' DealBook newsletter a statement:
Levi's said that restricting access to abortion would have "far-reaching consequences for the American work force, the U.S. economy and our nation's pursuit of gender and racial equity." The company added that the end of Roe would "jeopardize workplace gains women have made over the past 50 years, disproportionately impact women of color and force companies to implement different health policies for different locations."
Food delivery service Yelp was one of the first companies to offer to cover travel expenses for employees who had to cross state lines to obtain abortion care. The company gave a statement to CNBC:
Overturning Roe v. Wade will jeopardize the human rights of millions of women who stand to lose the liberty to make decisions over their own bodies.

Turning back the clock on the progress women have made over the past 50 years will have a seismic impact on our society and economy. Congress must codify these rights into law. In the meantime, more companies will need to step up to safeguard their employees, and provide equal access to the health services they need no matter where they live.
Why it matters: The slow trickle of companies willing to speak out on such a divisive topic may well become more of a stream as corporate comms teams solidify their messaging over the next few days. Addressing sensitive, politicized topics like abortion rights requires extreme care. Make sure your comms team is ready to scrutinize your statement (and any CEO messaging) pre-publication if your company decides to take a stand.
---
MEASURED THOUGHTS
A new report from Morning Consult finds 47% of all U.S. voters say abortion should be legal across the country (compared with 21% who say it should be illegal).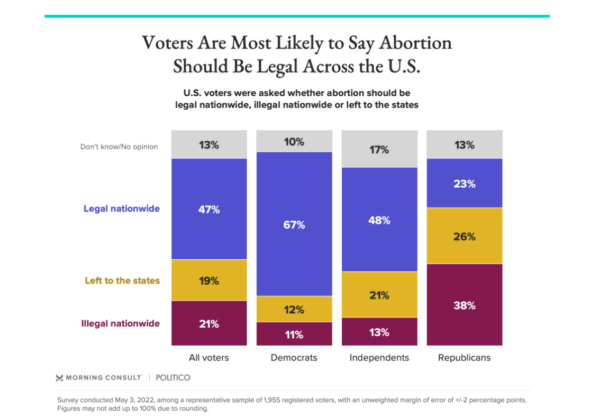 Nineteen percent of poll respondents said the legality of abortion should be left to individual states (which is what would be the outcome of overturning Roe v. Wade). Thirteen percent of respondents said they didn't know or had no opinion on the matter.
Voters are more than twice as likely to say that abortion should be legal on a federal level. If you believe your organization should speak out on this issue, it's data like this that might convince top execs to publicly take a stand.
Read more from the Morning Consult report here.
---
#ICYMI
Billionaire tech mogul Elon Musk, whose offer to buy Twitter was accepted by the board last week, tweeted Tuesday that he'd consider charging government and corporate Twitter accounts to remain on the platform:
Twitter will always be free for casual users, but maybe a slight cost for commercial/government users

— Elon Musk (@elonmusk) May 3, 2022
The Verge's James Vincent explains:
In the case of charging to either a) quote or b) embed tweets, a) would be counter to the first amendment (not a great look if you're promoting free speech) while b) would introduce all sorts of administrative headaches (tricky if Musk wants to reduce Twitter's headcount).

By comparison, making governments and corporations pay to tweet is more straightforward but still tricky to implement. For example, how big does a company have to be before you charge it to use Twitter?
While Musk's plans for the platform remain to be seen (he doesn't officially own Twitter yet), it's important for comms pros to stay on top of the ups and downs in order to prepare for whatever changes might be on the horizon.
Amid pay discrimination settlement, LinkedIn denies wrongdoing
Professional social networking platform LinkedIn denies that it unfairly discriminated against female employees in two of its California offices, despite settling a lawsuit with the U.S. Department of Labor for $1.8 million in back wages.
During a routine evaluation, the agency found that the women in question had been paid "at a statistically significant lower rate" than their male counterparts even after taking into account "legitimate explanatory factors," according to the conciliation agreement between LinkedIn and the Labor Department.
In a statement, LinkedIn refuses to admit guilt, writing, "The agency claimed that between 2015 and 2017, we paid some female employees in California inconsistently with their peers. While we have agreed to settle this matter, we do not agree with the government's claims; LinkedIn pays and has paid its employees fairly and equitably when comparing similar work."
What it means: LinkedIn's statement addresses the settlement and the allegations, but maintains that the company pays its workers "fairly and equitably." By disputing the Labor Department's findings, the company attempts to take back some legitimacy for its claim of equal pay.
However, LinkedIn might have been better suited to apologize and promise to do better in the future. The gap in pay for women is clearly established across industries, and without beig able to offer data of its own, LinkedIn's statement risks undermining trust in its company message.
---
ATTEND OUR MEDIA RELATIONS CONFERENCE
Join us in New York City on May 11 for a one-day, in-person conference all about media relations and measurement.
At PR Daily's Media Relations & Measurement Conference, you'll learn how to score the coverage your brand deserves and generate results—and then showcase those results to management. You'll also learn the latest measurement tools and methods for everything from internal comms and media relations to social media.
Each attendee will receive a Media Relations & Measurement Conference Certificate of Completion.
Register here before April 27 to receive a special attendance rate.
COMMENT