Daily Harvest recall post prompts backlash, Netflix CEO on new ad tier and how to meme like Gen Z
Also: Kodiak Cake's TikTok manager humanizes herself and the brand with goofy videos.
Hello, communicators:
On social media, so much can be artificial. That's why it's important for brands to try to humanize themselves to their audiences.
The social media manager for pancake mix brand Kodiak Cakes did just that in a recent TikTok:
She bemoans the fact that her videos about pancake recipes aren't getting anywhere near as much engagement as a "5 second video of the CEO's 16-year old son eating a waffle."
Both videos give the brand a funny, flippant voice, and while your brand voice doesn't have to be goofy, carving out your organization's social media personality is more important than ever.
Here are today's other top stories:
Netflix CEO explains ad tiers at Cannes Lions talk
Netflix co-CEO Ted Sarandos spoke at the Cannes Lions festival this week and addressed something that's been on a lot of Netflix users' minds lately: the company's plans for ad-supported streaming.
"Netflix had long been averse to advertising on its subscription service but after posting disappointing figures last quarter, showing it lost 200,000 subscribers, the company said would be introducing a less-expensive ad-supported tier to its service in a bid to bring in new customers," The Hollywood Reporter's Scott Roxborough writes.
It's a move that some consumers don't quite understand — Netflix will remain as it is today, with its current pricing, while adding a lower-tier, less expensive service that runs ads. The nuance is being missed by quite a few Netflix users:
Ads coming to Netflix? Time to cancel 🤙🏻

— John (@johnd_999) June 23, 2022
so netflix invests money into a bunch of awful shows, constantly cancels good shows, and now wants us to sit through ads lmaooooooo

— kailey | kenobi + st4 spoilers (@biskywalkers) June 23, 2022
Sarandos set the record straight at Cannes.
"We've left a big customer segment off the table, which is people who say: 'Hey, Netflix is too expensive for me and I don't mind advertising,'" Sarandos said. "We adding an ad tier; we're not adding ads to Netflix as you know it today. We're adding an ad tier for folks who say, 'Hey, I want a lower price and I'll watch ads.'"
Why it matters: When it comes to clarifying a piece of news that could drastically affect your brand presence, it's important to make sure that media outlets get it right. Most headlines about the news focus solely on the addition of ads, with the context coming later in the article. For people who only read headlines, this poses a problem. It could be a sign that Netflix should invest in a campaign that explicitly explains the changes to get ahead of any confusion during the new service's launch.
---
MEASURED THOUGHTS
New data from YouTube takes a look at what kind of content matters most to Gen Z audiences — and yes, memes are part of it.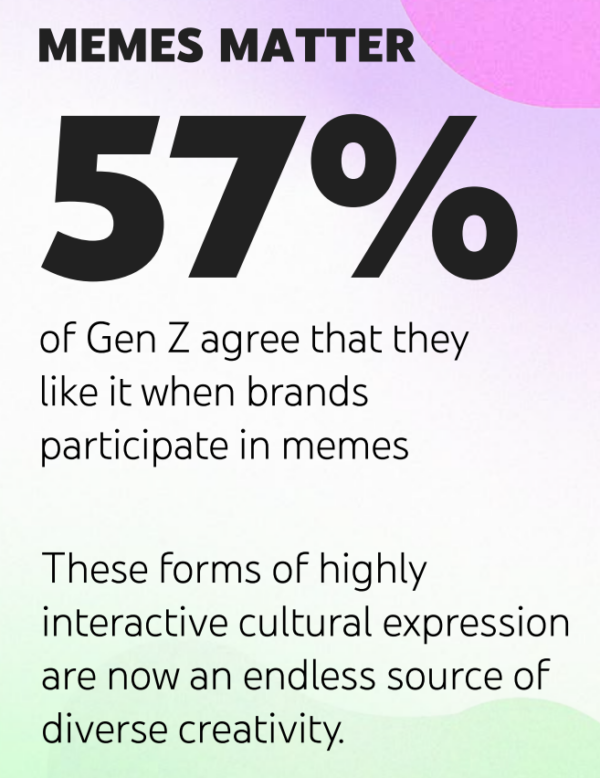 More than half (57%) of Gen Z respondent said they like it when brands participate in memes. That means you, PR pros! Do your due diligence on TikTok, Instagram and Twitter and get to work recreating some of the funniest content out there with a nod to your product or service.
Check out this most recent trend that brands like Readygov, White Claw and Netflix are taking part in.
The report also found that "groups who actively participate in a shared identity or interest online are increasingly influencing creativity and cultural conversations." For PR pros, this is a sign that your influencer marketing shouldn't just include individual creators — try reaching out to popular fan pages or fandom communities.
Read more from the YouTube report here.
Daily Harvest grapples with backlash after Instagram post on recall
Complaints on social media drove food delivery service Daily Harvest to recall one of its dishes — which was making customers seriously ill.
Users on Reddit, Twitter and Instagram reported experiences of nausea, vomiting and liver damage after consuming the dish.

One Reddit user said their wife had symptoms, such as "extreme fatigue, dark urine, low-grade fever and whole-body itching with no rash."

Another user said their mom "was as sick as a dog and puking a lot" a day after eating the beans.
Here is one such post, from Twitter user Luke Wesley Pearson:
🚨DO NOT eat Daily Harvest French Lentil + Leek Crumbles 🚨 I was hospitalized with LFTs in the 400-700s, fever, chills, headache, back ache, and jaundice. I had to have surgery – they took my gallbladder out! I'm home recovering and hearing of so many others going through this. pic.twitter.com/fsWxDklPc0

— Luke Wesley Pearson (@LukeWesPearson) June 21, 2022
An Instagram post announcing the recall also received backlash, with one user writing, "I just threw out my order and cancelled my subscription. It is so clear that you put profit over people and that is sickening. This post should have happened so long ago. You're in a PR crisis. I urge you to do better."
View this post on Instagram
And the company's decision to ask consumers to go to a link in its Instagram bio for more information about the recall prompted even more criticism.
"Why not include the important message in the caption? Is your social media aesthetic more important than consumers' health?" one person wrote
In a statement published on its website, Daily Harvest explains the voluntary recall of the lentil- and leek-based dish, as well as steps it's taking to diagnose the problem and refund affected customers.
Why it matters: Unfortunately, many Daily Harvest customers are dissatisfied with the company's response to the illnesses. The company did what the majority of food manufacturers do when faced with a recall, but in this instance, more of a crisis PR response may be needed to smooth over the situation.
COMMENT