Dating apps Bumble and Match offer relief to employees affected by Texas abortion law
The Supreme Court declined to block the state law that prohibits abortions after six weeks of pregnancy.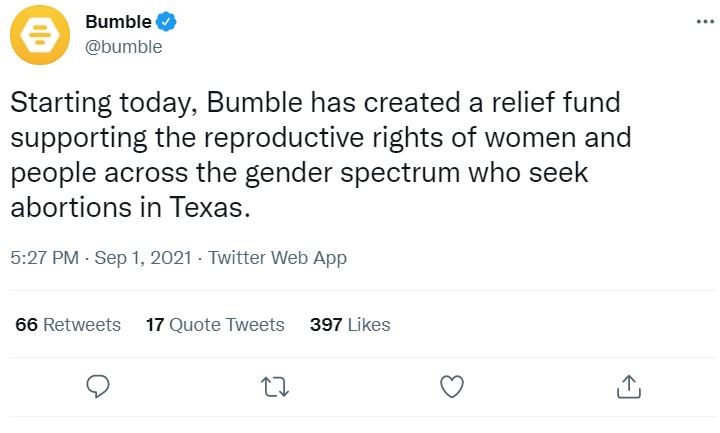 Dating app companies that are led by women have become some of the first companies to speak out against the new law in Texas, which seeks to restricts abortion access.
The law restricts access to abortion to the first six weeks of pregnancy, a timeframe that critics say most women don't know if they are pregnant. The law also introduces controversial measures where anyone can sue a provider over the suspicion it performed an illegal abortion, creating a potential deluge of lawsuits and vague language about exceptions for medical emergencies.
As law professor Steven Vladeck from the University of Texas told NPR:
…the law really does make abortion illegal in just about every single case starting with the six weeks of pregnancy. And, of course, that's measured not from conception, not from when the woman knows she's pregnant, but from when their last menstrual cycle took place. That has the effect of banning probably 85 to 90% of otherwise lawful, otherwise constitutionally protected abortions all across the nation's second-largest state. And we know that most of the providers across the state have stopped providing such abortions as of this morning.
Some business leaders are already speaking out against the law and offering resources for employees in the state who might now have to seek out medical services elsewhere.
Bumble, based in Austin, said it was creating a relief fund supporting people seeking abortions in the state.

"Bumble is women-founded and women-led, and from day one we've stood up for the most vulnerable. We'll keep fighting against regressive laws like #SB8," the company said in a tweet, referring to the legislation signed in May by Republican Gov. Greg Abbott. The law bans most abortions after six weeks of pregnancy, a time period before many women have even discovered they're pregnant.
Other companies headquartered in Texas, including billionaire Elon Musk's Tesla, are declining to comment.
"In general, I believe government should rarely impose its will upon the people, and, when doing so, should aspire to maximize their cumulative happiness," Musk told CNBC in a tweet.

"That said, I would prefer to stay out of politics," said Musk, whose companies and private foundation are both growing their operations in Texas.
Texas Gov. Greg Abbot has posited that the news is a boon for businesses looking to relocate to Texas.
"This is not slowing down businesses coming to the state of Texas at all," Abbott said in an interview on CNBC's "Squawk on the Street" when asked how businesses might react to the slate of new legislation passed in the state, including abortion regulations and voting laws. "In fact, it is accelerating the process of businesses coming to Texas … they are leaving the very liberal state of California."
Should companies speak up on the law or the issue of abortion rights? Despite polling that has consistently shown a majority of Americans believe abortion should be legal, the topic could create problems for employee comms and HR. Notably, while companies like Bumble and Match are speaking out against the law, they are also putting the focus on serving employees.
Match Group CEO Shar Dubey also announced in a memo to employees that she would personally create a fund to support Texas-based workers and dependents who needed to seek care outside of the state, a company spokesperson confirmed to CNBC.

Match, based in Dallas, owns a bevy of dating companies, including its namesake app Match along with Hinge, Tinder and OKCupid.

"As I have said before, the company generally does not take political stands unless it is relevant to our business. But in this instance, I personally, as a woman in Texas, could not keep silent," Dubey said in the memo.

"Surely everyone should see the danger of this highly punitive and unfair law that doesn't even make an exception for victims of rape or incest. I would hate for our state to take this big step back in women's rights," she added.
Whatever your plans, it will be crucial for communicators and business leaders to rely on core values when deciding how to respond. However, organizations shouldn't assume that important stakeholders will be unaffected or uninterested in the law and its outcomes.
Particularly for companies operating in Texas, or in other states that might look to adopt similar laws, the question on how to respond should be considered promptly before employees get tired of waiting.
COMMENT
One Response to "Dating apps Bumble and Match offer relief to employees affected by Texas abortion law"
Ronald N Levy

says:

The controversy we can see is what the Court should decide. The controversy still to come, which may become a huge PR battle, is whether pro-abortion justices should be added to the Court so the pro-abortion side can win.

The coming PR battle may be a problem for PR firms that have major clients on each side of the controversy. Many heads of major accounts are tough guys who got their jobs by fighting successfully and who hold their jobs by making opponents unsuccessful.

"Don't say more than you have to" is common advice when PR counsels top corporate officers who are to meet the press. But with issues like abortion on which opinions are strongly held, top corporate officers like royal family members may respond by asking: "Why are you telling me what to say? Whose side are you on?"