Degree turns to user-generated content for Final Four campaign
The deodorant brand, under Unilever, is working to engage fans of the NCAA basketball tourney with a Twitter and Instagram contest.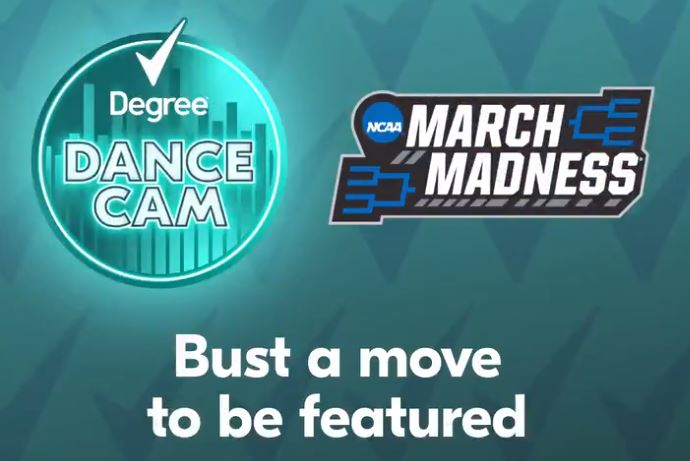 As consumers continue to search for those opportunities to replicate lost moments, from block parties and concerts to sports events, some brands are trying to help create unforgettable moments online.
The NCAA basketball tournament is popular cultural mainstay in American culture, sweeping offices and college campuses with bracket mania. It was a sign of the times last year when the tournament was cancelled due to COVID-19, and this year's competition has been a welcome distraction for many.
But the experience is still a far cry form the usual fan experience of packed gymnasiums with raucous fans rooting on their favorite schools and squads. Some fans have been allowed to attend this year's games, but limited attendance has been unable to fully recapture the magic of March Madness. However, some brands are trying to remedy that missing link by offering digital experiences that engage fans watching the games from home.
One such brand, Unilever subsidiary Degree, is looking to get fans to share their best dance moves on social media for a contest—inspired by the dance cams shown on jumbotrons during games. It's an opportunity to capture some of the pent-up enthusiasm for a return to normal as fans try to take in the return of the annual basketball tournament.
"This is the first time fans will be watching March Madness in two years!" says Dawn Hedgepath, general manager for deodorants at Unilever. "Because Degree is committed to inspiring confidence in everyone to move more (especially now since 38% of Americans have been moving less than before the pandemic), we thought turning to user-generated content would be a fun way to encourage fans to #KeepMoving and recreate the tradition at home."
How to execute
How will the brand get users to submit their best Insta-ready creations?
"We're asking fans to submit a video to Twitter or Instagram using #KeepMoving, and our community management team will be keeping an eye out for the best," says Hedgepath. "I think we're going to see a lot of creative signature moves, especially knowing four winners will get the chance to show off their dance on-air during the Final Four on Saturday, March 3."
And for a little star power, the team worked with Kenny "the Jet" Smith (and other yet-to-be-announced partners) to get the ball rolling. Smith created his own Dance Cam video to help inspire fans to submit their moves.
And there's plenty of swag for participants to win, apart from the chance to strut their stuff for the Final Four audience.
"Fans who submit a video, but don't make it on-air, still have the chance to win a ton of fun giveaway items, including signed Kevin Durant jerseys and other fitness/tech prizes," says Hedgepath. "Kevin Durant is a long-time partner of Degree, and we're excited to incentivize our fans with signed swag from him to #KeepMoving."
It's a reminder that developing long-term relationships with influencers is crucial when looking to tap those figures for a brand push later down the road.
The team chose to focus on Twitter and Instagram, rather than TikTok, Snapchat or other platforms, because those forums are where March Madness is already a thriving topic.
"Those platforms already feature the majority of March Madness content through official highlights and fan chatter before, during and after games," says Hedgepath. "These two platforms are the second screen destinations where our Degree target and the March Madness fans goes to for additional fandom content."
And the team went a step farther to ensure a seamless viewer experience with a live "in-broadcast integration" with the performance of its Dance Cam contest winners to bolster engagement with the live event.
Overcoming challenges
 Of course, this activation for the Final Four doesn't come without risks.
"This is the first time a brand has leveraged user-generated content in a live Final Four broadcast, so we need to ensure all production and social media community management teams are in sync with content, while also ensuring our brand message of 'inspiring the confidence in everyone to move more' comes through via our fans," says Hedgepath.
To track the success of the effort, the team will closely be watching how many submissions they get for the contest and how their hashtag (#KeepMoving) performs on social media platforms throughout the tournament.
"Our main goal is to get as many March Madness fans as we can to #KeepMoving at home," says Hedgepath. "The more entries, equates to more movement, which is a win for the brand!"
Takeaways so far
For Hedgepath, the campaign so far has been a reminder that consumers are craving ways to keep traditions alive, even as some parts of annual events like the NCAA tournament might look different.
"I'd also encourage brands that are looking to use user-generated content in its marketing to give the fans the freedom to be creative with the content," she says. "We're looking forward to seeing people bring their personality to their submissions and hope that encourages even more people to get involved."
COMMENT