Delta's snippy customer service response, Taco Bell does drag brunch and a trust gap between tech hardware and social media companies
Also: We'd like to encourage you to capitalize on a TikTok trend involving "Top Gun: Maverick" and a shirtless Miles Teller.
Hello, communicators:
If you've been on TikTok at all in the last week, you've definitely seen Miles Teller shirtless.
A clip of the actor dancing on the beach in the new "Top Gun" movie has taken the app by storm, with videos about the scene garnering millions of views:
We're not saying your brand should pull a Duolingo and get thirsty on main, but it's a good reminder that staying on top of TikTok trends can help pull some viewers to your organization's content. If promoting a video of a shirtless actor isn't your jam, then it's worth using the #milesteller hashtag or making a comment about the trend in your caption to capitalize on TikTok's ever-changing algorithm.
It's not too late! If you do decide to hop on the Miles Teller TikTok trend, let us know on Twitter @PRDaily.
Here are today's other top stories:
Twitter users slam Delta over snarky customer service response
A snippy retort to a customer complaining about Delta's customer service response time has landed the airline in hot water.
With thousands of flights canceled over Memorial Day weekend in the U.S., Delta's Twitter account has been busy responding to hundreds of confused and angry tweets from disgruntled flyers.
Delta's social media customer service team will often respond to complaints by identifying themselves by their first names. Recent responses have come from Josie, Cara, Daisy and Bernice.
But when a customer tweeted to complain about Daisy's response time to their issue, Daisy (or someone else tweeting from the Delta account) took offense:
Can you calm down and allow me some time to work please ??

— Delta (@Delta) May 28, 2022
Twitter users responded with surprise and some outrage:
Next time leave out your feelings and act like you are jumping right on it graciously and this will go a lot better:) it's not fair to the customer to make them feel your anxiety as you are escalation customer service everyone sees every day.

— Rae (@localrach) May 28, 2022
I don't care how ironical evert-day dialog and humor has become, it has no place in customer service.

— Matt Gertz's Forehead (@SuaSponte2020) May 29, 2022
Whoever tweeted this should be FIRED. And go live in the woods and not work with people or animals🤬

— AngieBeans💜Lover of Prince (@AngieBeans) May 31, 2022
Inc. tech columnist Jason Aten called the tweet "the one thing no company should ever do." As of publication, the tweet is still live and has not been deleted.
What it means: While it's often difficult to walk the line between humanizing your organization on social media and remaining professional, it's important that your social media comms strategy holistically aligns with your brand's values. This applies to customer service on social media as well — an angry tweet is never the way to go.
---
MEASURED THOUGHTS
Recent data from Axios and The Harris Poll shows a significant gap in consumers' trust in tech hardware brands as compared to social media companies.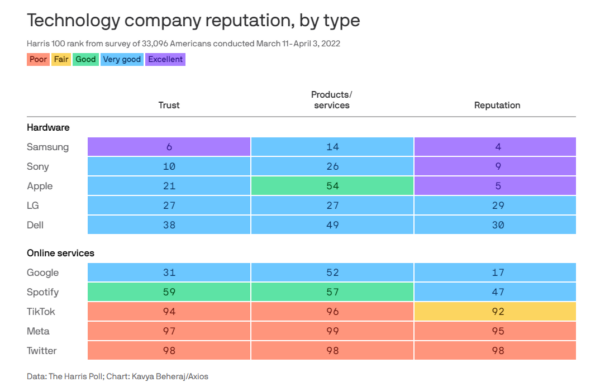 Companies like Samsung, Sony and Apple ranked highly in terms of trust and reputation, while TikTok, Meta and Twitter scored the lowest in both categories.
"Life online right now can feel like a big mess, so it's little wonder that the firms that operate the platforms where people congregate are taking a lot of blame," writes Axios' Sara Fischer.
It's yet another example of consumers' declining trust in large technology and social media companies amid concerns about online safety and privacy.
Read more from the Axios report here.
Taco Bell's drag brunches do corporate Pride Month right
Last month, Mexican fast-food chain Taco Bell announced it would be hosting drag brunches at locations across the U.S. A drag brunch is much like the name suggests: a combination brunch and drag show event, usually attended by young LGBTQ+ community members and allies, where the mimosas flow freely and no song is off-limits.
The restaurant brand has already hosted three drag brunches in Las Vegas, Chicago and Nashville, with two remaining June performances scheduled in New York City and Fort Lauderdale.
Sean Tresvant, global chief brand officer at Taco Bell, said in the company's press release that the idea was conceptualized by Taco Bell's LGBTQ+ employee resource group.
From Taco Bell's press release:
The Live Más Pride Employee Resource Group started at Taco Bell Corp. in 2020 and is made up of over 100 members across the brand with a mission of making an impact by creating opportunities and engagements that elevate the voices, stories and experiences of its community both internally and externally. The Taco Bell Drag Brunch experience, which helps foster positive environments for the LGBTQIA+ community and its allies, was a natural extension of Live Más Pride's mission.
Why it matters: Taco Bell's press release gives all the credit to its LGBTQ+ ERG while simultaneously promoting its new breakfast deal. Involving your employees in your brand's Pride Month messaging strategy is a good way to avoid coming across as insincere during the biggest global celebration of the LGBTQ+ community.
COMMENT