Netflix co-CEO promises change after stock plummets, Gen Z loves streaming services and Apple announces recycling progress ahead of Earth Day
Also: Duolingo and Scrub Daddy team up for a NSFW TikTok collab.
Hello, communicators:
On social media, companies have a unique opportunity to build their brand voice. It's easy to be funny and goofy with tweets and TikToks — but has that wretched Duolingo owl finally gone too far with the brand's latest video?
We'll let the text of this tweet from journalist Nathan Allebach speak for itself:
just when you thought brands couldn't get any more horny, scrub daddy got duolingo pregnant pic.twitter.com/oohiu7rwos

— Nathan Allebach (@nathanallebach) April 19, 2022
The original video, posted on the Duolingo TikTok, appears to have been deleted, but it remains on the Scrub Daddy account.
Here are today's other top stories:
Netflix co-CEO reassures investors following share price dive
Following news that streaming giant Netflix has reported a loss of subscribers for the first time in more than 10 years, co-CEO Reed Hastings told investors that he'd like to allow consumers who are willing to watch ads in exchange for a cheaper subscription to "get what they want."
The statement comes as The New York Times reported that the company saw a whopping 30% drop in its share price Wednesday morning.
Reed Hastings, the co-chief executive of Netflix who has long dismissed an advertising-supported tier, confirmed Tuesday during a taped interview with investors that his thinking had changed. "Those who have followed Netflix know that I've been against the complexity of advertising and a big fan of the simplicity of subscription," he said. But he added, "I'm a bigger fan of consumer choice and allowing consumers who would like to have a lower price and are advertising-tolerant get what they want."
The company blamed the loss on the rise of competition in the streaming market, as well as the number of people who share Netflix accounts.
"The large number of households sharing accounts — combined with competition, is creating revenue growth headwinds. The big COVID boost to streaming obscured the picture until recently," Netflix said, explaining the difficulties of signing up new customers.
Why it matters: Hastings' statement to investors is clear: He's admitting that his initial strategy was wrong and crediting the company's poor performance to changing consumer attitudes and increased competition. His reassurance to investors is a promise to focus on what Netflix customers want, rather than proposing the company change its fundamental values.
---
MEASURED THOUGHTS
Speaking of Netflix, a new report from Morning Consult shows 96% of Gen Z adults in the U.S. subscribe to at least one streaming service — more than their peers in India, Mexico and China.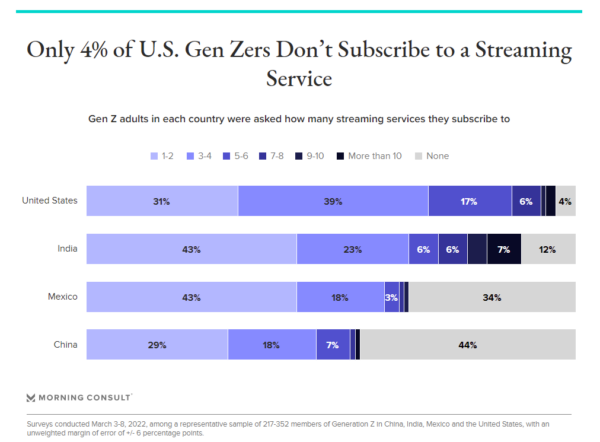 The majority of American Gen Zers subscribe to between one and four streaming services. Less than 4% subscribe to more than nine.
Gen Zers have a reputation for confounding the older executives in charge of designing content and devices for them. So, as streaming services pour more money into international markets, the pressure to establish brand loyalty with consumers early in their adult lives only mounts as well.
PR pros leading the charge for growing streaming service audiences in the U.S. don't have to worry about a lack of interest; rather, the battle is for prolonged attention and subscription dollars as competition between streaming services increases.
Promoting a product or service in a saturated market requires constant innovation and a willingness to try new things — even if those strategies sometimes fail. It's a good reminder that PR pros should strive to understand the business operations side of their organizations to better serve their audiences.
Read more from the Morning Consult report here.
---
ATTEND OUR MEDIA RELATIONS CONFERENCE
Join us in New York City on May 11 for a one-day, in-person conference all about media relations and measurement.
At PR Daily's Media Relations & Measurement Conference, you'll learn how to score the coverage your brand deserves and generate results—and then showcase those results to management. You'll also learn the latest measurement tools and methods for everything from internal comms and media relations to social media.
Each attendee will receive a Media Relations & Measurement Conference Certificate of Completion.
Register here before April 27 to receive a special attendance rate.
Apple's Earth Day message promises increased sustainability
Apple took advantage of the Earth Day news cycle to share new details about the use of recycled content in its products.
The company announced the use of recycled gold and says it has more than doubled its use of other recycled materials, including tungsten, cobalt and rare earth elements, resulting in nearly 20% of all materials used in Apple products last year coming from a recycled source.
"As people around the world join in celebrating Earth Day, we are making real progress in our work to address the climate crisis and to one day make our products without taking anything from the earth," said Lisa Jackson, Apple's vice president of environment, policy, and social initiatives. "Our rapid pace of innovation is already helping our teams use today's products to build tomorrow's, and as our global supply chain transitions to clean power, we are charting a path for other companies to follow."
What it means: Apple's Earth Day strategy is a good example of how to use the news cycle to your advantage when it comes to big announcements about progress made on social and environmental issues. To add relevancy to an announcement, it's good practice to tie news releases to major events or holidays, particularly when it comes to social issues that are long-term commitments that may not generate news on their own merit.
COMMENT