Disney reassures investors amid FL tax feud, Meta exec rebuffs claims social media damages trust and parents' mental health plummets during the pandemic
Also: Twitter identifies North Pole moon video as fake and the HBO Twitter account subtweets Elon Musk with 'Succession' meme.
Hello, communicators:
Don't try to pass off fake videos as real. Twitter will call you out.
The social media platform added a disinformation link to a viral tweet purporting to show the moon appearing briefly at many times its actual size in the sky over the North Pole:
The moon is in the North Pole, where the day lasts 24 hours and the moon appears in only 30 seconds completely and blocks the sun for only 5 seconds and then disappears, a breathtaking view. pic.twitter.com/kJjkEzAeaq

— Ollie and Dave. (@BeachDog15) April 26, 2022
A little blurb under the video reads, "Readers added context they thought people might want to know." Under that, there is a link to a fact-checking article from Newsweek and the statement, "The video is fake and was made by CGI and animation creator @aleksey__nz."
It's a good example of Twitter's disinformation policies in action — and a reminder to double check the source of any outside media you'd like to share from your brand account.
Here are today's other top stories:
Disney reassures investors as Florida lawmakers push to end special district
Walt Disney World wants its investors to know that its "special taxing district," Reedy Creek Improvement District, will remain safe from the Florida state legislature's attempt to dissolve it.
In its first public statement since the furor over the company speaking out against Florida's "Don't Say Gay" bill, the company told stakeholders that it expects to continue operating like normal. This is due to a 1967 contract that states Reedy Creek will not be altered by the state until the district's bond debt has been repaid.
Bloomberg reports the district's bond debt as more than $1 billion.
"In light of the State of Florida's pledge to the District's bondholders, Reedy Creek expects to explore its options while continuing its present operations, including levying and collecting its ad valorem taxes and collecting its utility revenues, paying debt service on its ad valorem tax bonds and utility revenue bonds, complying with its bond covenants and operating and maintaining its properties," the statement reads, in part.
In essence, the state had a contractual obligation not to interfere with the district until the bond debt is paid off, said Jake Schumer, a municipal attorney in the Maitland law firm of Shepard, Smith, Kohlmyer & Hand, in an article for Bloomberg Tax posted on Tuesday and cited in a Law and Crime article.
Why it matters: Disney's statement, while intended for stakeholders, serves as its official comment on the legislative fracas over its operations at Disney World. It's a reminder that PR pros should be embedded on investor relations strategies as these messages rarely only reach the target audience in today's media landscape.
---
MEASURED THOUGHTS
A new report from Morning Consult shows 3 in 4 U.S. parents of school-aged children say their mental health was better before the pandemic.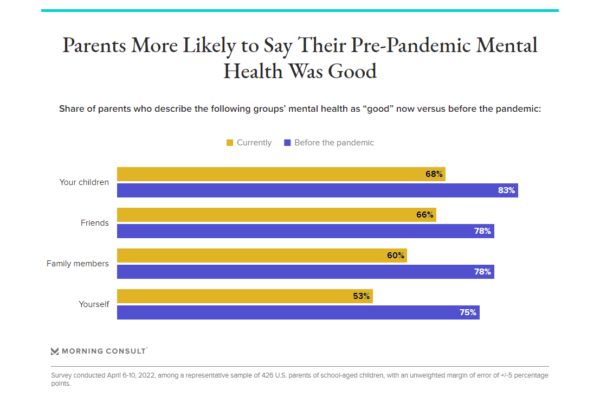 Seventy-five percent of poll respondents called their mental health "good" before the pandemic, a number that dropped a whopping 22 percentage points when parents were asked about their mental health after the pandemic.
It's a good reminder to PR pros that if your audiences include parents of school-age kids, they're likely exhausted. If your organization is in the position to share resources, goods or services that will make parents' lives easier, now is the time to lean in to that wellness messaging.
Read more from the Morning Consult report here.
---
BRAND POST OF THE DAY
Commenting on drama as provocative as the Elon Musk-Twitter saga can be an inflammatory move for a brand. But HBO's Twitter account managed to subtly take a shot at the new top boss:
— HBO (@HBO) April 26, 2022
Using a screengrab from the hit corporate/family drama "Succession" to acknowledge the social media platform's drama with the tech mogul is a harmless, tongue-in-cheek way to join the conversation, and keep the conversation about its show going even when new episodes aren't coming out.
Meta hits back over claims that Facebook undermines public trust
Late last week, Pratiti Raychoudhury, VP and head of research with Meta, offered a retort to Atlantic writer Jonathan Haidt's claim that social media amplifies polarization and is "corrosive to trust in governments, news media, and people and institutions in general."
In a blog post on Meta's corporate website, Raychoudhury directly contradicts Haidt's research-backed claims, backed by Meta's own data, that there are other explanations for the rise in global polarization.
Haidt's article states, "Recent academic studies suggest that social media is indeed corrosive to trust in governments, news media, and people and institutions in general." That is not actually what the majority of credible studies show. Nor is it consistent with the shared experiences of anyone who lived through the decades preceding social media's emergence where plenty of angry voices were amplified on cable television, talk radio, and in newspapers.
A quick Google search of Raychoudhury's name shows that the post and its contents hasn't yet been picked up by any mainstream media outlets, nearly a week later.
What it means: If you're going to respond to a research-backed criticism of your company, it's best to pad your response with research of your own. But Raychoudhury's message isn't getting nearly the reach of Haidt's Atlantic article. The fact that the contents of the blog haven't been picked up by mainstream media outlets shows that either the message wasn't distributed to the right sources — or media outlets' willingness to publish Meta's message is waning.
---
ATTEND OUR MEDIA RELATIONS CONFERENCE
Join us in New York City on May 11 for a one-day, in-person conference all about media relations and measurement.
At PR Daily's Media Relations & Measurement Conference, you'll learn how to score the coverage your brand deserves and generate results—and then showcase those results to management. You'll also learn the latest measurement tools and methods for everything from internal comms and media relations to social media.
Each attendee will receive a Media Relations & Measurement Conference Certificate of Completion.
Register here before April 27 to receive a special attendance rate.
COMMENT