Disneyland axes annual pass program, Axios declares audience 'Bill of Rights' to gain reader trust in local news, and Edelman reports burst trust bubble
Also: YouTube tests shopping features on videos, Yorkshire Tea shows a fun way to use Twitter polls for engagement, PR pros virtually network on Twitter,  and more.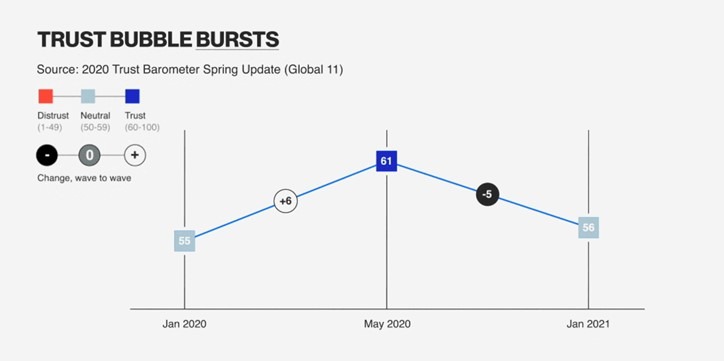 Hello, communicators:
U.K. retail chain Primark has made headlines recently by promising that it's "going to be back," despite refusing to embrace e-commerce strategies and digital shopping offerings.
Primark has been hit particularly hard by the pandemic because its strategy focuses on bricks-and-mortar stores. Before the pandemic, the strategy helped it become one of the UK's largest clothing retailers, focusing on low prices rather than expensive investments in online shopping.
"Our price point is the reason that we can't and other people cannot make money online," said Bason. "That makes us different. When we reopened back in June I met people who said 'thank God you're open again, I've been waiting for you'. Why are they waiting? Because they can't get what we offer elsewhere. We're giving people want they want."
Though e-commerce isn't a fit for every organization, don't limit your brand's growth or potentially endanger its future by sticking with the status quo. Instead, ask if your current strategies are still working, and what you can do to better adapt to shifting consumer behaviors. Many of these changes—including more online shopping, especially through mobile devices—is here to stay.
Here are today's top stories:
Disneyland cancels annual pass program
After a 10-month closure because of COVID-19 cases in California, Disneyland announced that it's shuttering the theme park's annual passholder program. The theme park has no current plans to reopen, as California's public health officials said COVID-19 cases must decrease more—and even then, Disneyland will only be allowed to operate with 25% capacity.
Disneyland is issuing refunds for all consumers carrying annual passes as of March 14, 2020, when the park closed its doors—and the company is also trying to soften the blow with a merchandise discount at its Downtown Disney District and Buena Vista Street stores, which are currently open.
In a statement, Disneyland said:
Annual Passholders have been among our most loyal and valued guests, and we want to thank them for their understanding during this closure period.
… Although sunsetting the Annual Passport program may be disappointing to some, we are excited about what's ahead and know that our future is bright. We are developing new membership offerings that will utilize consumer insights to deliver choice, flexibility and value for our biggest fans. Once we have more information to share about future membership offerings, our Annual Passholders will be the first to hear from us.
Why it's important: Disneyland and the overall Disney Parks teams have been pushing virtual content and storytelling efforts since its shutdown, but its communications teams will now have to grapple with disgruntled and disappointed fans as it halts a 40-year-old, popular program. In addition to crisis response for this announcement, Disneyland's communicators will also be tasked with an additional awareness campaign, as Orange County officials recently announced that the park will be one of the first five "Super Point of Dispensing" places to receive the vaccine.
---
SOCIAL BUZZ
YouTube is testing a shopping tool with selected content creators, in a potential move that follows Snapchat, Pinterest, Instagram and more by offering one-stop e-commerce offerings and product ads.
The service says that creators who are part of the pilot can include certain products in their videos. If you click or tap on a shopping bag icon in the bottom left of the screen, YouTube will display a list of the featured items.
You'll be able to check out more information about those products, watch related videos or buy the items. Only US users who access YouTube through Android, iOS and the web will see the shopping bag icon.
Marketing and social media pros should watch for updated developments and consider now the ways that their product offerings as well as content can translate into paid and sponsored content across social media platforms.
---
MEASURED THOUGHTS
Edelman recently released its first Trust Barometer Report for 2021, revealing a crisis of leadership as trust for organizations declines.
Today we release the 2021 #TrustBarometer, which reveals an epidemic of misinformation and widespread mistrust of societal institutions and leaders around the world. Business, govt, NGOs & media are all faced with a global mandate to rebuild & restore societal trust. Learn more.

— Edelman (@EdelmanPR) January 13, 2021
In the report, Edelman declares the "trust bubble" created through earlier COVID-19 communications strategies has burst, with consumer trust dropping five points.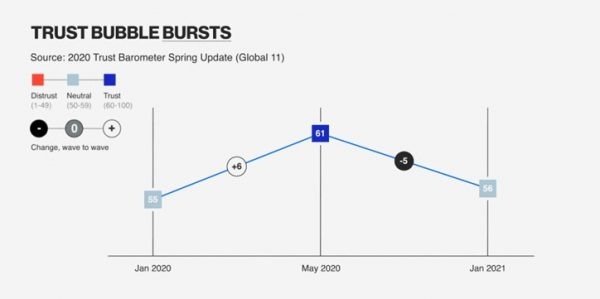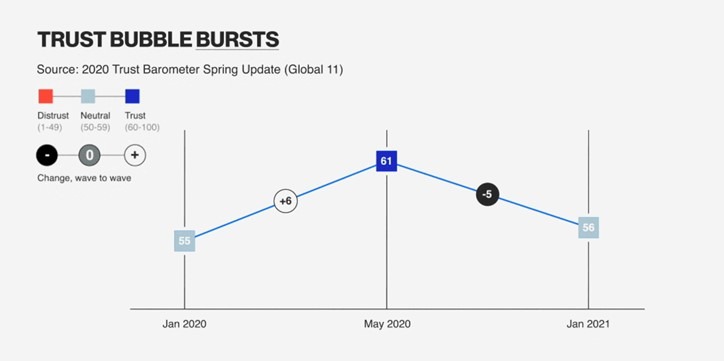 Edelman said:
In particular, CEO's credibility is at all-time lows in several countries, including Japan (18 percent) and France (22 percent), making the challenge for CEO leaders even more acute as they try to address today's problems.
As organizations across industries work on awareness campaigns and crisis responses in regard to COVID-19 and vaccine information, along with social and political unrest, it's imperative that communicators have the difficult conversations with their clients and leaders about what's necessary to build trust and reputation in the months to come.
---
SOCIAL BUZZ
Yorkshire Tea tweeted a poll, joking about the proper way to respond if you don't take sugar in your tea:
If someone asks you if you take sugar, but you don't, how do you reply?

— Yorkshire Tea (@YorkshireTea) January 12, 2021
This poll was created to reflect the fact that replying with "I'm sweet enough already" is required by law.

— Yorkshire Tea (@YorkshireTea) January 12, 2021
In the first two hours, Yorkshire Tea's poll had nearly 1,600 votes as the brand racked up likes, retweets and comments. The tweet offers inspiration for Twitter engagement by using the social media platform's polls to spread humor—another option for the Twitter feature that can elicit feedback from your followers.
---
CRISIS LEADERSHIP NETWORK
Looking for more insight on how to address the current global crisis and lead your organization into a strong recovery?
Join Ragan's Crisis Leadership Network to connect and brainstorm with peers, get the latest intelligence and research and start to plan for the future of your organization.
Learn more about this exclusive membership here.
Axios publishes audience 'Bill of Rights'
The publication announced its new Bill of Rights in an effort to "help restore trust in fact-based news." The 10-point declaration includes a promise to "sacrifice scale for quality," be transparent in how the news outlet is making money and using reader data, a commitment to local journalism and more.
Axios also said all of its stories would be "written or produced by a real person with a real identity," eschewing artificial intelligence tools for content creation—and said it's asking all employees to refrain from taking public positions on political topics.
Mike Allen, Axios' co-founder, tweeted:
🗽 As @Axios expands into local news, we're broadening our mission to help restore trust in fact-based news with an audience Bill of Rights, unveiled here by @Axios CEO @JimVandeHei https://t.co/3z7qB8ydjK

— Mike Allen (@mikeallen) January 15, 2021
Why it matters: As consumers' trust in organizations falters, communicators must find ways to bolster confidence and stop the spread of misinformation. This responsibility doesn't only fall to publications. Look for ways your organization can make commitments to transparent and truthful content, and then outline your strategy for making good on those promises.
---
TACTICALLY SPEAKING
The start of a new year brings more opportunities for communicators across roles, organizations and industries to develop effective strategies and efforts that can strengthen their brands amid continuing crises, including the COVID-19 pandemic.
Ragan's Communications Leadership Council has created The 2021 Communications Benchmark Survey, and wants to know your challenges, successes and needs as you navigate the rapidly shifting communications landscape and respond to unprecedented crises as well as new opportunities.
Please share your insights with us. As a thank you for your time and insights, you'll receive an Executive Summary of the report, packed with proprietary research that can help you better shape communications strategies in 2021. You'll also be entered to win one of five $100 Visa gift cards.
---
WHAT YOU SAID
Michelle Garrett, owner of Garrett Public Relations, embraced the growing trend of Twitter threads eliciting members of marketing, social media and other communities to come forward and virtually connect with one another.
Here's her #PRTwitter introduction thread, which has more than 150 comments at time of publishing:
Has anyone started #PRTwitter yet?

If not, let's do it!

Introduce yourself – tell us what you do, what industries you work in, etc.

— Michelle Garrett (@PRisUs) January 14, 2021
As communicators seek ways to respond to unprecedented crises and rise to new opportunities, networking is more important than ever. Consider taking a few minutes each day to expand your circle through Twitter, LinkedIn and beyond.
COMMENT
One Response to "Disneyland axes annual pass program, Axios declares audience 'Bill of Rights' to gain reader trust in local news, and Edelman reports burst trust bubble"
Wendy Nugent

says:

Regarding "Axios publishes audience 'Bill of Rights:'"
Calling a list of company guidelines a "Bill of Rights" is not helpful. There already is mass misunderstanding of the United States Bill of Rights. Americans don't need another list that makes them think they're entitled to something that doesn't actually exist in law.