ESI Energy downplays guilty plea over 150+ dead eagles, travel brands weigh waning support for mask mandates, and Lego's metaverse play
Also: Miller Lite takes on #NationalBeerDay with goofy new product launch.
Hello, communicators:
What are you doing to celebrate National Beer Day?
If you've ever wanted to prank friends who drink light beers from Busch, Coors or Budweiser, Miller Lite has something for you.
No one should celebrate #NationalBeerDay without great taste. Miller Lite Beer Drops are the easiest way to bring more beer taste to those who drink other light beer. The sale will be live at 3pm ET, click here to learn more: https://t.co/jap8n2aLco pic.twitter.com/aSMEpflO5A

— Miller Lite (@MillerLite) April 7, 2022
"Miller Lite Beer Drops" — think Mio or Crystal Lite flavorings — will be available for sale on the Miller Lite website starting this afternoon.
A new product — or even a gag item — can be a powerful way for brands to take advantage of these themed "holidays" that have relevance for their product or service.
Here are today's other top stories:
NextEra Energy statement frames federal guilty plea as "agreement"
Earlier this week, wind energy company ESI Energy, a subsidiary of NextEra Energy, pleaded guilty to federal charges of violating the U.S. Migratory Bird Treaty Act after at least 150 eagles were killed at its wind farms over the past decade.
ESI entered a plea agreement which requires the company to spend up to $27 million over the next five years to prevent more eagle deaths, according to NPR.
In a statement, Rebecca Kujawa, president of NextEra Energy resources and partners, characterized the guilty plea as an agreement between the federal government and ESI and emphasized the accidental nature of the birds' deaths.
Kujawa calls the guilty plea "the most expedient solution" for the company to return to business as usual, "continuing to develop, build and operate emissions-free wind energy centers for a lower carbon America built by good-paying American jobs."
We have a long-standing and well-earned reputation for protecting our environment and positively co-existing with and supporting wildlife around our facilities, and we have never sited a wind turbine knowing an eagle would fly into it nor have we taken any action in disregard of federal law. In fact, our company makes significant efforts to avoid accidental collisions with bird populations, including eagles. Over the last 20 years, NextEra Energy has invested more than $150 million across the U.S. to support our avian impact mitigation efforts, including taking actions to mitigate avian interaction with our poles, wires and energy generation facilities. We believe that the wind energy industry, including NextEra Energy Resources, voluntarily does more than any other industry in seeking to minimize interactions with avian wildlife.
Why it matters: Kujawa's extended statement addresses the claims made in the lawsuit directly, contradicting claims made by prosecutors. It hopes to establish that the guilty plea does not reflect ESI's official stance on what happened — rather, that it is a means to an end for resuming business operations. Kujawa emphasizes the company's commitment to environmental conservation and frames the five-year probationary period as a good thing for both the company and U.S. eagle populations.
---
MEASURED THOUGHTS
New research from Morning Consult indicates that travel brands are contending with declining consumer support for mask requirements, even as many airlines are still enforcing mask mandates.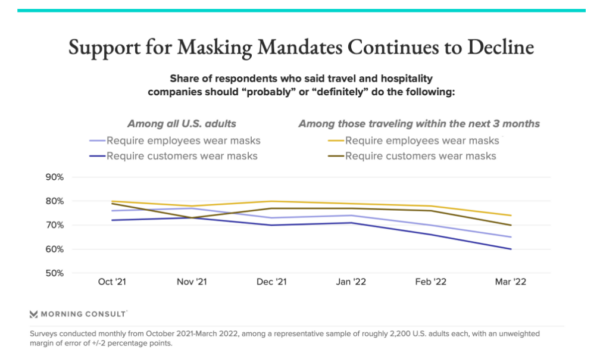 According to Morning Consult's polling, support for customer mask mandates has dropped 11 percentage points since January and support for employee mask mandates decreased by nine percentage points in the same time.
Morning Consult's Matthew Howe writes:
While support for masking requirements for both consumers and workers has declined precipitously in recent months, we believe travel brands should wait and see what the impact of Covid BA.2 is before eliminating mandates. Another option is adopting virus spread or hospitalization metrics that, if surpassed, would trigger the reinstatement of masking requirements. Both of these potential approaches are sensitive to traveler comfort and responsive to the changing safety environment.
As always, comms pros should strive to keep their audiences updated and informed about the latest government and company COVID-19 policies, with an understanding that audience expectations are rapidly changing on these rules.
Read more from Morning Consult here.
---
TAKE OUR SURVEY
We want to hear from our community about how their thinking has changed on media relations and its value inside their organization. If you work in communications, please take our short survey to help us chart the value of media relations for 2022.
The survey will take less than 10 minutes to complete and participants will be entered in a drawing for a $100 credit toward a Ragan event. All individual responses will be kept confidential.
Results from the survey will be shared at PR Daily's Media Relations and Measurement Conference in New York City on May 11.
Epic Games and Lego partner to create a kid-friendly metaverse
The metaverse is about to become a destination for the whole family.
Epic Games, the company behind Fortnite and Unreal Engine, is partnering with iconic toy maker Lego to create a family-friendly virtual world. It's an intentional step into the metaverse for Lego and an expansion of Epic's metaverse offerings.
As the metaverse evolves, it is reshaping how people meet, play, work, learn and interact in a virtual, 3D world. The LEGO Group and Epic Games will combine their extensive experience to ensure that this next iteration of the internet is designed from the outset with the well-being of kids in mind.
The two companies also shared three safety principles that will be built into the virtual world:
Protect children's right to play by making safety and wellbeing a priority.
Safeguard children's privacy by putting their best interests first.
Empower children and adults with tools that give them control over their digital experience.
What it means: This is an example of intentionally crafting messaging about transparency and safety for users when building virtual communities. As companies build out their digital presence, emphasizing the steps that your brand is taking to protect users is a helpful message for parents worried about letting their little ones run wild in the metaverse. Transparently communicating about data privacy protections, in particular, is a great way to build trust with your audience.
COMMENT