ExxonMobil responds to Biden, Kraken CEO ignites 'culture war' and the gap between journalists and the public
Also: Stanley Tucci partners with San Pellegrino to invite Americans to relax like an Italian.
Hello, communicators:
Everyone's favorite honorary Italian is continuing his multi-year partnership with beverage brand San Pellegrino with a giveaway that invites entrants to take some time off and relax like an Italian.
Actor Stanley Tucci is known for his love of Italian culture and food.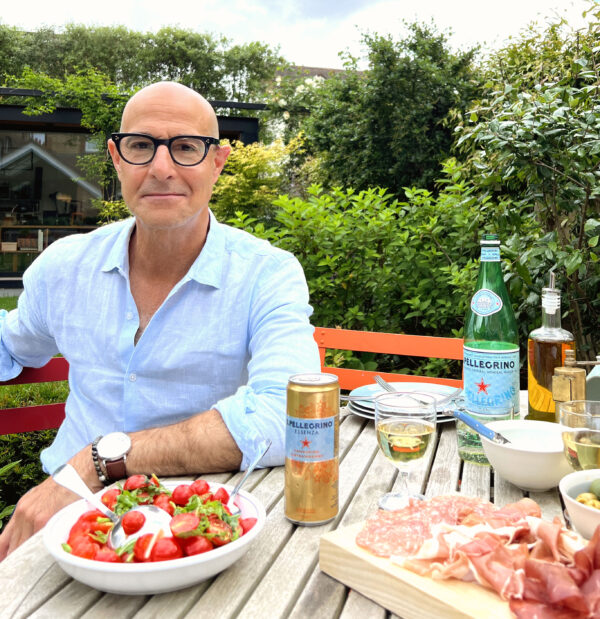 "In Italy, the spirit of summer comes alive in the simple things. It's about the wonderful times spent relaxing outdoors and gathering around the table with family and friends. S.Pellegrino fits naturally into those moments," Tucci says in a press release. "While they may be divided on the country's best dish, Italians collectively enjoy an extended summer holiday."
The accompanying promotional photos read more like a curated Instagram post than a product shoot — a good reminder that humanizing your brand reps can help create a more authentic brand voice.
Here are today's other top stories:
ExxonMobile responds to Biden letter to oil companies
President Joe Biden penned a letter to oil and gas companies earlier this week, asking them to produce more gasoline amid record prices at the pump.
"The crunch that families are facing deserves immediate action," Biden wrote. "Your companies need to work with my Administration to bring forward concrete, near-term solutions that address the crisis."
Oil company ExxonMobil responded in a press release, writing that the company has increased its production by nearly 50% in the last five years by working with the U.S. government.
ExxonMobil also had some of its own suggestions for the president:
In the short term, the U.S. government could enact measures often used in emergencies following hurricanes or other supply disruptions — such as waivers of Jones Act provisions and some fuel specifications to increase supplies. Longer term, government can promote investment through clear and consistent policy that supports U.S. resource development, such as regular and predictable lease sales, as well as streamlined regulatory approval and support for infrastructure such as pipelines.
Why it matters: ExxonMobil's statement is a good example of going on the offensive in response to accusations or news that might otherwise cause a company to retreat. In making demands of its own, the oil giant passes along some of the responsibility to the U.S. government, lightening its own load and steering the conversation away from itself.
---
MEASURED THOUGHTS
New polling from the Pew Research Center shows there's a significant gap in what journalists say and what the public thinks about what news outlets do well.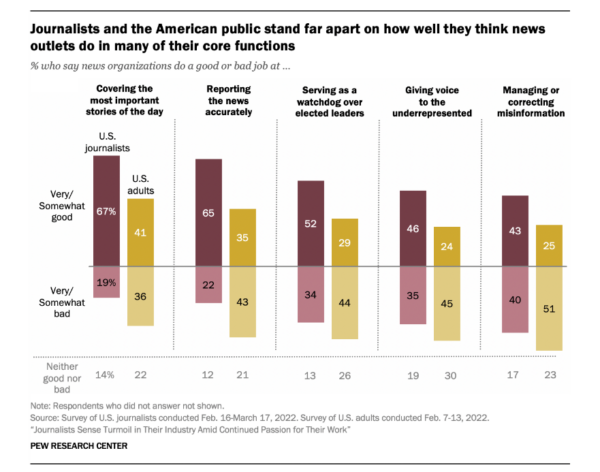 In five main areas, the surveyed journalists give a more positive assessment of how their news organizations are performing than the public does. These categories are covering the most important stories of the day, reporting the news accurately, serving as a watchdog over elected leaders, giving voice to the underrepresented and managing or correcting misinformation.
And journalists are aware of this gap:
When asked what one word they think the public would use to describe the news industry these days, journalists overwhelmingly give negative responses, with many predicting that the public would describe the news media as "inaccurate," "untrustworthy," "biased" or "partisan."
There's a place in media relations for PR pros to help out their friends in journalism. Make sure you're giving accurate, timely information in your press releases and working with reporters to correct misinformation that affects your organization.
Still need some guidance? Check out our piece on what journalists really want from PR pros.
Read more from the Pew Research study here.
Crypto CEO sparks backlash with workplace culture comments
Jesse Powell, CEO of cryptocurrency exchange Kraken, is unapologetically promoting a libertarian culture in his company's workplace — and telling employees who disagree to get out.
The New York Times' Ryan Mac and David Yaffe-Bellany report:
[Powell] recently asked his employees, "If you can identify as a sex, can you identify as a race or ethnicity?"

He also questioned their use of preferred pronouns and led a discussion about "who can refer to another person as the N word."

And he told workers that questions about women's intelligence and risk appetite compared with men's were "not as settled as one might have initially thought."
Powell further explains Kraken's culture in a Notion document and on the company's blog.
"Should we aim to be exemplary in terms of stereotypical team diversity measurements? No," the Notion post reads.
Some Twitter users argued that the company's culture policy is a kneejerk, discriminatory reaction to what Powell calls "woke" thought:
Any women who work at Kraken should probably start asking their male peers what they're paid, just saying

— Molly White (@molly0xFFF) June 15, 2022
Kraken has several openings in their HR department, which is why I assume there was no one in the room to point out that this "culture overhaul" is just a bunch of labor law violations in a trenchcoat. https://t.co/E1w9abKzlJ

— Eva (@evacide) June 15, 2022
Powell outlines Kraken's "commitment to "diversity of thought," and then followed that up with "he did not believe they should choose their own pronouns."

— Dave Banfield (@davidrb75) June 16, 2022
Why it matters: No company communications — especially more controversial ones, like this — should be expected to stay internal. Powell's lengthy Notion post and his tweets about the matter make it clear that he understands this. From an employer branding perspective, however, Powell's "align with our culture or get out" philosophy could prove to drive away more job candidates than it attracts.
COMMENT