For communicators, empathy is a superpower
President for Bellmont Partners Brian Bellmont shares his tips and tactics for success amid a resurgent economy in our latest in the 'Day in the Life' series.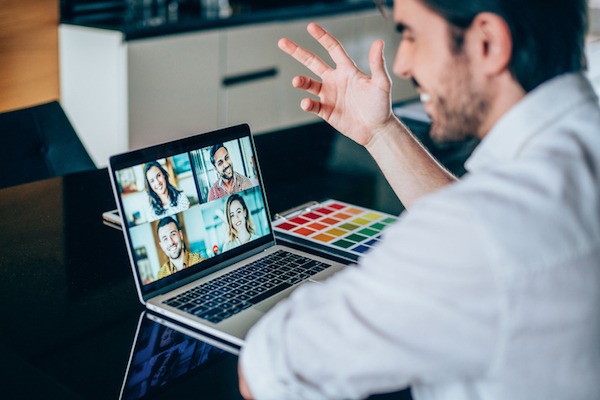 We began 2021 with a call for empathy. In the early days of January, before vaccination had started to drive down COVID-19 cases in the U.S., the bleak days of winter still had a harsh bite.
Now, after July 4th, with many locales reopening and reconvening with rising vaccine numbers and low COVID-19 cases, it can be tempting to move on form the empathy of earlier in the year. Perhaps it's in human nature to want to "turn the page" and get back to the rollicking economy of 2019.
Everyone is eager to declare: "We're back."
And yet, there's still a need for empathy, to understand where others are coming from and how they are experiencing the world in a different way than they were. Empathy is what allows us to understand how the
world has really changed and what facets of life might never go back to the old ways. It's the No.1 message for Brian Bellmont to clients and colleagues alike.
The president of Bellmont Partners caught up withy us recently for our "Day in the Life" series and here is what he had to say about our current moment and working through the challenges ahead:
1. What's the first thing you do every day when you wake up?
Bellmont: I stumble right to the coffee maker. Then, I quickly check email and our company intranet to get a feel for what's already happening at the agency, and settle in to read the news. I'm a former journalist, and I love to stay connected with not only what's going on nationally and locally, but also what's happening in entertainment and pop culture.
2. Who is the most important person you talk to every day?
Bellmont: My wife Jen, who owns Bellmont Partners with me. We start our morning over coffee and then touch base all day long about everything from big ideas to small to-dos to what our two school-age daughters are up to. When we first started the company, we shared an office, but we've since shifted to separate spaces (both when we're working from home and when we're at the office), since we often find ourselves on competing calls and Zooms.
We're just a few yards away, though, so it's easy to have a quick chat.
3. When do you plan to go back into the office? Do you want to go back?
Bellmont: We're slowly increasing the amount of time we spend at the office.
Years before the pandemic, we had already shifted to a work-from-anywhere model—each of the 16 of us spent an average of about three days a week in the office and our culture and technology supported working remotely. So, it wasn't a huge left turn to work 100-percent from home. As things are beginning to open up, we're all reassessing how much time we'll spend in the office, and like it used to be, it'll be dependent on everything from client meetings to whether we could be more productive at home on a particular day. One silver lining to working from home is not ever having to navigate a Minnesota blizzard during rush hour.
I do miss being in the office with people, but you'll likely never see me there if it starts to snow.
4. What's a new tool you have discovered that you just can't live without?
Bellmont: I know a lot of us are experiencing Zoom fatigue, and I'm no exception. But I still really appreciate what video calling has allowed us to do during the pandemic.
The challenge for me has been navigating all the different platforms: I have regular meetings over Zoom, Google Meets, Teams, Ring Central, you name it. But I try to remind myself that it's an easy way to stay connected and seeing peoples' reactions beats a regular phone call any day of the week.
Outside of work, these tools have also allowed us to broaden our kids' horizons more than ever before, since everything from Spanish classes, to Taekwondo training, to voice lessons has gone virtual.
5. What was your favorite work memory from the past year?
Bellmont: I'm especially proud that we were just named a Best Workplace by Inc. Magazine for the third year in a row.
2020 was a tough year for everybody, and that recognition was a phenomenal reminder that all the work we've done to build and maintain our agency culture is what helped us weather the storm. We had hoped we'd be able to rely on the strong foundation we built if things ever took a major turn, and the last year proved that we made a lot of the right decisions along the way.
6. What has been the biggest "lesson learned" from 2020?
Bellmont: In the immortal words of famous philosopher Ferris Bueller, "Life moves pretty fast. If you don't stop and look around once in a while, you could miss it."
In 2020, it was more important than ever to pause, take a step back and understand the context of what was happening. As an agency, we found ourselves celebrating as much or possibly even more than we would have in a normal year. We toasted weddings, babies and new homes, awards, excellent client work, new business, milestones, even just the fact that we met a deadline that was particularly difficult when we weren't able to collaborate in person.
There was so much uncertainty and negativity in all our lives, we wanted to really hold up the good things and make sure they got their due. And a bonus: We learned how to line up our champagne glasses in Zoom windows so that we all look like we're toasting each other.
7. What's your No.1 message to clients, co-workers or employees for 2021?
Bellmont: Practice empathy. When the world is shifting underneath the feet of everybody you know—from colleagues to clients to consumers—it becomes more important to really try to understand what others are experiencing—and why—and act accordingly.
We apply this to everything we do, from client work to internal communications to diversity and inclusion efforts to operations. Empathetic communications can help you build or reinforce deep, authentic, complex connections that build a foundation for mutually beneficial, long-term relationships.
8. What makes you hopeful about the future of PR?
Bellmont:  If there ever was a year that demonstrated the importance of PR it was 2020. And as difficult as it was, it made me more optimistic than ever for our industry.
During times of great change, PR practitioners leap into action and do what needs to be done: We connect the dots, we help people communicate with clarity and passion, we mitigate crises, we elevate and speak to the human elements of what drives our decisions. As PR pros, we have a bright future ahead of us.
COMMENT
One Response to "For communicators, empathy is a superpower"
Hi, Ted! Thanks for sharing the information. It's very helpful. Best Regards!