Google, Twitter respond to new EU social media law, teens say businesses have climate responsibility and Antarctica uses penguins to lure talent
Also: Elon Musk's Twitter buy likely to be finalized Monday. Here's how you can read up on the whole saga.
Hello, communicators:
Twitter's share price is jumping amid reports the company will accept Elon Musk's bid to take the company private.
To bring you up to date on the story, TechCrunch's Alyssa Stringer and Taylor Hatmaker have your solution: a complete timeline of the saga, starting with the Securities and Exchange Commission's insistence that it could subpoena the tech billionaire's online spouting: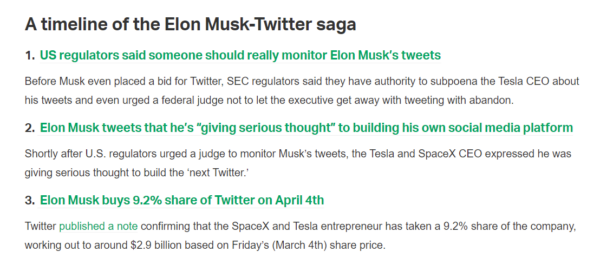 What does Musk's buyout mean for users of the platform?
From tech outlet Rest of World:
If Musk is successful in his takeover attempt, he'll be inheriting a company that's on the front lines of navigating these questions all around the world. That's particularly true in countries that have proven to be hostile to a free press and public dissent. In places like India, Nigeria, and Russia, governments have put pressure on Twitter by banning the platform outright, issuing a flood of takedown requests, and instituting so-called "hostage-taking laws," forcing platforms to have in-country staff who can be legally held accountable for any violations. A successful acquisition would mean Musk would inherit these challenges.
Though it might seem like a chore to track Musk's eccentric and sometimes erratic dealings with the social media platform, it's essential that PR pros stay updated on the latest news concerning Twitter operations, lest you fall behind on crucial new policies.
Here are today's other top stories:
Tech companies respond to new EU hate speech, disinformation law
The European Union approved legislation this weekend that will require major tech companies to better police hate speech and disinformation on their platforms that are visited by European users.
NPR reports that the Digital Services act "helps cement Europe's reputation as the global leader in efforts to rein in the power of social media companies and other digital platforms."
TikTok, Google, Amazon and Twitter all provided statements to NPR:
Twitter said it would review the rules "in detail" and that it supports "smart, forward thinking regulation that balances the need to tackle online harm with protecting the Open Internet."

TikTok said it awaits the act's full details but "we support its aim to harmonize the approach to online content issues and welcome the DSA's focus on transparency as a means to show accountability."

Google said it looks forward to "working with policymakers to get the remaining technical details right to ensure the law works for everyone." Amazon referred to a blog post from last year that said it welcomed measures that enhance trust in online services. Facebook didn't respond to a request for comment.
Why it matters: Tech companies' positive response to a bill that will likely change their fundamental operations in EU countries is a lesson in humility communications. Phrases like "smart, forward thinking legislation," "harmonize" and "ensure the law works for everyone" emphasize the idea that these corporations are willing to work with government authorities to protect users. However, the real test will come in the rollout of these policies.
---
MEASURED THOUGHTS
New research from The National 4-H Council and The Harris Poll shows that American teens feel companies play a large part in improving the environment.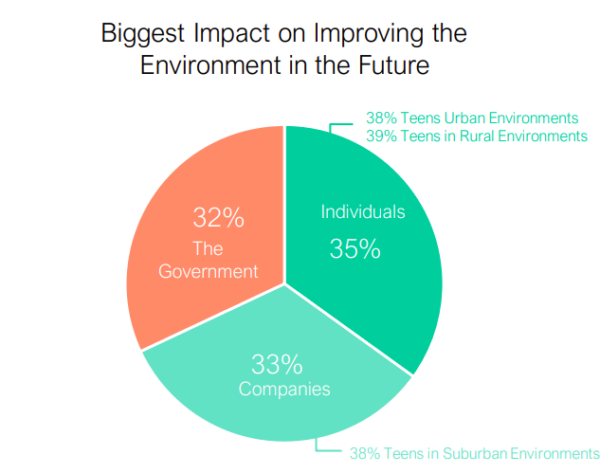 Eighty-four percent of 13- to 19-year-olds surveyed said they agree that "we need more corporate action from companies today to improve our climate for tomorrow," and 83% of teens said the same thing about legislators.
Thirty-three percent of teens who live in the suburbs said that companies will likely have the biggest impact on improving the environment for future generations.
It's yet another reminder of the importance of purpose-driven action and messaging for corporations. While many organizations are hesitant to speak directly to Gen Z, the explosive growth of TikTok and youth-driven social movements show the true power of today's young people — something that PR pros should keep in mind.
Read more from the 4-H/Harris Poll report here.
---
BRAND POST OF THE DAY
Over the weekend, "IPA" started trending on Twitter after several users shared their desire for breweries to start producing other kinds of beers, citing the polarizing taste of India Pale Ale brews.
A Virginia brewery took advantage of the heated discourse to promote their Vienna Lager, which is not an IPA:
Heard we're getting tired of #IPAs… allow us to reintroduce ourselves. Medium bodied, smooth, notes of caramel. A real crowd pleaser. Leave the bitterness to your ex, not your beer! pic.twitter.com/cL7lMNb6jC

— Devils Backbone (@dbbrewingco) April 24, 2022
"Leave the bitterness to your ex, not your beer!" is a line that will be parroted at local breweries for quite awhile.
Antarctic post office promotes job posting with penguins
A remote post office in Antarctica is getting creative with the promotion of its latest job posting — whoever takes the U.K. Antarctic Heritage Trust's Port Lockroy Base Leader position will get to hang out with penguins on the job.
Goudier Island has no running water, and the team of five to six staff members will share one bedroom, "hostel style."
But the organization's social media posts about its job listings paint the opportunity as a chance to "see Antarctica in all its glory":
Dream of waking up & seeing Antarctica in all its glory? Penguins plodding around, the sun peeping over snow topped mountains. A job like no other. Join us & help protect Antarctica's heritage & conserve its precious environment. Apply by 25 April. https://t.co/NPSf6dKLdi pic.twitter.com/GmJYIq5w1m

— UK Antarctic Heritage Trust (@AntarcticHT) April 4, 2022
There's still time to apply to be our Field Operations Coordinator – but be quick, applications need to be in by Monday 21 March. Full info: https://t.co/krCR6rN7W8 pic.twitter.com/oIjyNXmVFk

— UK Antarctic Heritage Trust (@AntarcticHT) March 18, 2022
What it means: It's a good example of how to acknowledge the more challenging parts of a job listing while also promoting it as a unique experience. PR pros, consider addressing the special or uncommon aspects of a job posting in your recruitment comms — you might get applicants who are intrigued by something a little different.
---
ATTEND OUR MEDIA RELATIONS CONFERENCE
Join us in New York City on May 11 for a one-day, in-person conference all about media relations and measurement.
At PR Daily's Media Relations & Measurement Conference, you'll learn how to score the coverage your brand deserves and generate results—and then showcase those results to management. You'll also learn the latest measurement tools and methods for everything from internal comms and media relations to social media.
Each attendee will receive a Media Relations & Measurement Conference Certificate of Completion.
Register here before April 27 to receive a special attendance rate.
COMMENT