Goop's 'Diapér' stunt, Carvana lays off workers via Zoom, email and how consumers feel about brands that stayed in Russia
Also: A cotton candy lobster will star in her own line of NFTs.
Hello, communicators:
A cotton candy-colored lobster is about to get her own set of NFTs.
Haddie, a rare cotton candy lobster who was found by a fisherman off the coast of Maine in late 2021, is the star of Get Maine Lobster's new line of more than 7,000 NFTs: Haddie's Bay Club.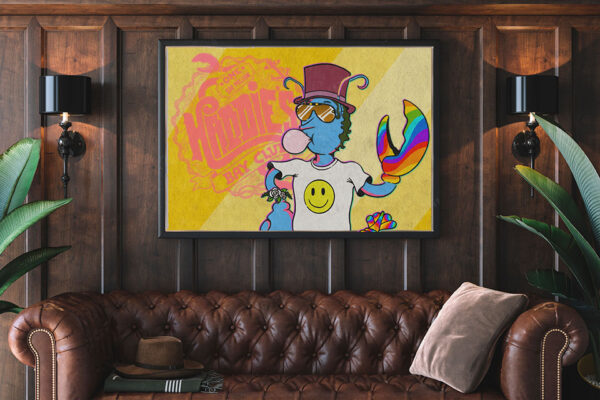 The seafood product company's founder, Mark Murrell, says the move was inspired by the outpouring of interest on social media following Haddie's discovery.
"We want to inspire people to be brave, be 1-in-100-million, and we want to GIVE BACK," he says in a press release. "To do this, 10% of all Haddie related transactions will go straight into a treasury that is solely focused on marine conservation."
PR pros, is your organization considering making the foray into the world of NFTs? If a lobster can do it….
Here are today's other top stories:
Goop 'Diapér' PR stunt sparks incredulity, backlash
Gwyneth Paltrow's lifestyle brand, Goop, had audiences questioning the legitimacy of its latest product debut, The Diapér.
At $10 per diaper, Goop said the product was "lined with virgin alpaca wool and fastened with amber gemstones, known for their ancient emotional-cleansing properties" and promised a "revitalized baby."
View this post on Instagram
Some Instagram users were immediately suspicious of the announcement.
"Is it April fools day?" one wrote. Another: "Is this an SNL skit."
"Got to be a joke," a user commented. "Although you never know with GOOP. 😂"
It was, in fact, a stunt, with the brand posting a follow-up video hours later with Paltrow explaining how The Diapér was meant to raise awareness about how diapers are taxed as a luxury item in some U.S. states.
"…only one box of them exists — because they're not really for sale," reads an explanatory blog post on Goop's website. "What we actually want is to start a conversation about how much diapers cost."
Vice called the intitative a "poorly-timed PR stunt," citing the formula shortage that is affecting parents of babies across the U.S.
"Given Goop's role in the misinformation ecosystem—and the fact that it does actually sell absurd luxury products like $20 diaper balm, a "Goop University" shirt that costs $125 and that [f*****g] jade egg, which now contains fewer dubious claims about what it does for one's vagina—the satire here is perhaps less on-target than one might reasonably hope," Vice's Anna Merlan and Tim Marchman write.
Why it matters: Is all press good press? The answer to that question lies solely with Goop and its partners at Baby2Baby, the charity that the stunt was promoting. In the meantime, it's a good reminder to PR pros that it's always important to take into account your brand's existing perception and reputation when crafting any tongue-in-cheek messaging — especially if it might provoke backlash.
---
MEASURED THOUGHTS
New research from Morning Consult shows most U.S. consumers haven't changed their opinions of organizations based on whether or not they halted operations in Russia following the country's invasion of Ukraine.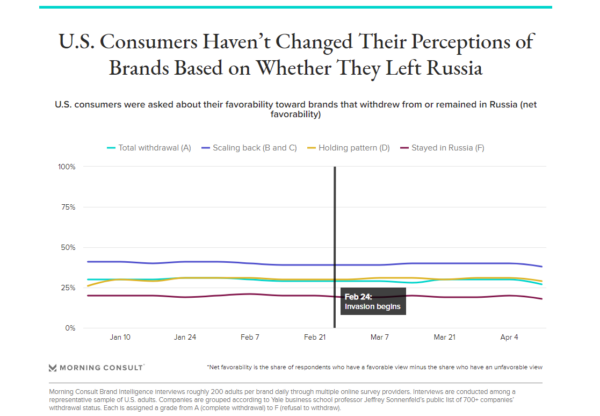 Morning Consult's most recent polling pegs the net favorability of companies that stayed in Russia at 18% — while that's lower than those that totally withdrew (27%) or scaled back operations (38%), it's nearly exactly the same as the same metric measured in late February, right after the invasion (19%).
For most companies in most markets, our data suggests brand favorability won't change based on their response to Russia's invasion of Ukraine. But the risk to reputation is high when awareness is high, whether due to focused media attention on a particular company or among consumer groups who feel the effects of Russia's invasion of Ukraine more directly.
Read more from the Morning Consult report here.
Carvana lays off thousands of employees via mass Zoom calls, email
Online car retailer Carvana laid off 2,500 workers this week following an 87% drop in share price since the start of 2022. Many of the workers said they were notified of their job loss by an email from CEO Ernie Garcia or via a scripted Zoom call.
"They were doing mass layoffs in these Zoom calls," Frantz told CBS MoneyWatch, saying that a woman read from a prewritten script to inform them that they had lost their jobs. Workers weren't allowed to ask questions on the Zoom call. "It was so disrespectful."

In an email to CBS MoneyWatch, Carvana said it had "as many conversations as we could in person, and where in-person was not possible, we spoke to our team members over Zoom." The spokesperson added, "Not all of the conversations were through Zoom."
More workers told CBS News that the first news they got of the layoffs was Garcia's email.
"One of Carvana's slogans is 'Treat customers as you would treat your own mom,' and we didn't get treated that way as employees," Jay Romero, who was laid off, said.
What it means: There's a term for when a company's ethos doesn't match up with how it treats its employees: organizational gaslighting. And it's not good for employer branding. Mass layoffs via Zoom and email certainly fall under the definition of organizational gaslighting, which we've seen from other companies like Better.com.
PR pros, remember: Internal and employee comms are increasingly being repurposed as PR and external messaging. Don't let your company's employer reputation tank with inconsiderate employee treatment.
COMMENT