Better.com cuts workforce over Zoom, CEOs share top priorities for comms execs, and Anna Wintour details Condé Nast's content strategy
Also: Nextdoor and Home Depot launch holiday cheer map, Ragan's 2022 benchmark survey, Kraft Heinz explains Philadelphia cream cheese shortage, and more.
Hello, communicators:
Neighborhood social networking app Nextdoor partnered with Home Depot to launch its annual holiday cheer map which lets users who mark their decorated homes on the app for others to see and visit during the holidays. This year's cheer map also displays nearby Home Depot locations where neighbors can find holiday decorations and includes a how-to guide for decking your halls with festive décor.
Nextdoor and Home Depot conducted a survey of U.S. adults that found half of the respondents plan to explore their own neighborhood to enjoy the holiday decorations, while 54% don't mind if neighbors leave their holiday decorations up after Jan. 1.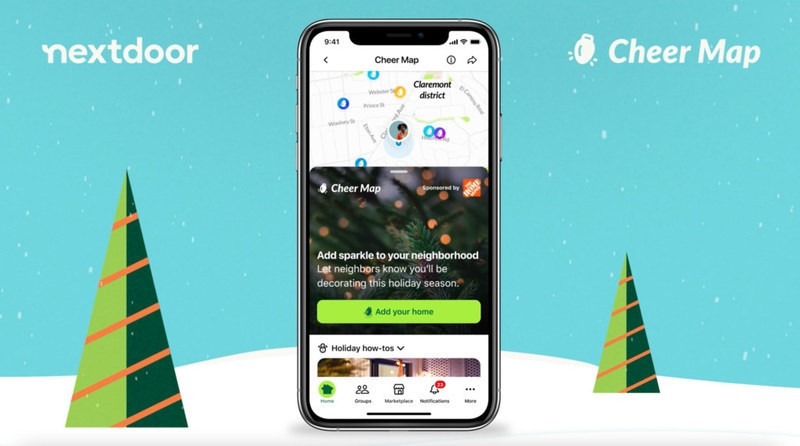 By folding Home Depot into its annual cheer map tradition, Nextdoor demonstrates how your campaigns can tap a strategic brand partner with proprietary survey data.
Here are today's top stories:
Better.com lays off 900 employees over Zoom
Vishal Garg, the CEO of mortgage company Better.com, laid off what the company reports as 9% of its workforce on a Zoom webinar call last week. Cuts included the company's DE&I recruiting team. On the call, Garg cited performance and productivity, along with doubts over the efficiency of the real estate market, as reasons for the firing.
"If you're on this call, you are part of the unlucky group that is being laid off," Garg said on the call, a recording of which was viewed by CNN Business. "Your employment here is terminated effective immediately."

"This is the second time in my career I'm doing this and I do not want to do this. The last time I did it, I cried," Garg said on the call, which remained short and emotionless.

"Having to conduct layoffs is gut wrenching, especially this time of year," CFO Kevin Ryan said in a statement to CNN Business. "However, a fortress balance sheet and a reduced and focused workforce together set us up to play offense going into a radically evolving homeownership market."
Why it matters:
Better.com's layoffs reinforce the idea that poorly perceived internal communications can fast become external crises, especially when those communications are carried out hastily without personal consideration for the impact that bad news can have on your workforce. Ryan's statement further compounds the optics of this incident, attempting to put a spin on Garg's reasons for the layoffs by ignoring the callous treatment of exiting employees.
This is the latest reminder that any disconnect between the tone of your employee communications and how that same news is positioned externally will be obvious to your external audiences.
---
MEASURED THOUGHTS
A recently released study by Harris X and Ragan Communications found that CEOs of medium and large companies are more likely to say the most important roles for communicators are supporting the CEO and senior management with employee comms and external messaging.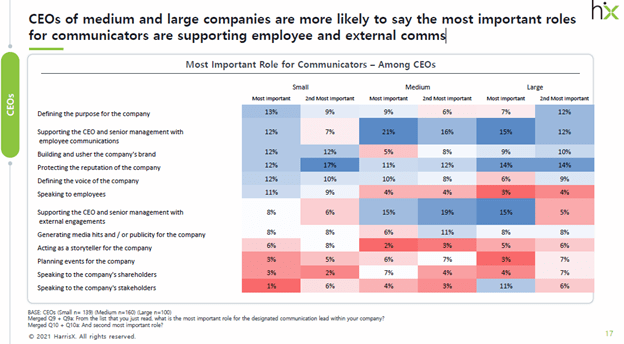 "Interestingly, speaking to company shareholders and acting as a storyteller for the company are not high priorities for CEOs when thinking about counsel from their comms leads," writes Ted Kitterman, editor-in-chief for PR Daily. "Instead, being a counselor to the CEO is a vital service that top leaders are looking for in thinking about the role of a comms leader. It's a reminder for communicators to think about how they can build relationships with top executives and be strategic advisors—perhaps investing in soft skills that enable them to be teachers and guides rather than order-takers."
Check out the full report here.
---
TAKE OUR SURVEY
If you're looking to further your understanding of your industry to navigate what's ahead in 2022, lend us a hand—and help yourself and your peers identify shared benchmarks in areas such as budgets, team structure, ESG and DE&I efforts and more. Participate in Ragan Communications Leadership Council's 2022 Benchmark Survey, a comprehensive look at how to negotiate budgets with your executives, how to best reach deskless workers and foster culture among a hybrid workforce.
Both internal and external communicators are encouraged to participate.
By taking part, you'll be entered to win one of three $100 gift cards. All who complete the survey will receive a full report on the findings. Responses are anonymous.
Survey takers will receive an executive summary of the findings.
You can take this important survey here.
---
CRISIS COMMUNICATIONS
A cream cheese shortage is creating headaches for the New York City bagel trade amid supply chain constraints. Kraft Heinz, which manufactures a raw form of Philadelphia cream cheese sold as a base product to many bagel shops, acknowledged the concerns.
Jenna Thornton, a Kraft Heinz spokeswoman, said in a statement that the company was seeing a spike in demand for several of its products. To accommodate the increases, she said, the company had been shipping out 35 percent more product than last year to food service partners, including bagel shops.

"We continue to see elevated and sustained demand across a number of categories where we compete," Ms. Thornton said in the statement. "As more people continue to eat breakfast at home and use cream cheese as an ingredient in easy desserts, we expect to see this trend continue."
Thornton's statement demonstrates how a supply chain issue can be reframed in a positive light by focusing on the popularity of a product. Thornton's words also expand on her previous Thanksgiving messaging that the brand was sending 30% more cream cheese to restaurants. This demonstrates how your brand can provide updates during a crisis that build a sustained narrative to show you are aware of the problem and adjusting your strategy accordingly.
---
Announcing the PR Daily Leadership Network
PR Daily is launching the PR Daily Leadership Network, a unique membership group from Ragan Communications offering peer-to-peer advisory and team training along with a unique slate of resources and events to help public relations professionals break through the noise, increase their visibility and forge meaningful connections.
The Network provides daily insights and coverage on a range of topics including media relations, social media, measurement, Diversity, Equity & Inclusion, branding, thought leadership and crisis communications.
"The fast pace of change coupled with the demand on public relations professionals to protect and sometimes defend their company's reputation make it imperative for leaders to tap into the wisdom of other communicators and continue to learn and grow," says Diane Schwartz, CEO of Ragan Communications. "The PR Daily Leadership Network provides the answers but also encourages members to question the status quo and push for positive change."
Visit leadership.prdaily.com to learn more.
Anna Wintour explains Condé Nast's global content strategy
Condé Nast CCO Anna Wintour spoke to The New York Times about her plans to turn seven of the media brand's biggest publications—Vogue, GQ, Wired, Architectural Digest, Vanity Fair, Condé Nast Traveler and Glamour—into global brands by streamlining content sharing across print magazines and digital platforms.
"Instead of having 27 Vogues or 10 Vogues go after one story, we have one global Vogue go after it," Ms. Wintour said. "So it's more like a global newsroom with different hubs."

"Obviously there are some stories that work, particularly if you think about fashion, that's a global language, and music, so there are stories that will work across all territories and then those that absolutely won't," Ms. Wintour said. "We're very aware of that."

"Before, you created stories for publication and it came out once a month and that was great," she said, describing the old domain of an editor in chief. Now the global editorial directors and heads of content are working across platforms that include "digital, video, short and long form, social, events, philanthropic endeavors, membership, consumer, e-commerce," Ms. Wintour said.

"Unless we want to look like a museum, we had to change and change pretty radically," said Steven Newhouse, the chairman of Condé Nast's parent company, Advance Publications.
What it means:
Wintour's strategy offers rare insight into how the publishing industry is evolving to meet the needs of changing, global audiences. Researching a media brand's target markets and developing a better understanding how its publications distribute the content to multiple audiences can help you better target your pitches to those changing audiences.
Wintour's strategy also illuminates how editors are no longer married to one medium or form of content. Understanding that mix before pitching, and suggesting angles that are optimized for repurposing across platforms, can increase the likelihood of a journalist agreeing to cover your pitch.
---
COMMENT
One Response to "Better.com cuts workforce over Zoom, CEOs share top priorities for comms execs, and Anna Wintour details Condé Nast's content strategy"
Ronald N Levy

says:

It's appropriate that the 900-layoff story and the PR network story are contiguous. When a company has to lay off workers (whether the boss cries or not) which PR workers are more likely to get the ax–those who have taken the crisis PR courses and PR network memberships or those who have not?

HR executives are paid good money to employ the best trained and most motivated people so who is more likely to get fired or get hired for the best jobs, PR people who have the interest and dedication to take the PR courses and join the groups—or those who don't?