GrubHub's 'free lunch' promotion in NYC goes awry, Netflix's latest layoffs thwarts DE&I progress and consumer preferences for companies to address Buffalo shooting
Also: The U.S. Women's National Team has paid their dues on the soccer field. Now they're finally being paid fairly.
Hello, communicators:
Your favorite female U.S. soccer players are finally being paid fairly!
The U.S. Soccer Federation announced this week it will pay its men's and women's teams equally. The agreement was touted on Twitter:
In a historic accomplishment, U.S. Soccer, @USMNT and @USWNT have come together to agree to new collective bargaining agreements that will run through 2028 and achieve true equal pay – including equalization of World Cup prize money.

— U.S. Soccer (@ussoccer) May 18, 2022
The Associated Press reports on the other conditions of the collective bargaining agreement:
Child care, covered for women for more than 25 years, will be extended to men during national team training camps and matches.
The women and men also will receive a portion of commercial revenue from tickets for matches controlled by the USSF, with bonuses for sellouts, and each team will get a portion of broadcast, partner and sponsor revenue.
The move marks a step forward for the U.S. Soccer Federation, which has long faced criticism for the unequal rates at which it compensated the women's team. The news is a reminder to tell your organizations story around how it supports and rewards employees — and to highlight fairness in your messaging.
Here are today's other top stories:
Grubhub's free lunch promotion spells disaster for NYC-area restaurants
There's no such thing as a free lunch. That statement rang especially true for thousands of New Yorkers this week as a well-intentioned GrubHub promotion turned into a mealtime disaster.
Buzzfeed News' Kelsey Weekman reports that some NYC restaurant workers said they weren't informed ahead of time about the promotion — a $15 credit to app users who ordered food between 11 a.m. and 2 p.m. As such, some eateries were unprepared to be inundated with the hundreds of orders that flooded in through the delivery service.
A worker named Lily in charge of packing orders at a Mexican restaurant in Harlem said since the restaurant's delivery driver couldn't keep up with demand, she ordered an Uber and hand-delivered 11 orders herself.

"INSANITY," she told BuzzFeed News over text.

GrubHub told BuzzFeed News that at times during the promotion that ran from 11 a.m. to 2 p.m. the app was averaging 6,000 orders per minute.
In its statement to Buzzfeed, Grubhub said, "It's clear, New Yorkers were hungry for lunch! While we knew 72% of New York workers call lunch the most important meal of the day, our free lunch promotion exceeded all expectations."
GrubHub also released a statement via Twitter contradicting the claims that restaurants didn't know about the promo:
We are thankful for the incredible work they put forth today and are working to address any concerns they may have and optimize for future offers. (2/2)

— Grubhub (@Grubhub) May 18, 2022
What it means: GrubHub's initial statement didn't mention the hardship faced by restaurant workers as a result of their promotion. Following backlash on social media, the delivery company's second, tweeted statement was much more considerate of those workers. It's a good reminder to PR pros that working with your social media team is crucial in the aftermath of a company hiccup, scandal or disaster.
---
MEASURED THOUGHTS
A new report from Morning Consult reveals exactly how each generation of Americans think companies should respond to the fatal, racist attack in Buffalo, New York.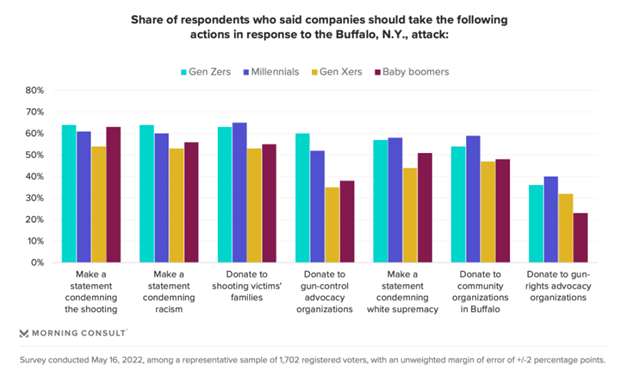 The most popular action across most age groups was "make a statement condemning the shooting," with 61% of all respondents saying companies should definitely or probably do so.
Morning Consult's Wesley Case writes:
The corporate world feels increasing pressure to react to breaking news events and political issues that affect their customers. The new Morning Consult data reveals that most Americans want brands to acknowledge the tragic event in Buffalo, but are less comfortable with companies' putting their money behind organizations that advocate for gun control.
Read more from the Morning Consult report here.
Netflix lays off 150 employees, 60+ contractors in highly criticized move
Netflix laid off 150 employees this week in a move it's blaming on "business needs."
The newest round of layoffs comes less than a month after it cut the majority of its brand journalism team, and includes not only full-time staff but also 60-70 contractors who were working on projects meant to uplift marginalized voices, like Strong Black Lead and Con Todo, reports Business Insider.
The employees let go on Tuesday are "mostly U.S.-based," a Netflix spokesperson told NPR in a statement.

"These changes are primarily driven by business needs rather than individual performance, which makes them especially tough as none of us want to say goodbye to such great colleagues," the spokesperson said.
Journalists and industry insiders took to Twitter to criticize the company's perceived lack of sensitivity to DE&I goals:
One of the reasons it's so important for inclusion efforts to be built into all your existing structures is that organizations that only create separate projects they treat like add-ons (their quality and importance notwithstanding) are likely to cut them loose to save money. https://t.co/HbDNB3lUdy

— Linda Holmes (@lindaholmes) May 18, 2022
My former employer didn't just decimate Tudum. Layoffs are also targeting social channels designed to bring marginalized viewers into the fold (Strong Black Lead, Golden, Most, Con Todo, etc.) There's a deeper story here. I hope we're all paying attention.

— Evette Dionne (@freeblackgirl) May 17, 2022
Netflix does better than a lot of companies at their DEI numbers, BUT the layoffs didn't touch the least diverse part of the company: the tech side. Are they tech, or entertainment? Both—the diversity is on the creative side, otherwise they look like any other tech company.

— Chief Esparza (@ChiefEsparza) May 18, 2022
Why it matters: Employer branding is company branding. And efforts (or lack thereof) to institute and complete DE&I initiatives are closely watched by potential employees and customers, who increasingly want more action on social issues from the companies they support. Cutting the bulk of teams meant to diversify your content — while leaving your less-diverse tech teams relatively untouched — isn't a good way to show your company's commitment to DE&I or progressive social causes.
When you have to announce workforce cuts, be sure to address the underlying implications for your DE&I strategy.
COMMENT
2 Responses to "GrubHub's 'free lunch' promotion in NYC goes awry, Netflix's latest layoffs thwarts DE&I progress and consumer preferences for companies to address Buffalo shooting"
Steve

says:

I am always stunned by the surveys that indicate a high percentage of consumers want companies to speak out on news and political issues. Perhaps because I am Gen X, but I know not a single person who looks to corporations for guidance or comfort — or frankly cares one iota about company statements on issues. As long as the company is operating ethically and following the law, I will use their product if I like it. In fact, companies taking stands has only soured my opinion of them if I find their position contrary to my beliefs — it has never made me support someone more.

Steve

says:

Further, from a corporate communications perspective, statements condemning bad acts seems like a total waste of time and resources stating the obvious. Is there any company who supports killing innocent people in a supermarket?!? It's a transparent "check the box" activity that adds no real value.