Netflix lays off bulk of Tudum brand journalism team, Airbnb touts 'work from anywhere' and the management gap threatening ESG messaging
Also: Duolingo's Twitter account is a case study in user-generated content.
Hello, communicators:
Duolingo's social media presence isn't only about posting thirsty videos and threatening users who don't complete their language lessons.
The language education app's Twitter strategy includes #StreakOfTheWeek, an initiative in which the account asks users to share stories about how they keep their Duolingo streaks alive:
Duo really about to steal your mans.

Congrats to @Rob07071 for winning #StreakOfTheWeek with 896 days 🔥 and keeping Duo top of mind during all of life's ✨ important ✨ moments. https://t.co/DshwPeOJaS

— Duolingo (@duolingo) April 26, 2022
Looks like Duo's scare tactics might be working? 🙃

For #StreakOfTheWeek, we asked for "wrong answers only" about what keeps you motivated to continue your streak.

Congrats to our winner, @AlysonRickert, with an impressive 1837 days! Your family is indeed safe. 💚😉 https://t.co/GrkwExC6EI

— Duolingo (@duolingo) April 19, 2022
It's a good example of taking advantage of the ways audiences are already interacting with your brand to create user-generated content.
Here are today's other top stories:
Netflix lays off bulk of brand journalism team
Streaming giant Netflix has laid off most of its 10-person Tudum editorial staff, according to reporting by The Verge.
While this appears to be a big setback for the company's brand journalism efforts, a Netflix spokesperson told Protocol "that there were no plans to shutter the site, calling it 'an important priority for the company,'" despite recent news that the streamer had lost subscribers for the first time in 10 years.
Most of the 10-person Tudum culture and trends team was let go, according to one person with knowledge of the situation. They said the staff was given no prior warning of the layoffs, and other workers found out their colleagues were laid off via Twitter. Many of the writers were experienced journalists that Netflix lured from other outlets, the person says. The person also claims news of layoffs on other teams is forthcoming.
Why it matters: Without the Netflix representative's statement to Protocol, it would appear that the company is abandoning ship on its nascent brand journalism program. The company's efforts to recruit a diverse team of journalists to Tudum is now marred by the layoffs, signaling that it may be difficult for the company to hire more journos in the future.
---
MEASURED THOUGHTS
A recent report from WE Communications and YouGov shows a disconnect between the expectations of C-suite members and middle managers about company sustainability measures.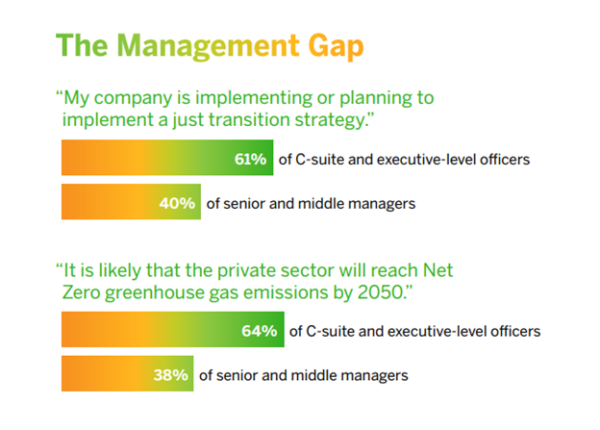 While 61% of executive leaders and C-suite members said that their company is planning to implement a just transition strategy to more sustainable operations, just 40% of senior and middle managers said the same.
"The disconnect between managers and CEOs reveals an opportunity for education and collaboration within the enterprise," PR Daily's Ted Kitterman writes.
If your organization's sustainability goals and practices are murkier than a sparkling clean waterway (see what we did there?), then it may be time to work with your internal comms team about getting everyone on the same page.
Read more from the WE Communications/YouGov report here.
Airbnb announces most employees can work from anywhere
Travel company Airbnb announced this week it will allow most employees to work remotely from anywhere without changing their compensation.
In a blog post on the company website, Airbnb shared an internal email sent to employees by CEO Brian Chesky.
From the blog post:
Now, I understand the anxiety of not seeing people in an office — how do you know if your employees are doing their jobs when you can't see them? For me, it's simple: I trust you, and flexibility only works when you trust the people on your team. You've shown how much you can accomplish remotely. In the last two years, we navigated the pandemic, rebuilt the company from the ground up, went public, upgraded our entire service, and reported record earnings, all while working remotely. It's clear that flexibility works for Airbnb.
Chesky also notes several steps the company will take to encourage collaboration and engagement while much of its workforce is remote, including regular in-person meetups and primarily operating on Pacific time.
What it means: Employees want flexibility, and employer branding is becoming increasingly more important as the power in the job-seeking market has shifted to the worker. Chesky's email addresses what many see as the major drawback to working remotely: A lack of engagement and face-to-face interaction. By emphasizing the trust he has in his workforce, Chesky's statement speaks to a sense of positive rapport between the C-suite and Airbnb employees.
---
ATTEND OUR MEDIA RELATIONS CONFERENCE
Join us in New York City on May 11 for a one-day, in-person conference all about media relations and measurement.
At PR Daily's Media Relations & Measurement Conference, you'll learn how to score the coverage your brand deserves and generate results—and then showcase those results to management. You'll also learn the latest measurement tools and methods for everything from internal comms and media relations to social media.
Each attendee will receive a Media Relations & Measurement Conference Certificate of Completion.
Register here before April 27 to receive a special attendance rate.
COMMENT