How Axe Body Spray is joining the vaccine conversation
The company is offering 'Get Axeinated' toolkits, running an 'Axeniation Station' and partnering with Snapchat for virtual promotion to drive vaccination among young men.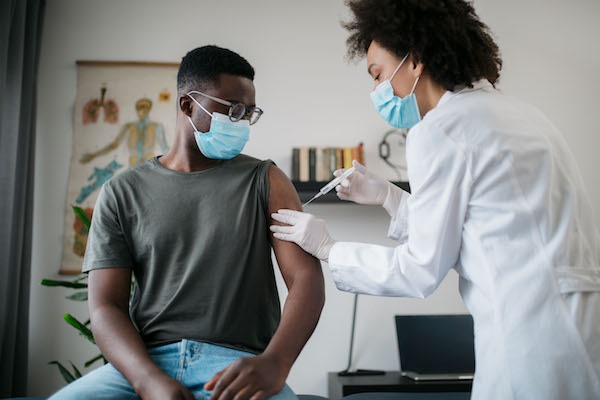 For AXE, the fragrance brand owned by Unilever, the issue of vaccination in response to the COVID-19 pandemic was a time to lean in.
While the issue of vaccination might be hot topic, some younger demographics have been hesitant to get the jab. AXE's big idea? Convince its young fans to "get axeinated."
"More than half of Gen Z adults said they were not in any hurry to get the vaccine," AXE shares in a press release. "With young guys dropping the ball on their grooming routines during quarantine combined with their vaccine hesitancy, guys don't have the tools to engage in a summer of attraction."
The campaign is in part inspired by consumer data showing that vaccination status is playing a big role in online dating and dating apps.
"We're seeing that getting vaccinated is a trending topic in dating profiles, and saying 'fully vaccinated' is one of the newest relationship statuses to spark attraction," says Mark Lodwick, AXE brand director. "We also know that there's some hesitancy among some young people to get vaccinated. As a Gen Z brand rooted in attraction and fragrance, we want to play a part in motivating young guys to get vaccinated, smell great and feel confident and get back out there in the dating scene. And we're doing that with Get Axeinated."
Axe is supporting the effort with an ad spot ("a light-hearted parody of a traditional press conference") and "Axeination Kits":
Joining the conversation
Why did AXE feel it was appropriate to join the vaccine conversation? In large part, it was an alignment with the needs of its core consumer audience.
"AXE prides itself on being an approachable brand to young guys, so it felt natural to get involved in the vaccine conversation—one that is now opening up to younger guys as COVID-19 vaccines become more readily available to younger demographics," says Lodwick. "As we look toward guys getting back out there as more CDC guidelines are lifted, we know that young people are looking to get close again and date in-person. AXE is all about inspiring young guys to smell their best and feel confident while navigating attraction. Vaccines are now playing an important role in that, so we wanted to get involved to motivate young guys to get vaccinated."
To support vaccination efforts, the brand offered an "Axeination Station" in Atlanta, Georgia, where vaccine efforts have not successfully reached young, diverse communities. The effort was a learning moment for AXE and its partners, with unique challenges to be faced in an ongoing pandemic.
"This was our first in-person event since the pandemic, so we had an extra set of hurdles and protocols to go through," says Lodwick. "We made sure that the event was following local regulations and CDC guidelines to ensure the staff and attendees' health and safety."
The virtual lens
To add a virtual element to the campaign, AXE worked with Snapchat Lens to create an experience where users could get "axeinated" virtually and order their axeination toolkits.
The press release detailed the partnership:
Debuting this week, AXE will launch a Snapchat Lens that enables Snapchatters anywhere in the US to digitally visit Axeination centers to get Axeinated with AXE Body Spray. Snapchatters will also have opportunities to grab the limited Axeination kits directly from the Snapchat Lens through a button feature. When clicked, the button will open up the Axeination.com landing page for everyone to claim their kits.
The virtual component is essential when targeting young consumers, and Snapchat as a platform was a logical partner, says Lodwick.
"We're seeing younger people gravitating toward Snapchat, and we wanted to communicate the news on a platform that would really excite our guys. With the first-ever Axeination Station localized to Atlanta, we wanted to convert the event into a Snapchat Lens experience so that young people had the opportunity to participate in the Get Axeinated program virtually. They can even redeem the Axeination Kits through the Snapchat Lens button feature."
For other brands looking to use Snapchat to engage young consumers, Lodwick and the AXE team have this advice: "We'd recommend that others utilize Snapchat to help action something for good, similar to how we're motivating young people to get vaccinated. Snapchat is a great platform to reach young people, and we've seen it can be used to help drive change."
Spreading the word
To get the message out about the campaign, AXE and its partners are working through several channels, including the news conference ad spot, the Axeination Station in Atlanta, an Axeination Kit giveaway, the virtual Snapchat Lens and a partnership with influencer Tray Bills.
"We are sharing details on 'Get Axeinated' through social, via organic and paid media," says Lodwick. "The ad spot will also be running on digital OTT. The Martin Agency is managing digital, social and handled the activation in Atlanta, and the ad spot was concepted by LOLA MullenLowe and will live on digital platforms across the U.S. Edelman is leading the influencer partnership."
Success will be measured on how the distribution of the kits leads to increased vaccination numbers in target markets and demographics around the country. "We're spreading the word through multiple campaign elements, but success looks like distribution of our kits to help generate awareness around the vaccine," Lodwick says.
Advice for others
 For other brands looking to join the conversation on vaccines, AXE and Lodwick recommend a fierce devotion to authenticity.
"Be authentic to your brand voice," says Lodwick. "Our goal is simply to motivate guys to get vaccinated so we can all get back out into the world safely. We're giving guys the tools they need to smell great, so they can reenter the world with confidence."
How are you talking about vaccines with your external audiences, PR Daily readers?
COMMENT