How companies are making a stand in Ukraine
Organization's actions — or lack thereof — are having real effects in the war.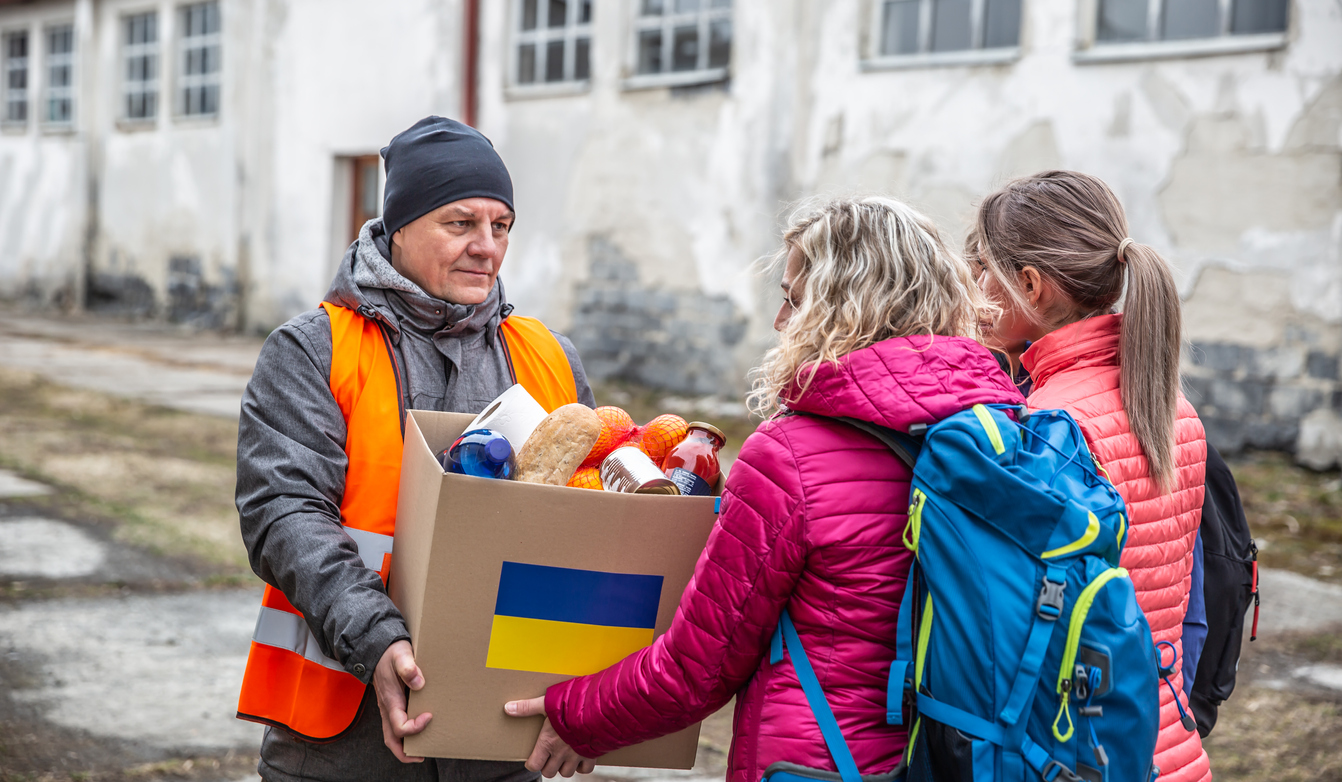 On February 24, 2022, the lives of Ukrainians changed forever. The Russian invasion of Ukraine is taking lives, destroying the economy and negatively affecting the mental, financial and social well-being of the population.
While the Ukrainian Armed Forces and Terror Defense Forces perform real feats hourly – protecting Ukraine from the advance of the aggressor's army, destroying Russian combat units and repelling captured cities, towns and strategic points – another war with the enemy is going on in the world. 
This is an economic war. And Russia has suffered an unbelievable defeat. Putin's actions have alienated even his loyal associates in Europe. The financial world reacted strongly to the horrific events in Ukraine. Since the invasion began, more than 1,000 companies have publicly announced they are voluntarily curtailing operations in Russia beyond the bare minimum legally required by international sanctions. Some of them announced their complete withdrawal and closed their doors. Others suspended their business or abandoned their planned investments. In contrast, others continued to work as usual and sell their goods or provide services to Russians, paying taxes to the budget of the occupiers. 
It's a different story in Ukraine. In June 2022, businesses negatively assessed Ukraine's economic prospects, amid the continuation of intense fighting in the war with Russia, destroyed supply chains, blocked ports and damaged transport infrastructure. In June 2022, the National Bank's business activity expectations index resumed after a three-month break, reporting 41.3, with an equilibrium value of 50.0. 
Additionally, the negative assessment was influenced by the growth of energy consumption, the increase in production costs and the inflationary expectations. However, despite the war, the Ukrainian economy continues to work. Its decline is not critical. The index value is the same as in March 2020, when the COVID-19 pandemic began.
Business success in Ukraine is not the only thing companies are worried about. In recent years, international and local companies have been actively working on corporate responsibility as our world becomes more tolerant, more open to people, and more environmentally friendly. Businesses worry about their reputation and create projects supporting the environment, women's rights and people that need help.
Thus, the attitude to the war in Ukraine has become a new corporate responsibility. In the new Edelman Trust Barometer 6 in 10 want businesses to add geopolitical issues to its agenda.  
Many companies are working day-to-day to support their workers in Ukraine. They donate to trustworthy non-governmental organizations in Ukraine and help with evacuation, humanitarian, provisional, financial, moral and safety support.
Since the beginning of Russian aggression in Ukraine, millions of people around the world have come out to demonstrations to support our country. Our flag's blue and yellow colors were visible in most countries on the planet. 
Ukraine has received tremendous support from Great Britain. For example, in London, the UK Foreign Office was illuminated with the Ukrainian flag colors on Unity Day. In the House of Lords, its members wear badges with the Ukrainian flag on their collars. And former British Prime Minister Boris Johnson hung the Ukrainian flag above his residence in Downing Street in London.
Also, ordinary Britons express their support through their attitudes toward brands. Two in three Britons (68%) say it's important that brands publicly take a stand on the Russia-Ukraine conflict. Two in five Britons (41%) say they have either already boycotted or would consider boycotting a brand that continues doing business in the invading country, while one in five (20%) say they would stop buying from a company that has not pledged any support for or made any public statements about Ukraine. 
According to a new Morning Consult survey, the majority of Americans Support Brands Taking Action Against Russia for the Invasion of Ukraine.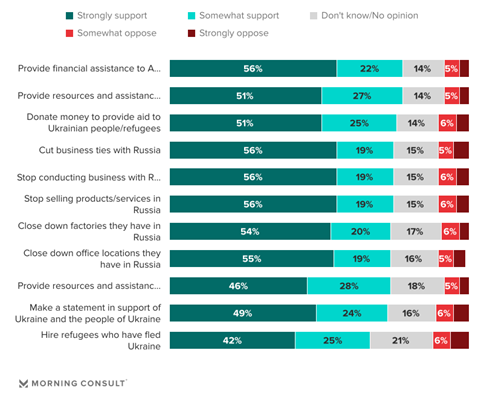 European companies also actively support Ukraine. For example, since the start of the full-scale war, L'Oréal has supported 326 Ukrainian employees and their families. In addition, a hotline has been set up to provide psychological assistance to employees and their families, and it is available 24/7.
Look through the other examples. Metro, one of the Ukrainian trade market leaders, works to support different stores in Ukraine to feed civilians and provide hot lunches for our army. FedEx helps to transport supplies and goods, and PepsiCo and Procter & Gamble help with the centralised headquarters at the office of the president.
Many restaurants in Kyiv owned by foreigners provide free food to army forces and civilians. KFC and McDonald's have closed their restaurants in Ukraine due to security concerns. Still, they have kept their kitchens open to provide food for local community councils, the army, hospital workers and volunteers. Furthermore, Spain-based Glovo delivery services are creating "support bubbles" for Ukraine's armed forces while also donating to the Red Cross, providing humanitarian assistance across Ukraine.
During the war, Ukrainians also have problems with the telephone and internet. So, Vodafone, a British company and one of the world's largest cellular operators, has added 1,000 minutes of call time to all Ukrainian clients with small packages and 10 gigabytes of free internet for the next 30 days. This comes just as Elon Musk's SpaceX began beaming free internet over Ukraine via his satellite internet service, Starlink. Its benefits will be salient with severe power outages across certain parts of Ukraine.
The country is also at risk of severe energy shortages. This crisis is alleviated by support from foreign suppliers such as Azerbaijan's Socar, giving free fuel to the Ukrainian army and medical services. Many foreign companies have brought their buses and cars to the war effort.
During these six months of Russia's war against Ukraine, the brands have divided into those who from the first days supported Ukraine and those who still have not said a word, or even not stopped working in the aggressor country. Thus putting the trust, which has been built up over the years, at risk.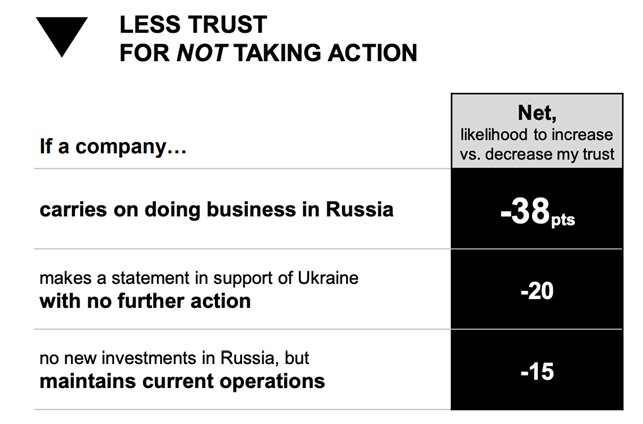 When the world faces an environmental catastrophe, worsening social problems and geopolitical conflicts, the price for companies to take a stand and act is higher than ever. To choose neutrality, or worse, to remain silent, is not an option. There is a risk of both reputational and financial losses.
Brands have long ago ceased to be just a source of new emotions and satisfaction of needs. They have become full members of society, and their communication can influence both the audience and the decision-making at the highest level. 
When expressing your position, whatever it may be, it is necessary to think not only about the risks but also about how the audience will read the motive of your communication. Sincere support, fear of public opinion, or just another PR move? 
Oleksandra Burynska is managing director of PLEON Talan.
COMMENT