How web security firm Norton looks to empower web users
Cybersecurity messages are often cloaked in fears about getting hacked, having your identity stolen or losing money. Norton's rebrand hopes to change all that.
Consumers are scared—and NortonLifeLock knows it.
The company, which has historically offered antivirus protection and other digital security tools for consumers, has the research on how people feel about cybercrime today. And they are worried.
According to 2021 data from Norton and the Harris Poll, more than half of adults are more worried than ever about being the victim of cybercrime. What's worse, they don't know what to do to protect themselves.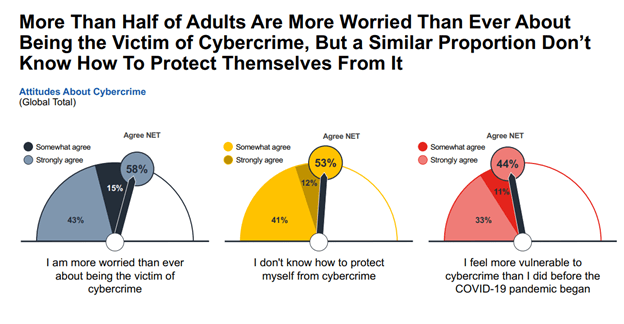 That widespread fear presented an opportunity for the company to change the conversation about cybersecurity and protection online—and hopefully bring in new audiences and customers to its most well-established brand, Norton.
"I think we need to be this catalyst for change, from fear to empowerment," says NortonLifeLock CMO Krista Todd. "What I think we have to do is change the sentiment, change the conversation, to just empower people to shine a little more every day in their own lives."
Rebuilding a brand
Norton isn't a new tech brand; it's been offering cyber protection services since it was launched by Symantec in 2007. (Norton's parent company, NortonLifeLock, became a standalone company in 2019.) However, legacy isn't always a benefit for organizations aiming to connect with younger consumers. For Norton, the core issue was to convince new audiences that their product wasn't for their parents—it could help them, too.
"We first started with the brand promise," says Todd, "which should be threaded through everything we do." For Norton, that promise is illuminated by the phrase "digital living on the bright side."
"That's our commitment to customers everywhere around the world," says Todd, "that they can do what they want to do."
To inform a new visual identity for the brand, Norton asked its customers: What do you know about us? What do you love about us? The team talked to employees and other stakeholders—and the surprising takeaway for the team was how Norton "owned yellow," as Todd puts it, prominently featuring the bright, sunshiny hue in brand materials and products.
From there, the team developed its new logo.
"We made our yellow a little bit brighter," explains Todd. "We essentially took the pixels away from our check mark … we opened that yellow circle to be more available. Cyber safety can be available for everyone." The final touch was to make Norton's name all lowercase, which the team decided felt "friendlier."
Introducing a new look to consumers
To get the new identity in front of customers, Norton started with its own website. Starting with owned content, the team then built on those assets to roll out its message globally.
"We also used influencers to try to help us communicate the story in their own authentic way," says Todd.
It was also essential to ensure internal audiences understood the change and were on board to share the new image with their personal networks and through their own work.
"A brand promise is not just a marketer talking about how we want to make people feel," says Todd. "It's a rallying cry for the entire company."
Innovation requires risk
One of the big lessons for Todd and her team in this rebrand was how hard it can be to persuade people to do something that hasn't been done in your industry before.
"Sometimes when you embark on these types of journeys, if the rest of the category players are not ahead of you, thinking the same way, you've got to bring the organization along," she says. And that's a good thing for an organization that is looking to differentiate and grow. But that doesn't mean it's easy.
"It takes a little bit more rigor and intellectual curiosity and horsepower to stand up and say, 'We want this to be the catalyst for change,'" says Todd.
Working with employees
The other big takeaway from Norton's rebrand is how the company worked to include its employees.
"We did a lot of internal excitement promotion," says Todd of the effort to include NortonLifeLock employees in the Norton rebrand. "The day before we launched, we had a big meeting and we showed them videos."
In sharing the rebrand with its workers, it was essential to communicate the "why" behind the change.
"We talked about what it means, and then we talked about the responsibility and opportunity for every employee," says Todd.
If you are going to tap employees to be brand ambassadors, you have to bring them behind the curtain to explain the strategy and nuances of the campaign. "Context drives clarity, and clarity drives better engagement and execution," Todd says.
To sum it up: "I don't think this launch would have been as successful without our employees."
COMMENT