How women leaders are set to soar in a post-pandemic world
Top communicators from Methodist Le Bonheur Health, Con Edison, CBRE and Bristol-Meyers Squibb share how they are thinking about leadership and gender in the months ahead.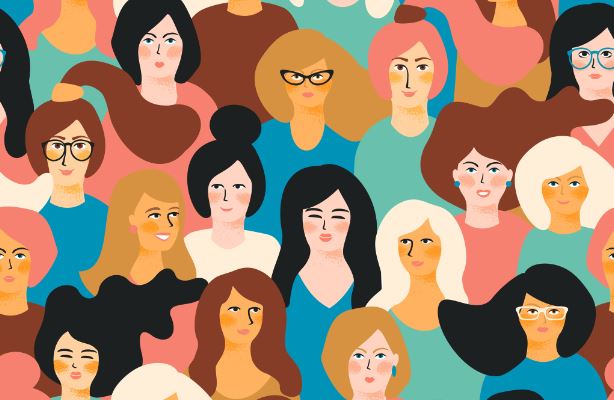 Women's History Month is over—but many business leaders are still grappling with the issues facing women in the workplace.
The COVID-19 crisis has revealed some deep fault lines in American culture, and women have absorbed more than their fair share of suffering more during the ongoing global health crisis. Nearly 3 million women have left the workforce in the past year. Many more have missed out on opportunities for promotion and professional development during the pandemic.
These gender-based inequities are top-of-mind for communicators, including some members of Ragan's Communications Leadership Council. We assembled a group for a panel conversation, "The Role of Women Leaders in a Post-Pandemic World," about how to support women leaders and help women rebound after a year of catastrophic experiences in the workplace.
The conversation started with Ragan Communications CEO Diane Schwartz asking the panel to describe a person who provided inspiration early in their careers. For many of these top women leaders, it was a family member—especially mothers who offered an early example of dedication and fortitude.
"I was one of the first few women hired in the management ranks to start the marketing department," says Ann Cameron, director of creative services for Con Edison. "Oftentimes I was the only woman." Instead of looking to contemporaries, Cameron says her mother set an early example of work ethic mixed with moxie. "I attribute the resolve I have to my mother. She was my champion. She was my mentor."
Tabrina Davis, vice president of marketing and communications with Methodist Le Bonheur Healthcare, also gives thanks for her parents' example. "My parents instilled a very strong work ethic in their girls," she says, to which in tandem with her faith in God, she attributes her early success.
Davis also says she was lucky to find colleagues who would support her and champion her success, what she describes as a "strong cadre of other women leaders who have been my support base and continue to be close friends."
Some women leaders see their ability to bring a female perspective to the work as instrumental to their early career success. Wendy Sherwood, vice president of communications for CBRE, says her ability to bring a "woman's touch" was a key reason she landed her position at the real estate firm in 1996.
A woman's touch in leadership
Schwartz asked the panelists about how they perceive the phrase "a woman's touch" in their work as leaders. Is it a phrase they are willing to own?
"It's about breaking diversity," says Sherwood, admitting that the phrase echoes unhelpful stereotypes in the workplace. However, there's no getting around the way different perspectives help organizations succeed, "acknowledging that having a team with all the same kinds of backgrounds and ideas, you won't get very far."
"In my case, it was about being a woman," Sherwood says, "but you can apply it to all kinds of business situations."
Davis says that perceptions are changing about what a "woman's touch" can accomplish in the workplace.
A woman's touch can come into an organization and turn it around, she says. "What women bring to the table is the ability to come in and transform an organization."
A crisis for women in the workplace
However, many women are facing a crisis when it comes to their roles in the workplace.
"There are a lot of opportunities for women right now, but everything around your job needs to be in place," says Lisa McCormick Lavery, executive director of enterprise and leadership communications for Bristol-Meyers Squibb. As comms pros are thinking about bringing workers back to the office, she says thought must be paid to safety net support such as childcare and elder care.
"We need resources in place to help all employees be successful," Lavery says, but women are of course disproportionately affected. Lavery adds that organizations should be prepared for women to take longer to return to the office as they manage the disproportionate burdens of care and home life.
How organizations can respond
What can employers do to support women in the workplace? "Organizations need to have a high amount of flexibility," says Lavery. "While we are highly collaborative, we also recognize that people have lives." She says Bristol-Meyers Squibb worked hard to reopen childcare offerings and have a discussion around alternating work hours and days.
"Put resources behind these efforts," she advises. "Employees lives have to be stable."
"We are very fortunate to be hiring and to be in business," says Con Edison's Cameron,
"but there is a new expectation about what it means to be in business. There will be expectations for a different type of workplace."
"The biggest challenge for organizations is not just remote work," says Methodist Le Bonheur's Davis. Instead, she highlights the need for company leaders to understand the "new normal."
"Twenty-five percent of women leaders are experiencing burnout," she says, arguing that organizations need to find ways to offer a respite for employees that have gone above and beyond in the past several months. "We still need a recovery period," she says, stating that organizations must find ways to support the mental health of their top employees.
Taking a leading role in DE&I
"We know we are the voice of our company," says CBRE's Sherwood, noting that internal comms must also be "the heart and the conscience" of the company.
For Sherwood, it all comes down to having intention. "We can remember… to make an intentional choice about the words we use or the words we don't use, the images we share or don't share… every single day across every single channel," she says.
Lavery adds that comms pros must push for specific goals when it comes to DE&I.
"Come out and say exactly what you are going to do," she says. She says that for her own organization, Bristol-Meyers Squibb, the organization came out with five "really ambitious goals" related to the business and diversity. She advises comms pros to prioritize clarity and to incorporate those stated goals into every message and action.
Room for improvement
Despite the recent momentum, comms leaders should also acknowledge how far the DE&I conversation still must go.
"There's been great progress, but we have a lot of room to grow," says Davis. When she looks at the numbers, she sees how women are still underrepresented in leadership roles in the comms industry and business community—and the numbers are even worse for women of color.
So, how can we push for real change? "There are some structural things that organizations need to do, and comms can help drive that," says Davis. Specifically, organizations should put resources behind fixing the talent pipeline, which panelists agree is broken right now.
Make sure that when you have opportunities to hire, you are casting a broader net, Davis adds. And once you bring them in, how are you including them? "Are you creating a path for success, and are you helping them grow?"
Lavery adds that there is a need to ensure hiring panels are also diverse, because of the implicit bias all hiring managers have for people who remind them of themselves.
Women are essential DE&I facilitators
Con Edison's Cameron makes the point that women, both leaders and rank-and-file workers, have been instrumental in pushing the DE&I priority changes that have arisen in the past year.
"Women played a key role in pushing men, white men, out of their comfort zones in discussing these issues," she says. She says for her organization, it was a woman who pushed hard for the organization to take a strong stand in the aftermath of the death of George Floyd, pushing leaders to use his name in their messages and to be explicit in calling his death a murder. That ability to take a strong stance earned Con Edison good marks on As You Sow's Racial Justice Scorecard.
Lavery says that good comms leaders can reflect back to top executives the potential ramifications of a statement or absence of a statement. "Give leaders the facts so they can put it through their own filters and make decisions."
How men can support women in the workplace
In the Q&A portion of the event, an audience member asked the panelists about how male allies could support their female colleagues.
Look beyond the people who look similar to you, Davis advises. "Men have to be more open to looking beyond the 'golf course,'" by which she means that men should look to engage a wide variety of colleagues, not just their partners on the green. "Be more willing to advocate for women and support them in the workplace."
All the panelists agreed that men play a crucial role in helping to undo systemic inequality and eliminating the gender gap because of their inherent power and influence in most organizations.
"We can't do it without men," says Cameron. "We all have to work together; we all have to be part of it."
Lavery advises women to also seek out mentors who might be outside their comfort zone. She recounts how when she was looking for a new mentor, she was running through all the female leaders in the organization in her head, before someone suggested she work with a male mentor. Her collaboration with this new mentor was rewarding, offering new perspectives and in some ways even more opportunities for growth because of she looked beyond her normal choice.
COMMENT
One Response to "How women leaders are set to soar in a post-pandemic world"
Ronald Levy

says:

Women are already soaring. One of the most respected of today's PR executives is Jay Carney, PR chief of Amazon and former press secretary under Obama. A major Google bio of Carney shows that of his nine top executives among many hundreds, five of the nine are women.

We can see from today's NY Times and Wall Street Journal that showing superb PR wisdom, Amazon executives are calling the Alabama union vote not a win for Amazon against the union but a win for the workers.

Also instructive, especially for the many in PR who boast of huge cumulative circulation numbers, is the report that before the vote, Amazon communicated with employees not only via media and online but also on "signs in bathroom stalls!" That's on page 17 of today's (April 10) Times.