Kardashians cause a stir at Disneyland, Peloton justifies price increase and which metaverse events interest Americans
Also: Brand accounts mark start of Passover.
Hello, communicators:
Today marks the start of this year's Passover celebration, a Jewish religious holiday during which celebrants eat matzah and other traditional foods to commemorate the freedom of Israelites in ancient Egypt.
Brand accounts are taking the opportunity to address their Jewish audiences and marking the holiday with messages on Twitter:
Happy Passover from everyone at McLaren. 🧡 pic.twitter.com/RhQ3HJiSIZ

— McLaren (@McLarenF1) April 15, 2022
Wishing everyone celebrating a very happy #Passover! pic.twitter.com/S9xBJbTndD

— Chelsea FC (@ChelseaFC) April 15, 2022
Chag sameach! We wish everyone a happy and healthy Passover. In Jewish tradition, matzah, a flat unleavened bread eaten during the Passover holiday, is known as both the bread of faith and the bread of healing. May faith and actions bring comfort and healing. pic.twitter.com/FSXtcFvULL

— Department of State (@StateDept) April 15, 2022
Happy Passover to all who celebrate from Bunzl! #HappyPassover #WeAreBunzl #BunzlUnited #BunzlFamily #BunzlDist #BunzlNA pic.twitter.com/4n1e4ZnUiB

— Bunzl Distribution (@BunzlDist) April 15, 2022
PR pros, your holiday messaging on social media should include specific terms and images — unlike Bunzl's tweet, which confusingly includes a menorah, which is traditionally only used during Hannukah.
Here are today's other top stories:
Kardashians take heat after Disneyland ride debacle
Ahead of the premiere of their new reality show on Hulu, two of the Kardashian sisters were captured on video riding alone with their children on a Disneyland ride. This isn't an uncommon occurrence for the family, who often visit the park.
However, the woman who posted the video to TikTok, garnering more than 46,000 likes to date, asserted that the Kardashians skipped the line for the ride and made a crowd of families wait while they had the Mad Tea Party teacups to themselves:
While it is not unusual for VIP guests at Disney to jump the queue, many people in the TikTok video's comments felt that the ride running near-empty while so many others waited was unnecessary.

Some pointed out that when Cardi B recently visited the park, other guests could be seen riding alongside her despite her celebrity status.
Other comments were more sympathetic to the family, pointing out that it's possible to pay to skip lines at Disney and positing that the move was for the safety of the famous women and their children.
Why it matters: While the video and ensuing comments caused a stir on social media, there doesn't seem to be more backlash than usual for a celebrity behaving badly. In fact, the publicity may drum up even more views for Hulu's "The Kardashians," which premiered April 14. It's a good reminder to PR pros that while the "all press is good press" adage may not always ring true, slightly more controversial moves that are still in line with your clients' brands may be risks worth taking.
---
MEASURED THOUGHTS
A new report from Morning Consult shows U.S. adults would prefer attending a live music event in the metaverse over attending a live sporting event or creating a digital avatar on a virtual reality platform.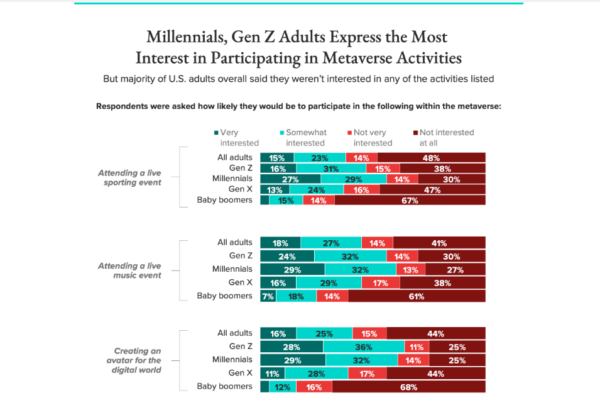 Forty-five percent of polled U.S. adults said they would be "very" or "somewhat" interested in participating in a live music event within the metaverse, while 41% said the same of creating a digital avatar and 38% said the same of a live sporting event.
Morning Consult's Chris Teale writes:
There is already evidence that companies are moving in the direction of letting fans experience live events in the metaverse. Sony Group Corp. announced a deal with Manchester City Football Club in the United Kingdom to become its "official virtual fan engagement partner," an effort the company said will include the creation of a "global online fan community" and a virtual rendering of the club's Etihad Stadium.
In other metaverse news, Meta CTO Boz Bosworth announced Thursday that the company is working on a web version of its own metaverse platform, Horizon Worlds.
Read more from the Morning Consult report here.
---
ATTEND OUR MEDIA RELATIONS CONFERENCE
Join us in New York City on May 11 for a one-day, in-person conference all about media relations and measurement.
At PR Daily's Media Relations & Measurement Conference, you'll learn how to score the coverage your brand deserves and generate results—and then showcase those results to management. You'll also learn the latest measurement tools and methods for everything from internal comms and media relations to social media.
Each attendee will receive a Media Relations & Measurement Conference Certificate of Completion.
Register here before April 27 to receive a special attendance rate.
Peloton explains price hikes clearly
Exercise equipment giant Peloton announced this week it will lower the price of its treadmills and signature stationary bikes while increasing the price of its all-access membership.
A press release notes that this is the first membership price hike in eight years:
During those eight years, we've made significant investments to improve the quality of the subscription experience. We've consistently added content, disciplines, music, instructors, and new features, across three products: the Peloton Bike, Tread and Guide. Our Members are also getting more out of their Membership: monthly workouts per All-Access Membership more than tripled from 4.4 in October-December 2014 to 15.5 in October-December 2021.
The Peloton press release also included a graphic showing the difference in key company metrics in the years since the last membership price increase: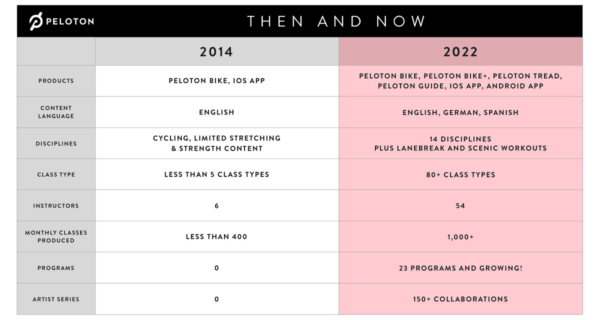 What it means: Peloton's graphic accurately and clearly depicts the rising cost of keeping its customers satisfied. The table format is clean and readable, with limited jargon. It's a good example of turning to different forms of media to explain your company's choices — remember, PR pros, you're not limited to just words.
COMMENT