KFC's inappropriate app alert, Twitter's bankruptcy warning and more
Plus: McDonald's gives treat to fan in fry costume.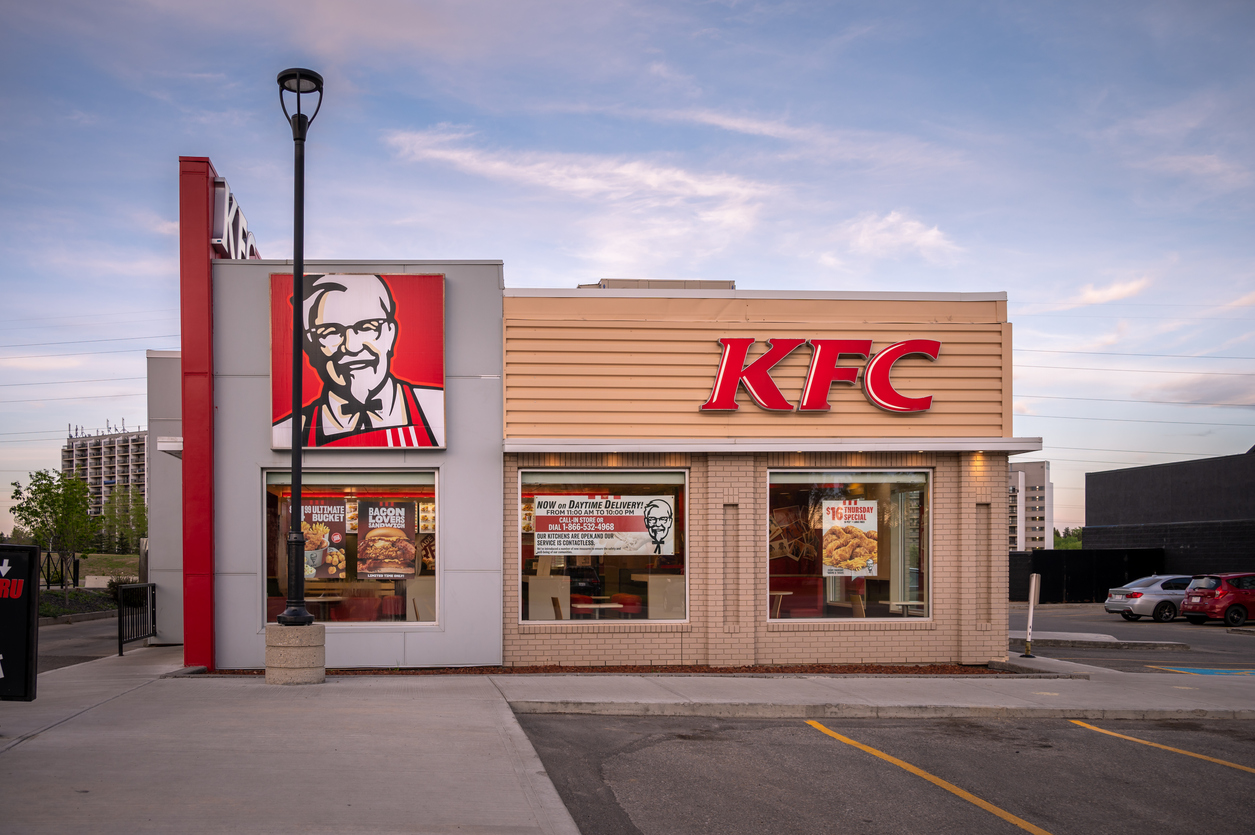 Kentucky Fried Chicken Germany apologized after sending a message telling customers there to mark the Kristallnacht Nazi attacks on Jewish businesses and places of worship in 1938, according to a BBC report.
"It's memorial day for Kristallnacht! Treat yourself with more tender cheese on your crispy chicken. Now at KFCheese!" the restaurant wrote in an app alert sent to users.
The company apologized an hour later, claiming it was due to "an error in our system."
In a statement, KFC said the notification was automated and linked to a calendar of national observances, the BBC reported.
The response across the Internet was swift to the app alert.
In a successful attempt to outdo Brewdog in the "Worst Marketing Blunder of the month" stakes, KFC Germany reportedly sent out a push notification offering customers special chicken deals for Kristallnacht, before sending out another message apologising. Absolutely hideous. pic.twitter.com/mRgvA0euEY

— Daniel Sugarman (@Daniel_Sugarman) November 9, 2022
This Kristallnacht promotion by @KFC @YUMbrands in Germany is appalling, especially because they blame a "bot" for what is obviously a management issue https://t.co/t0aZnt3ZHa

— John Choe (崔容準 | 최용준) for NYC 🌐 (@johnchoe4nyc) November 11, 2022
Why it matters: Automation can be a powerful tool, but it can be dangerous without human oversight. You can't simply "set it and forget it" when it comes to sending messages — you have to be actively checking the automation's work and weeding out offensive or off-brand messaging.
Elon Musk warns of possible bankruptcy
Twitter CEO Elon Musk told workers in an all-hands meeting Thursday that the social network could face bankruptcy, according to a Reuters report.
[FREE GUIDE: The Ultimate Corporate Communications Internal Email Broadcast Best Practices]
The meeting followed an earlier all-staff email from Musk saying the company needed to raise subscription revenue to offset falling advertising dollars to "survive the upcoming economic downturn."
In addition, several prominent executives resigned.
Yoel Roth, who led Twitter's push to combat hate speech, misinformation and spam on the service, and Chief Information Security Officer Lea Kissner announced their departures on Thursday.
Reuters reported that Twitter's Chief Privacy Officer Damien Kieran and Chief Compliance Officer Marianne Fogarty also resigned.
An FTC spokesman said the agency was "tracking recent developments at Twitter with deep concern."
Twitter already was fined $150 million earlier this year over user data concerns.
Why it matters: Each day brings new evidence that Musk's lack of a clear public relations plan sabotages his effort to grow Twitter. Laying off most of his communications workers shows his interest in doing it alone — though leading via tweets and erratic advertiser phone calls hasn't been going well so far. That chaos has led to staff departures, leaks to the media and renewed interest from the FTC.
McDonald's honors boy wearing french fry costume
McDonald's reached out to a 9-year-old boy with spina bifida, hydrocephalus and Chiari malformation after a Facebook post showed him dressed up as McDonald's french fries, according to a Kansas City Star report.
Blake Mompher's family also joined in the costume, as his brother dressed up as a bottle of ketchup and dad dressed as a hamburger.
"McDonald's fries are always better with ketchup," Blake's mom wrote on Facebook. "Bros for life."
After the post went viral on Facebook, McDonald's gave a gift card that could give Blake a medium fry each day for the next year and held a party for him at a nearby restaurant.
Why it matters: Blake's story is a reminder for brands to proactively monitor social media to find stories to respond to and amplify. Celebrating fans with inspirational stories is an easy way to achieve public relations wins — and earn fans for life.
More decision-makers listen to business podcasts, study says
A new study says that business-related podcasts are now tied with email newsletters, webinars and social media as the most-consumed communications channel for U.S. decision-makers. Forty-three percent of respondents in a recent Sapio Research survey reported listening to the programs. .
Industry-specific newspapers placed fifth with 39%, followed by national newspapers at sixth with 36% and virtual industry events seventh with 35%, the survey said.
The report also said that 35% of the decision-makers spent 3-4 hours per week consuming business-related content.
Why it matters: Podcasts can effectively allow brands to share new and repurposed content about their company. A branded podcast can work well with niche audiences of customers.
Chris Pugh is a staff writer for PR Daily. Follow him on Twitter and LinkedIn. Send story ideas to ChrisP@Ragan.com.
COMMENT
2 Responses to "KFC's inappropriate app alert, Twitter's bankruptcy warning and more"
Ronald N Levy

says:

When a CEO is accused, says something stupid or resigns under pressure, other senior executives may quit. This is like a PR firm resigning an account that has been accused as when Khashoggi was apparently killed.

At first the resignations may seem admirable like saying I don't want to be associated with this. But just as a doctor has an obligation to treat a patient's venereal disease, and a lawyer to defend a client, should PR people and firms try to help an accused to mount a defense?

Few people are aware that Khashoggi wrote columns for the Washington Post in which he ADMITTED knowing of a billion dollar embezzlement from the Saudi government but keeping it a secret. In many countries that would be major crime. What he wrote in the Post is right there online and we can easily see it.

The purchase of Twitter was a gamble but people KNEW it was a gamble.
Meta and other managements could have avoided hiring too many people but it was an executive's choice and each executive like Zuckerberg had made EXCELLENT choices in the past.

Whether to fight or run is a case-by-case decision but sometimes perhaps there is a moral imperative to help an accused employer even when there is a possibility of guilt.

Ronald N Levy

says:

We can easily see online, by Googling "accessory after the fact," that knowing about a serious crime but saying nothing has been held by our supreme court and by a Cornell University journal as a big crime in the U.S.

I'm SURE that doctors have an obligation not to abandon a patient, and lawyers are required not to walk out on a client because of finding out or getting the feeling that the client is guilty. I don't know whether PRSA or civil law has a similar requirement not to walk away from an accused client or employer instead of defending.
Tags: Elon Musk, Germany, Kentucky Fried Chicken, McDonald's, Twitter