Lack of transparency mars Musk's Twitter takeover, top marketing KPIs and Meta launches storefront to sell VR tech
Also: Earned media advice on Twitter and the success of NPR's Planet Money videos.
Hello, communicators:
Public relations consultant Michelle Garrett offered some sage advice for PR pros looking to boost their earned media success:
Got an opportunity to be included in an earned media story? Don't hesitate. Move *quickly* to respond to the journalist with whatever they're asking of you – an interview, quotes, images, stats-whatever it is, make it a priority. Or – they'll move on to someone who will. #PRtips

— Michelle Garrett (she/her) (@PRisUs) April 25, 2022
PR pros responded with their own advice about dealing with journalists. John Kageorge, an executive comms coach, wrote, "If you don't have a streamlined approval process, tell the reporter so they can move on immediately. Otherwise, your efforts will result in nothing but heartache for you."
Garrett also noted that PR pros shouldn't rely on Cision's Help a Reporter Out (HARO) program to generate leads:
The unfortunate truth is that some in PR (agencies?) seem to rely primarily on HARO to find opps for clients. I view HARO as an add-on – shouldn't be the primary way you're finding earned media opps (you should be proactively creating them): https://t.co/ECO6oAfaO9

— Michelle Garrett (she/her) (@PRisUs) April 26, 2022
What's your best advice for pros looking to find earned media success in 2022? Let us know in the comments or tweet us @PRDaily.
Here are today's other top stories:
Twitter's sale stymies efforts to recruit top talent
When big change comes to an organization, how you talk to employees can worsen a brewing crisis and create external messaging issues.
Eleven Twitter employees who spoke to The New York Times revealed that the company's workforce had been left largely in the dark about the details and possible repercussions of Elon Musk's Twitter takeover. Internal documents seen by Times reporters also indicated that the company is having trouble making new hires thanks to the saga.
Mr. Musk's campaign has also begun to undercut Twitter's attempts to recruit new employees, according to internal documents outlining the company's hiring efforts that were viewed by The Times. Prospective hires have expressed skepticism about Mr. Musk's plans to transform Twitter and upend its content moderation, those documents said.
According to the Times, a worker-run survey about Musk found that 44% of Twitter employees are neutral in their opinion of him, 27% said they love him and 27% said they hate him.
Why it matters: Elon Musk is, no doubt, a polarizing figure. Twitter's predicament could quickly become a case study in what not to do during a company takeover — especially as more and more businesspeople step into the public eye with thoughts and controversial opinions of their own.
During times of company crisis, it's essential for PR pros to work with their internal comms colleagues to keep employees informed and to assuage any fear or uncertainty. The Times' story, with 11 employee sources, shows that Twitter workers are not happy with the way the transition is being handled, or with how they're being told about it — which is never a recipe for success for a company in tumult.
---
MEASURED THOUGHTS
A new report from artificial intelligence solutions company Unsupervised reveals the top KPIs that marketers are measuring — food for thought for PR pros.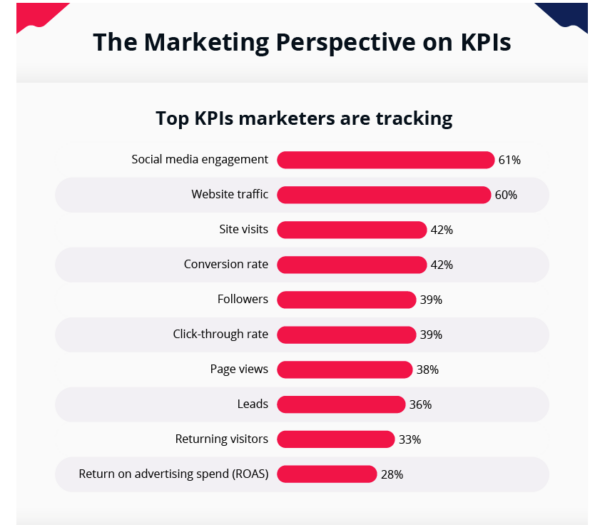 The top three KPIs for marketers are social media engagement (61%), website traffic (60%) and site visits (42%).
The report also found that nearly half of respondents experienced better goal setting (49%) and increased revenue (48%) as a result of tracking their marketing KPIs.
It's a good reminder to PR pros that the comms field is broad, and your strategy should reflect that. Don't be afraid to work with your marketing team to devise comms plans — and measure them.
Read more from Unsupervised here.
---
BRAND POST OF THE DAY
NPR's Instagram account on Monday posted an explainer video about the business term "middleman," courtesy of Planet Money video wizard Jack Corbett:
View this post on Instagram
Corbett's videos — mostly TikToks and Instagram Reels — for the commerce-focused podcast and radio show are usually in the same vein as the show: witty, smart and to-the-point. Corbett infuses the content with just a little more off-kilter humor, perfect for a brand looking to attract a younger audience.
Meta opens brick-and-mortar store to promote its virtual world
Meta CEO Mark Zuckerberg's latest attempt to get people to care about the metaverse isn't a virtual offering.
Gizmodo reporter Phillip Tracy notes that the company's "consumer penetration is relatively low due to historically high costs, bulky and potentially disorientating hardware, and a nascent ecosystem."
To combat this, Meta is opening The Meta Store in Burlingame, California, on May 9.
"At the Meta Store, we want you to interact with everything," the news release says. "We want you to pick stuff up. We want you to feel it."
The news release continues:
Ultimately, our goal with the Meta Store is to show people what's possible with our products today, while giving a glimpse into the future as the metaverse comes to life — and hopefully demystifying that concept a bit in the process.
What it means: While it may seem counterintuitive to open a physical store to promote virtual products and services, Meta's comms around the venture is sound. The news release acknowledges the importance of in-person test drives for consumers understanding and enjoying a new product, especially one as mysterious and polarizing as the metaverse.
---
ATTEND OUR MEDIA RELATIONS CONFERENCE
Join us in New York City on May 11 for a one-day, in-person conference all about media relations and measurement.
At PR Daily's Media Relations & Measurement Conference, you'll learn how to score the coverage your brand deserves and generate results—and then showcase those results to management. You'll also learn the latest measurement tools and methods for everything from internal comms and media relations to social media.
Each attendee will receive a Media Relations & Measurement Conference Certificate of Completion.
Register here before April 27 to receive a special attendance rate.
COMMENT