Mattel's Black Barbie runs for president, 60% of COVID-19 restaurant closings are permanent, and Post partners with Dunkin' on caffeinated cereal
Also: Consumer Electronics Show 2021 will be entirely online, the NFL shares a conversation about allyship and workplace culture, Twitter to remove links to hateful content, and more.
Hello, communicators:
If you'd like to eat your coffee rather than drink it, Post and Dunkin' have a breakfast cereal for you:
Grab a spoon 🥄 this is not a drill! 🚨 Inspired by your favorite Dunkin' flavors, Caramel Macchiato and Mocha Latte, are now in Dunkin' Cereal. 🥣 Which crunchy, coffee delight will you go for? ☕️ Coming to a grocery store near you in late August 2020. pic.twitter.com/N0XL9OqSYV

— Dunkin' (@dunkindonuts) July 28, 2020
In a press release, Post Consumer Brands wrote:
Post Dunkin' Caramel Macchiato cereal is brought to life with crunchy cereal pieces and caramel-swirled marshmallows, creating the deliciously indulgent taste of the layered iced coffee beverage. Post Dunkin' Mocha Latte cereal features a hint of chocolate and latte-swirled marshmallows in honor of its namesake espresso. The new cereals contain very small amounts of caffeine, roughly a 10th of a cup of coffee, so all can indulge in the rich coffee-forward experience.
The partnership takes advantage of a current consumer trend, as Business Insider reported that consumers in the United States are consuming more cereal and oatmeal during COVID-19, with General Mills, Quaker Oats  and Frito-Lay brands all reporting an increase of sales from 6% to 23%.
Here are today's top stories: 
Mattel releases Barbie Campaign Team
The toy company revealed that its iconic Barbie doll is running for president. The set, which highlights different ethnicities, includes a Black candidate as well as a fundraising manager, campaign manager and voter. Mattel partnered with She Should Run on the Barbie dolls and marketing campaign.
From the polls to the podium, #Barbie knows that girls are made to lead. #Barbie2020 #YouCanBeAnything pic.twitter.com/wAuuJu8SP5

— Barbie (@Barbie) July 28, 2020
This election year, #Barbie celebrates the limitless potential of girls everywhere to stand up for what they believe in, with the Barbie Campaign Team career set. #Barbie2020 #YouCanBeAnything https://t.co/37uLPLqUGr pic.twitter.com/gM5tTKbpvP

— MATTEL (@Mattel) July 28, 2020
"You can't be what you can't see."

We're so excited to finally share this amazing collaboration between She Should Run and @Barbie 💖! #RepresentationMatters https://t.co/n4z3EhMfE9

— She Should Run (@SheShouldRun) July 28, 2020
"Since 1959, Barbie has championed girls and encouraged them to be leaders whether in the classroom, community, or someday, of the country," says Lisa McKnight, SVP and global head of barbie & dolls, Mattel. "With less than a third of elected leaders in the U.S. being women, and Black women being even less represented in these positions, we designed the Barbie Campaign Team with a diverse set of dolls to show all girls they can raise their voices. Our goal is to remove barriers to leadership by giving girls the tools to imagine and play out their future roles."
The campaign also includes printable voting ballots and career aspiration boards.
Why it's important: Mattel has been touting diversity and inclusion within its Barbie product line for years, but communicators should take note of its partnership with She Should Run and additional educational resources for children. Consider ways you can increase the value of your products and services through collaborations and additional content. This is especially important as you seek to execute social justice initiatives.
---
SOCIAL BUZZ
The National Football League's social media team recently shared a conversation between MJ Acosta, NFL Network sports reporter; Shaneika Dabney-Henderson, vice president of production for the New Orleans Saints and Pelicans; Nicole Lynn, NFL and NBA player agent; and Judy Battista, NFL.com columnist and NFL Network reporter:
"It's important to be an ally every single day in the workplace, not just when the topic is hot."@AgentNicoleLynn speaks to @MJAcostaTV, @ShaneikaDabney & @judybattista about how men can combat sexism and sexual harassment in sports. pic.twitter.com/TCj7J7ZHPv

— NFL (@NFL) July 28, 2020
Though the discussion on how to be an ally for women in the workplace focused on the sports industry, the insights can be applied to all organizations.
Those takeaways include listening and supporting women when they share inappropriate behavior or an injustice, looking at ways to strengthen your corporate culture and ensuring that sexual harassment education is an ongoing component of employee training and communications.
These insights can also be applied to any allyship opportunities and your efforts to increase diversity, equity and inclusion within the workplace.
---
MEASURED THOUGHTS
Yelp recently reported that the restaurant industry now has the highest total business closings, surpassing retail. Only 24% of organizations that closed in April have reopened as of July 10, which it attributes to "rapidly evolving situations at the local level, as some states with rising cases start to close again, while others continue to reopen."

The number of organizations that are permanently shutting their doors are increasing, as well. Yelp reported that 55% of closures since March 1 are now permanent, a 14% increase from June, with 60% of closings in July marked as permanent. "Overall, permanent closures have steadily increased since the peak of the pandemic with minor spikes in March, followed by May and June," Yelp wrote.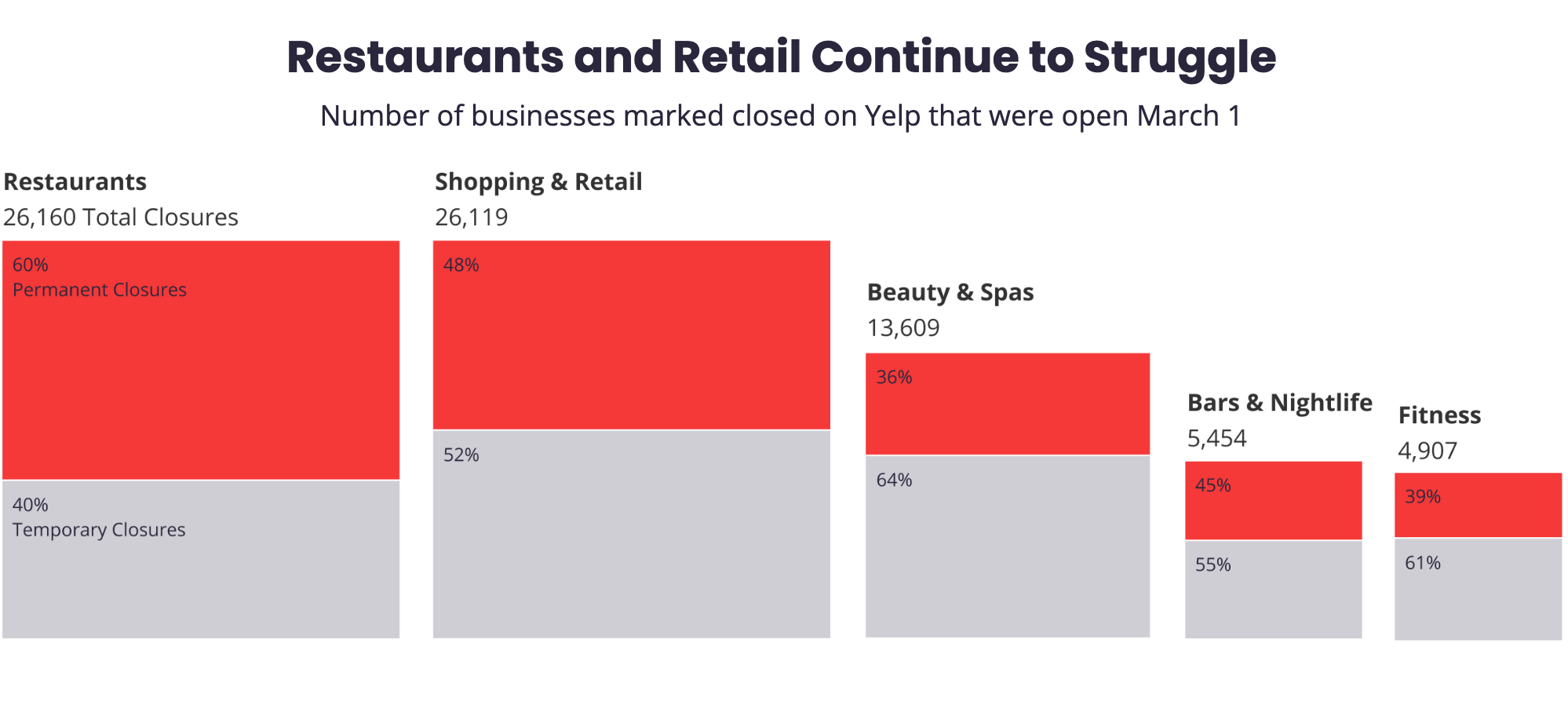 Yelp also reported that the total percentage of permanent restaurant closings has reached 60% in 2020, and the current forecast for organizations in the retail, beauty, nightlife and fitness industries is troubling as well: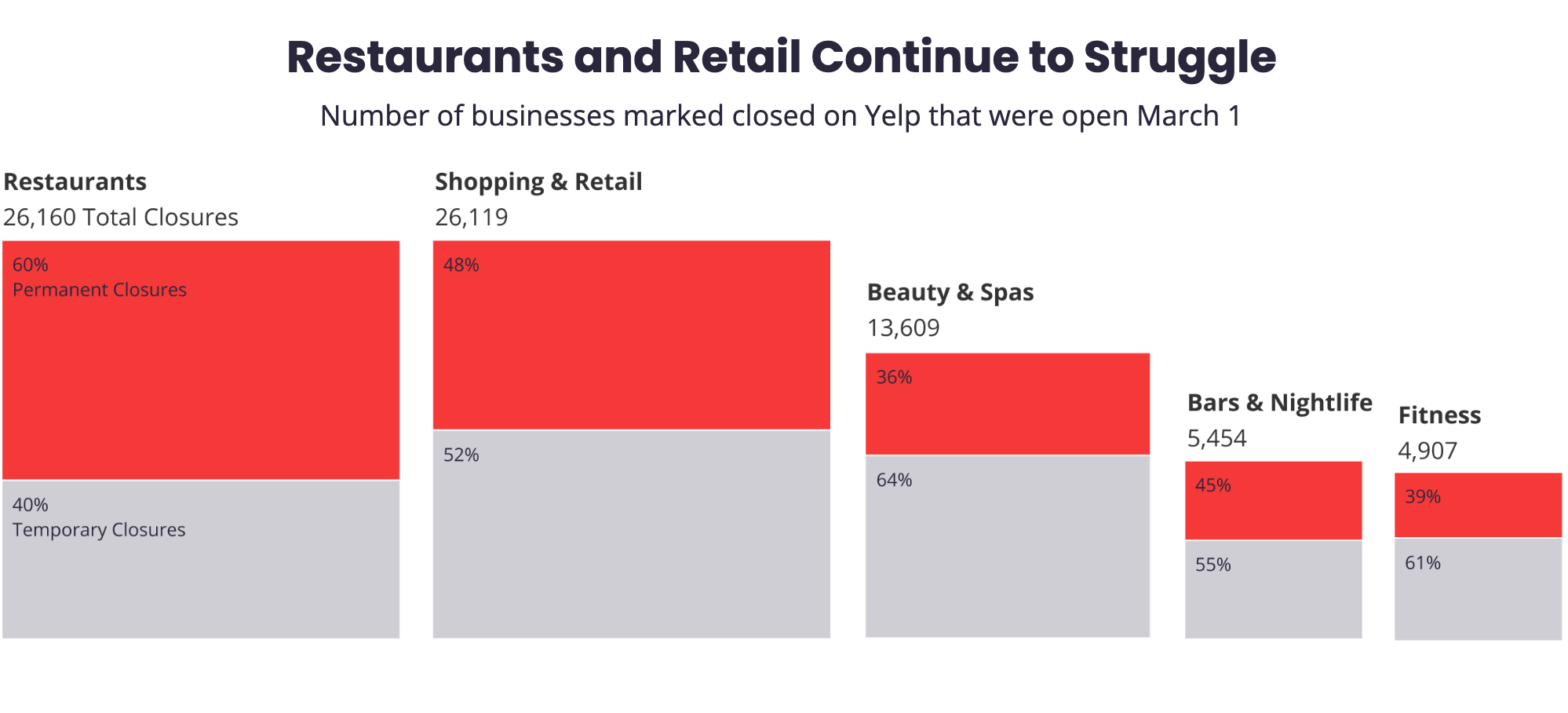 Though many organizations, especially retail companies and chains, have adjusted their business models to focus on e-commerce offerings and pick-up orders, those strategies alone aren't enough to save struggling organizations as consumer behaviors shift and retail spending decreases.
You can view Yelp's entire report here.
---
CRISIS LEADERSHIP BOARD
Looking for more insight on how to address the current global crisis and lead your organization into a strong recovery?
Join Ragan's Crisis Leadership Board to network and brainstorm with peers, get the latest intelligence and research, and start to strategize for the future of your organization.
Learn more about this exclusive membership here.
CES 2021 goes digital
The Consumer Electronics Show was scheduled for Jan. 6-9, 2021 in Las Vegas, but it's the most recent organization to cancel its in-person event, opting instead for an "all-digital experience":
Big news👀

CES 2021 is going all-digital! Get ready for a new immersive experience where you'll have a front row seat to the action https://t.co/IzmHDpIu1Y

— CES (@CES) July 28, 2020
CES 2021 may be all-digital, but we'll see you back in Las Vegas in 2022 ✌️ https://t.co/8H4yoWsO5E

— CES (@CES) July 28, 2020
Why it's important: As the COVID-19 crisis stretches on, it's crucial for communicators to plan long-term strategies and become business partners that prioritize the health of a full range of stakeholders. Internal communicators should also take note as they examine what the future looks like in terms of a virtual workplace.
---
TAKE OUR SURVEY
Have your storytelling efforts shifted during COVID-19, and as your organization responds to the nationwide movement for racial equality and inclusion? We want to hear how you're telling your brand's story, including what messages you're using and the content formats and channels you're focusing on to strengthen your reputation and effectively reach stakeholders.
Please take our survey here. All responses are confidential and anonymous.
Survey findings will be released at Ragan's Brand Storytelling During a Crisis Virtual Conference, Aug. 4-5. You can hear the results—and learn how to tell your brand's story to help you thrive in our "new normal"—with speakers from Con Edison, Google, Experian, Minnesota Timberwolves, Crayola, Marriott International, Girl Scouts of the USA, Cleveland Clinic and more.
---
SOCIAL BUZZ
Twitter updated its link policy to include hateful content and violence, as it seeks to stop the spread of hate speech on its platform:
Our goal is to block links in a way that's consistent with how we remove Tweets that violate our rules. We'll start taking action under these updated guidelines on Thursday, July 30.

— Twitter Support (@TwitterSupport) July 28, 2020
The move can serve as a reminder that the links and content you share are just as important as the words within your social media post or tweet.
---
WHAT YOU SAID
We asked if you're taking part of conversations about sports organizations returning, and 30% of you are partnering with teams or other organizations in this area. Twenty percent of you are joining trending conversations, while others are focusing on tactics outside of sports:
As sports are starting up again, are you tapping into conversations or partnerships?

Share with us under #DailyScoop.

— PR Daily (@PRDaily) July 28, 2020
Is there a question you'd like us to ask in an upcoming poll? Let us know!
---
SOUNDING BOARD
Has your productivity increased as you work from home during COVID-19?
Has your productivity increased as you work from home during COVID-19?

Share your thoughts and experiences with us below and under #DailyScoop.

— PR Daily (@PRDaily) July 29, 2020
Share your thoughts and experiences with us below and under the #DailyScoop hashtag.
COMMENT