Blogging is getting harder, Adult Happy Meals hit the market and more
Plus: Instagram releases its holiday guide.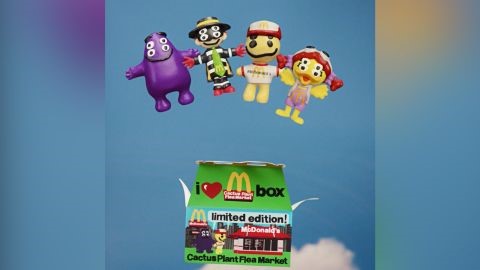 Blogging in 2022 is hard.
A  survey of 1,000 bloggers from Orbit Media indicated that 80% of surveyed bloggers report that their blog delivers "some results" or "strong results," which has remained steady since 2016.
The catch:  it's taking more time to write a blog post.
[RELATED: Submit your nominations for our Top Women in Comms Awards by Oct. 21!]
The report indicated that bloggers spent an average of 4 hours and 10 minutes writing an article, which is 74% more time than the company's first study in 2014.
"The survey results show that it takes more time and effort to cut through the noise and find results," said Mark Schaefer, author of Marketing Rebellion. "But isn't that true of ALL marketing? I've argued that this is the most difficult time to be in marketing, period. The good news is that great blogging still earns meaningful attention because it's elite. If you blog, you're accomplishing something 99.9% of the people in the world will never achieve.
What it means:  What you put in affects what you get out with blogging. Yes, creating an original, well-written post takes time, but it'll pay off too. Find your voice and be consistent and you'll find success.
McDonald's targets nostalgia with its Happy Meals
McDonald's is making a pitch for nostalgia with its new adult Happy Meals.
The restaurant will offer Cactus Plant Flea Market Boxes — which is a Big Mac or 10-piece chicken McNuggets, with fries and a drink, starting Oct. 3. And of course, what's a Happy Meal without a toy?
The move is a collaboration between McDonald's and the Cactus Plant Flea Market streetwear brand, which offers hoodies for as much as $1,000.
The adult meals include redesigned takes on McDonald's famous mascots, including Grimace, Hamburglar and Birdie, plus a new one named Cactus Buddy, a nod to the streetwear brand.
"We're taking one of the most nostalgic McDonald's experiences and literally repackaging it in a new way that's hyper-relevant for our adult fans," said Tariq Hassan, McDonald's USA chief marketing and customer experience office in a release.
What it means: McDonald's has collaborated in the past with pop culture stars like BTS, J Balvin and Travis Scott. The promotions have done well and McDonald's has recently run out of the Scott meals. Can that trend continue with a popular streetwear company? It has a chance, especially considering the marketing pull that nostalgia has in 2022. You don't have to know any of the names mentioned above to enjoy a Happy Meal. Because of the use of beloved characters from the past, much of the emotional work is already in place, giving communicators a strong hook.
Instagram offers new guides for brands during the holiday season
Looking for some lessons on how to best use Instagram for your brand?
The company wants to help you out.
Instagram has released new guides this week on how to best use Reels, Shops and creator collaborations to help drive new business.
"Our Business of Instagram series of how-to guides will help you reach your business goals with tactical guidance on how to set your shop up on Instagram up for success, make effective Reels video ads and build connections with new communities through creator partnerships," the company said in a statement.
The guidelines include a section on how Instagram Shopping helps brands reach the customers they want and how product tags drive product discovery.
The three guides are 7-8 pages and offer best practices on each part of Instagram.
What it means: This holiday shopping season should be heavy online. As a communicator, how are you picking out the appropriate social network for your brand? Are you taking advantage of new business offerings from networks eager for more traffic?
The cruise industry responds to the easing of COVID-19 restrictions
The easing of the COVID-19 pandemic has led many industries to embark in return-to-normal strategies.
But the cruise industry is starting to catch up after The Center for Disease Control and Prevention (CDC) dropped its federal program on COVID-19 guidelines in July and brands are easing back to its pre-COVID-19 rules.
In addition, Canada will drop all Covid-19 border restrictions starting Oct. 1 for people entering the country by air, land or sea, including vaccine and testing requirements, which will also impact the industry.
Here's how brands have communicated their policies.
On Carnival Cruise Lines, passengers on itineraries that are 16 nights or less, and who show proof of vaccination don't have to test for boarding.
"These guidelines will make it a simpler process, and make cruising accessible for those who were not able to meet the protocols that we were required to follow for much of the past 14 months," Carnival's president Christine Duffy said in a statement last month.
On Disney Cruises, vaccinated passengers no longer need to test before entering the ship and  unvaccinated passengers will need to test via a rapid or lab-based PCR or nucleic acid amplification test (NAAT), and results need to be uploaded before boarding.
Disney has a page on its website that lists nine things to know about how the company's response to COVID-19, from testing and vaccination guidelines, where to upload results, where face coverings are required on the ship, online check-ins, booking policies, mandatory emergency drills, training policies on cleaning and rules while stopping at ports.
What it means: Disney's strategy of keeping all the evolving COVID information in one easily accessible place makes it easy for families preparing for their cruise to find and understand what they need to do. Similarly, Carnival's explanation of evolutions of plans help bring transparency as plans keep changing.
Chris Pugh is a staff writer for PR Daily. Follow him on Twitter and LinkedIn. Send story ideas to ChrisP@Ragan.com.
COMMENT