McDonald's sells Russia business, Twitch responds after livestream of Buffalo mass shooting and the digital audio rockets ahead
Also: Is Drew Brees…back?  We take a look at his Twitter strategy.
Hello, communicators:
Is Drew Brees ready to put his pads back on? That's what he suggested might happen in a tweet he sent Sunday night:
Despite speculation from media about my future this fall, I'm currently undecided. I may work for NBC, I may play football again, I may focus on business and philanthropy, I may train for the pickleball tour, senior golf tour, coach my kids or all of the above. I'll let you know

— Drew Brees (@drewbrees) May 15, 2022
In total, Brees listed seven possibilities for his future, one of which was "all of the above." (Would that even work? Can you play pickleball and pro football?)
Brees' tweet, while niche, is an example of one social media tactic to get people talking about the future of your brand. Listing options for your future, even outlandish ones (sorry, Drew), can generate interest on social media ahead of a rebrand, change in leadership or other big organizational changes.
Here are today's other top stories:
McDonald's CEO cites war in Ukraine as reason for selling Russia operation
CEO of McDonald's Chris Kempczinski told employees, franchises and suppliers that the "humanitarian crisis caused by the war in Ukraine" is "impossible to ignore," as the company announced it is selling its Russian business to a local buyer.
"This is a complicated issue that's without precedent and with profound consequences," [Kempczinski] wrote in a message to franchises, employees and suppliers that was obtained by The New York Times.

He added: "Some might argue that providing access to food and continuing to employ tens of thousands of ordinary citizens is surely the right thing to do. But it is impossible to ignore the humanitarian crisis caused by the war in Ukraine. And it is impossible to imagine the Golden Arches representing the same hope and promise that led us to enter the Russian market 32 years ago."
In a news release, McDonald's said that doing business in Russia is no longer consistent with the company's values.
"We have a long history of establishing deep, local roots wherever the Arches shine," Kempczinski wrote in the release. "We're exceptionally proud of the 62,000 employees who work in our restaurants, along with the hundreds of Russian suppliers who support our business, and our local franchisees. Their dedication and loyalty to McDonald's make today's announcement extremely difficult. However, we have a commitment to our global community and must remain steadfast in our values. And our commitment to our values means that we can no longer keep the Arches shining there."
Why it matters: The McDonald's move comes in spite of new data showing U.S. customer sentiment was largely un-swayed by companies' decisions about whether to continue doing business in Russia. Kempczinski's statements to both employees and the public at large shows that the company is concerned about the values of the countries it does business with — a valuable asset for both employer branding and wider brand sentiment.
MEASURED THOUGHTS
A recent report from the Interactive Advertising Bureau and PwC underscores the importance of digital audio in advertising.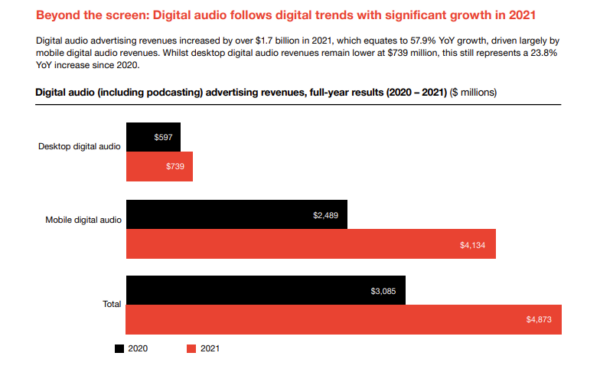 Digital audio advertising revenues increased by over $1.7 billion in 2021, which equates to 57.9% YoY growth, driven largely by mobile digital audio revenues. Whilst desktop digital audio revenues remain lower at $739 million, this still represents a 23.8% YoY increase since 2020.
The rise of digital audio offers a potent creative platform for PR pros, marketers and advertisers to use to reach their audiences. This most recent data shows the growth isn't close to stopping, so now is the time to think about your organization's audio strategy.
Read more from the IAB/PwC report here.
 Twitch responds after fatal, racist Buffalo attack is broadcast live on its platform
In an act that police are calling a hate crime, a gunman this weekend broadcast his attack on a grocery store to the livestreaming platform Twitch. Ten people were killed and three more injured.
While Twitch removed the stream within two minutes, the video has since been widely circulated on other social media sites.
In a statement, Angela Hession, Twitch's vice president of trust and safety, said that the site's rapid action was a "very strong response time considering the challenges of live content moderation, and shows good progress." Ms. Hession said the site was working with the Global Internet Forum to Counter Terrorism, a nonprofit coalition of social media sites, as well as other social platforms to prevent the spread of the video.

"In the end, we are all part of one internet, and we know by now that that content or behavior rarely — if ever — will stay contained on one platform," she said.
What it means: Hession's statement focuses on the steps that Twitch is taking to moderate harmful and violent content, rather than dwelling on the fact that the gunman used its platform to stream the deadly attacks. By referencing the spread of the video on other social platforms, she passes some of the responsibility to those companies and their content moderation teams.
COMMENT