Meta changes hate speech policy on Russian invasion, low pay is No. 1 reason behind employee quits, MLB celebrates return of baseball on social media
Also: Behr Paint Company enters the NFT universe with SXSW virtual event.
Hello, communicators:
Paint company Behr is joining the growing number of brands entering the world of non-fungible tokens (NFTs).
Behr will partner with Doodles, the organization behind 10,000 colorful NFTs, to produce an exclusive virtual event coinciding with this weekend's SXSW festival in Austin, Texas.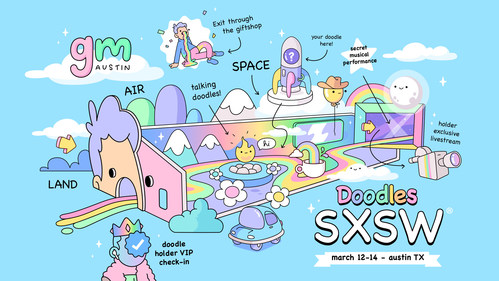 SXSW pass holders, Doodles holders, and the general public are invited to become main characters inside Doodles' colorful world using BEHR® paint where land, air, and space unite. Attendees will have the exclusive opportunity to engage with Doodles' NFT world through a virtual painting wall featuring BEHR paint colors and a chance to collect the first-ever POAP NFT by both brands, featuring a custom design by Burnt Toast printed on limited edition physical BEHR paint cans.
PR pros, is your organization venturing into the metaverse? Have any plans for exclusive NFTs? We'd love to hear about it: Tweet us your thoughts @PRDaily.
Here are today's other top stories:
Facebook, Instagram temporarily change hate speech policies amid European conflict
Social media giant Meta will now allow some users to call for violence against Russia and Russian soldiers on Instagram and Facebook in what it says is a temporary change to its hate speech policy.
Reuters reports that users in Armenia, Azerbaijan, Estonia, Georgia, Hungary, Latvia, Lithuania, Poland, Romania, Russia, Slovakia and Ukraine can make posts urging violence in the context of Russia's invasion of Ukraine—including posts calling for the death of Russian President Vladimir Putin or Belarusian President Alexander Lukashenko.
In the email recently sent to moderators, Meta highlighted a change in its hate speech policy pertaining both to Russian soldiers and to Russians in the context of the invasion.

"We are issuing a spirit-of-the-policy allowance to allow T1 violent speech that would otherwise be removed under the Hate Speech policy when: (a) targeting Russian soldiers, EXCEPT prisoners of war, or (b) targeting Russians where it's clear that the context is the Russian invasion of Ukraine (e.g., content mentions the invasion, self-defense, etc.)," it said in the email.

"We are doing this because we have observed that in this specific context, 'Russian soldiers' is being used as a proxy for the Russian military. The Hate Speech policy continues to prohibit attacks on Russians," the email stated.
A Meta spokesperson told Reuters that the change doesn't allow calls for violence against Russian civilians.
"As a result of the Russian invasion of Ukraine we have temporarily made allowances for forms of political expression that would normally violate our rules like violent speech such as 'death to the Russian invaders,'" the statement reads.
Meta is also temporarily allowing posts praising the volunteer-powered Azov Regiment, a far-right extremist battalion with "explicit neo-Nazi ties."
Why it matters: Social media companies have increasingly grappled with how people are using their platforms to express support or dissent for political actions. However, making broad exceptions for particular events and people could be seen as taking sides—especially when compared to relative inaction on similar situations, like the ongoing Israeli-Palestinian conflict.
---
MEASURED THOUGHTS
New polling from the Pew Research Center shows low pay, lack of advancement opportunities and disrespect were the top three reasons people cited for leaving their jobs in 2021.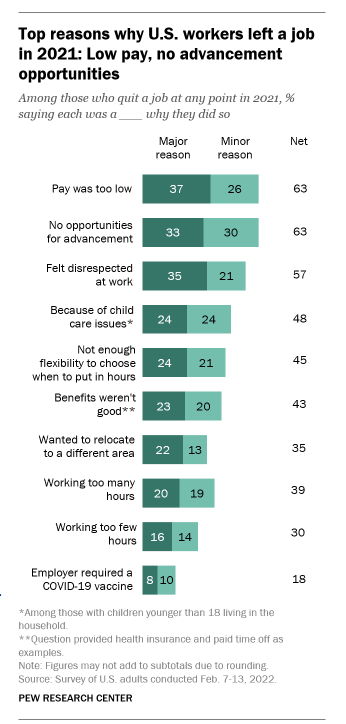 Sixty-three percent of respondents listed low compensation as either a major or minor reason that they quit their job last year. The same amount said they'd quit because of a lack of opportunities for professional advancement.
Fifty-seven percent of people cited feeling disrespected at work as one of the reasons for their departure.
PR pros, have you made a career change in the last year? Do any of these reasons resonate with you? Let us know on Twitter using the hashtag #DailyScoop.
View more from the Pew Research report here.
---
TAKE OUR SURVEY
We want to know about your career as a social media professional.
How big is your team? Are you valued at your organization?
If you're interested in helping benchmark the career path potential of social media professionals and shedding light on how social media is internally managed, viewed and evaluated, take our survey. The Social Media Career Survey is a follow-up to a 2020 report by the Institute for Public Relations, Ragan Communications and the University of Florida.
Whether you're in charge of company social media or involved in social media for a client, we welcome your participation.
Respondents will receive a full report on the findings, which will also be shared on PR Daily.   Responses will remain confidential.
MLB teams celebrate end of lockout on social media
Major League Baseball and the MLB Players Association have reached a tentative deal on a new collective bargaining agreement, ending three months of conflict and opening the door to the 2022 MLB season.
Players will report to training camps in Florida and Arizona by Sunday, and baseball's Opening Day is scheduled for April 7.
The players' executive board approved the five-year contract at about 3 p.m. in a 26-12 vote. Owners ratified the deal 30-0 just three hours later, and just like that, baseball's ninth work stoppage ended.

Not that all is resolved. Union head Tony Clark did not appear alongside Manfred and scheduled a separate news conference for Friday, a visible sign of the sport's factions.

"Our union endured the second-longest work stoppage in its history to achieve significant progress in key areas that will improve not just current players' rights and benefits, but those of generations to come," Clark said in a statement.
Following the announcement, players and teams celebrated the return of baseball with jubilant photos and videos shared on social media. The official MLB account retweeted many of these posts.
Let the fun begin! pic.twitter.com/c7KQKSj618

— MLB (@MLB) March 11, 2022
— Chicago Cubs (@Cubs) March 11, 2022
— Justin Verlander (@JustinVerlander) March 10, 2022
What you should know: Following tense labor negotiations, it's important for organizations to reestablish a tone of goodwill with employees. The MLB's positive social media spree sends the message that the league is once again on good terms with its players, despite having endured a bitter three-month dispute over compensation, an international draft and other key sticking points. Perhaps other companies that are weathering similar conflicts could make use of employee-generated content (photos, video) on social media to strengthen the message of positivity toward their workers.
COMMENT