Meta faces huge market loss and decreasing user base, cruise passengers expect better virus safety precautions and Southwest flight attendants blast return of inflight alcohol sales
Also: Planters encourages people to find their "personutality," a new survey for social media pros and more.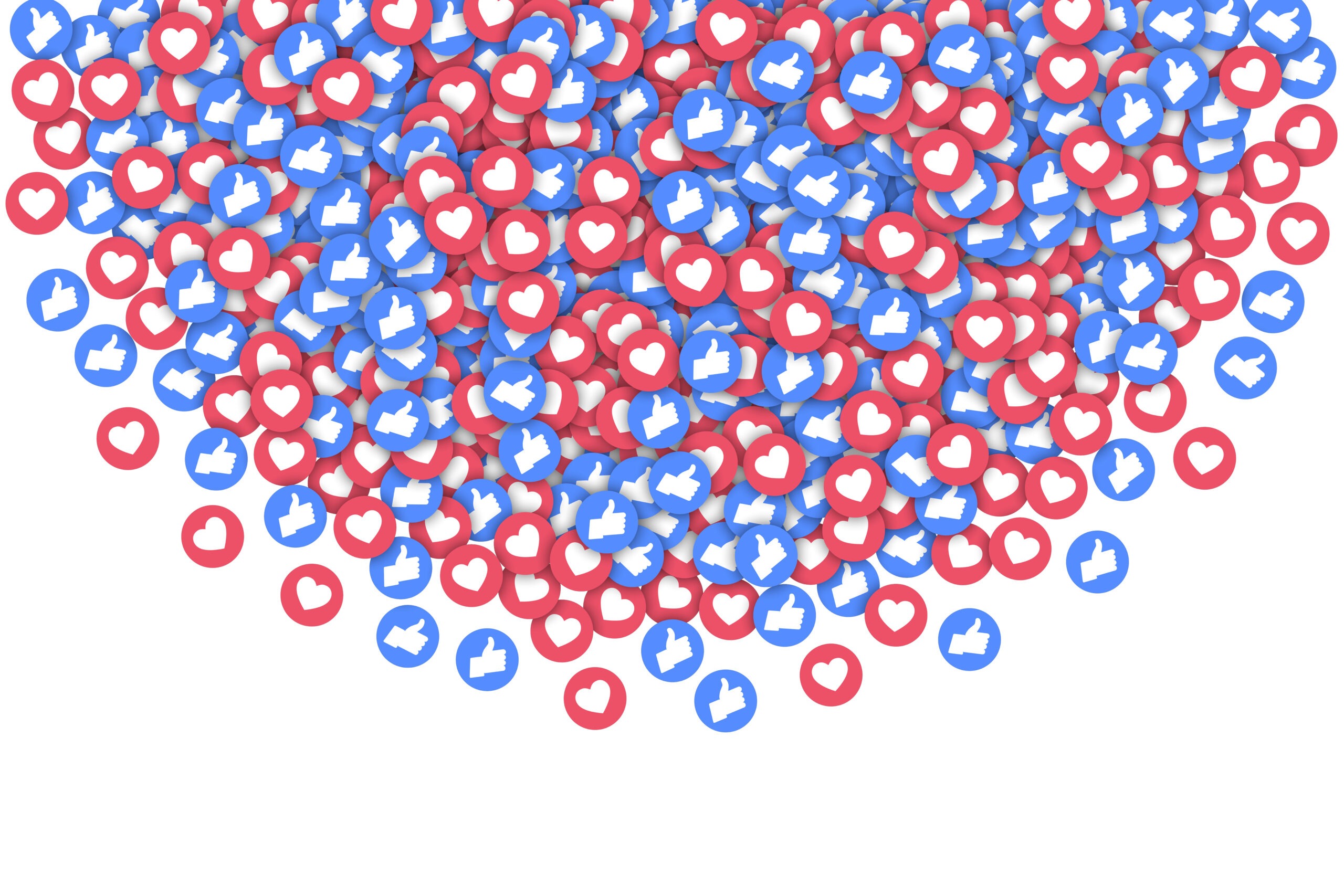 Hello, communicators:
If you've ever wondered which nut most closely matches your personality, Planters has got your answer.
As part of its Super Bowl ad campaign, the snack company is encouraging customers to share how they like to eat their mixed nuts: Are you a handful type of person, or do you choose to go nut by nut?
A 30-second spot starring Ken Jeong and Joel McHale depicts a showdown between two people on opposite sides of the nut debate.
To find out which nut matches your personality, Planters wants you to take their quiz and then share the results on social media. Personally, I got Powerful Pecan.
Here are today's other top stories:
Meta reports biggest one-day stock plunge in U.S. history following Zuckerberg comment about "competition"
Have you ever lost a $20 bill? Maybe it fell out of your pocket, or you dropped it in the grocery store. It stinks, right? Well, imagine that feeling and multiply it by $11.5 billion. You'll get $230 billion, which is the amount Meta's market value fell Thursday.
The huge loss caps off a difficult week for Meta and CEO Mark Zuckerberg, who personally lost nearly $32 billion in shares.
In Wednesday's earnings report, it was revealed that Facebook's daily active users had decreased for the first time.
"Zuckerberg said competition from other social media platforms including viral video-sharing app TikTok is 'having an impact on our business.'

Zuckerberg echoed that sentiment during an all-hands virtual meeting, saying the company faced an 'unprecedented level of competition,' Bloomberg reported, citing a person who attended but was not authorized to speak publicly about it.

He also said the company's weak revenue forecast for the current quarter triggered the historic stock decline, Bloomberg reported."
Why it matters: Meta (formerly Facebook) has had its fair share of controversies over its not-so-long history, but a decreasing user base is not a problem it's yet had to face. Zuckerberg's comments underline his concern about the future of the company—not a great look for a CEO. In times of crisis, comms pros should be wary of external (or leaked internal) C-suite communications that might cast the organization in a worse light.
---
MEASURED THOUGHTS
New survey research from Morning Consult found that while many Americans are eager to resume taking cruises, those who are looking forward to setting sail are especially concerned about the measures travel companies are taking to protect their health and safety.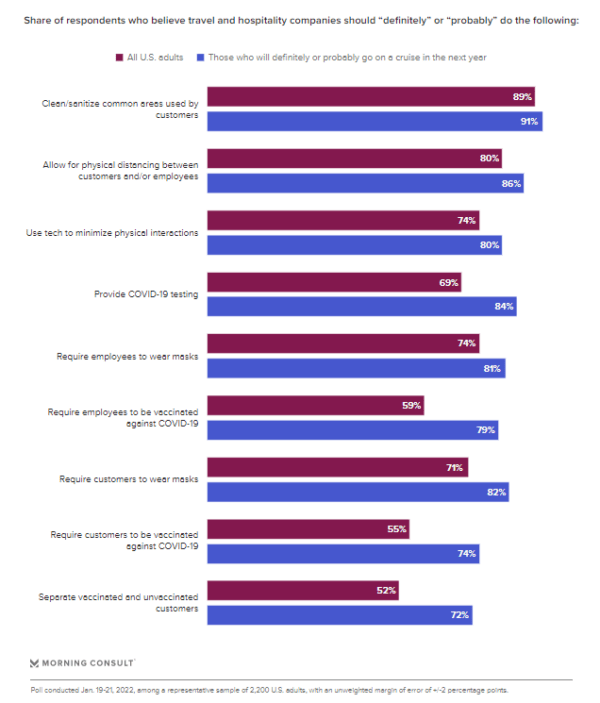 The survey asked a series of eight questions about what hospitality and travel companies should or shouldn't be expected to do to keep people safe. In all eight categories, people who said they'd likely go on a cruise in the next year expected more in terms of health and safety measures as compared to all U.S. adults.
For example, 84% of potential cruise passengers said travel and hospitality companies should provide COVID-19 testing, as compared to just 69% of all U.S. adults.
Why it matters: As the cruise industry struggles to rebound from the pandemic—yes, the CDC still advises against taking a cruise, even if you are fully vaccinated—it's data like this that underscores the importance of communicating your health and safety policies to your customers, audiences and clients. We're not done with COVID-19 quite yet, unfortunately.
Check out more from the Morning Consult survey here.
---
TAKE OUR SURVEY
We want to know about your career as a social media professional.
How big is your team? Are you valued at your organization?
If you're interested in helping benchmark the career path potential of social media professionals and shedding light on how social media is internally managed, viewed and evaluated, take our survey. The Social Media Career Survey is a follow-up to a 2020 report by the Institute for Public Relations, Ragan Communications and the University of Florida.
Whether you're in charge of company social media or involved in social media for a client, we welcome your participation.
Respondents will receive a full report on the findings, which will also be shared on PR Daily.   Responses will remain confidential.
Flight attendants' union slams Southwest's plan to resume in-flight alcohol sales
Southwest Airlines plans to begin selling alcoholic beverages aboard its flights again after a pandemic-related suspension.
Southwest scrapped its inflight beverage service in March 2020, citing concerns about COVID-19, and pushed back a planned return to selling alcohol in June 2021 after a flight attendant was seriously injured by an unruly passenger.
"'Given the recent uptick in industry-wide incidents of passenger disruptions in-flight, we have made the decision to pause the previously announced restart of alcohol service onboard,' Southwest spokesperson Chris Mainz said at the time. 'We realize this decision may be disappointing for some customers, but we feel this is the right decision at this time in the interest of the safety and comfort of all customers and crew onboard.''"

TWU Local 556, the union that represents Southwest flight attendants, shared a Facebook post expressing "outrage" over the decision.

"We have adamantly and unequivocally informed management that to do this prior to the mask mandate being lifted is contrary to their prior statements and will potentially increase customer non-compliance and misconduct issue," the post says.
Why it matters: Southwest leadership faces pressure from both sides; its customers are eager to receive alcohol on board again, while its employees say that decision places them in direct danger. Now more than ever, people are watching closely to see how companies treat their workers. If Southwest's decision to bring back inflight beer and wine is proven to cause more passenger disruption—and injury to flight attendants—the airline will have more than one PR issue on its hands.
Announcing the PR Daily Leadership Network
PR Daily has launched the PR Daily Leadership Network, a unique membership group from Ragan Communications offering peer-to-peer advisory and team training along with a unique slate of resources and events to help public relations professionals break through the noise, increase their visibility and forge meaningful connections.
The Network provides daily insights and coverage on a range of topics including media relations, social media, measurement, Diversity, Equity & Inclusion, branding, thought leadership and crisis communications.
"The fast pace of change coupled with the demand on public relations professionals to protect and sometimes defend their company's reputation make it imperative for leaders to tap into the wisdom of other communicators and continue to learn and grow," says Diane Schwartz, CEO of Ragan Communications. "The PR Daily Leadership Network provides the answers but also encourages members to question the status quo and push for positive change."
Visit leadership.prdaily.com to learn more.
COMMENT