Nespresso claims ignorance of cocaine found in coffee shipment, Lyft resumes shared rides and what personal information Twitter users share
Also: A former Gap employee hunts down old in-store soundtracks for a nostalgic project.
Hello, communicators:
A former Gap employee just can't get some songs out of his head.
NPR reports that Michael Bise is trying to find every in-store music playlist from the time that he worked for Gap, from 1992 to 2006.
"As the years went by, the tapes did seem to reflect what was going on in the country," he told NPR. "There was a lot of experimentation at the beginning of the '90s. Then, you could, I mean, literally feel the change … like September 11, 2001, it was very, very somber. And, you know, that's how the country was. You felt it."
Bise operates a Twitter account to share updates about his findings, where he often connects with other former Gap employees.
From 24 years ago, the GAP May 1998 In-Store Playlist is fantastic! Listen:https://t.co/M0gNHh57H0

— Michael Bise (@GapPlaylists) May 5, 2022
As a 1991-1994 Gap employee and playlist fanatic, this has brought me SO MUCH JOY! Apparently I worked A LOT in August 1993! Thank you!

— Yeah, whatever (@Chamilgus) May 4, 2022
Opportunities like these don't come around often for brands. Could Gap jump on board with this guy's quest to take advantage of a beautiful brand storytelling moment? It could be a win for employer branding, too.
Here are today's other top stories:
Nespresso reports finding 1,000+ pounds of cocaine in coffee bean shipment
According to Swiss police, coffee maker Nespresso recently reported finding not a small amount of cocaine in a shipment of coffee beans from Brazil.
Reuters reports the company informed local police earlier this week about the drugs.
"The substance in question did not come into contact with any of our products or production equipment used to make our products," Nespresso told Reuters in a statement. "As a police investigation is underway, we cannot share more details. We want to reassure consumers that all our products are safe to consume."
Twitter users mostly reacted with humor to the news:
WOW THIS RISTRETTO HAS GOT QUITE A KICK DOESN'T IT https://t.co/vVgC14jZwI

— Dr Philip Lee (@drphiliplee1) May 6, 2022
"The best part of waking up…" https://t.co/vS1QOw8z8J

— Catherine Rampell (@crampell) May 6, 2022
LOL!! Goodbye brewing my coffee with redbull. Hello never needing a car again. Cause now I can run until my heart stops. Which would be right after my second cup.

— Jay John (@h3lp_m3_l3arn) May 6, 2022
Why it matters: By assuring consumers that there won't be any cocaine in their morning brew, Nespresso's statement hits all the essential points without revealing any information that might jeopardize a police investigation. Twitter users' reactions show there is currently little to no backlash against the company.
---
MEASURED THOUGHTS
A new report from the Pew Research Center examines which personal details Twitter users publish as part of their profiles.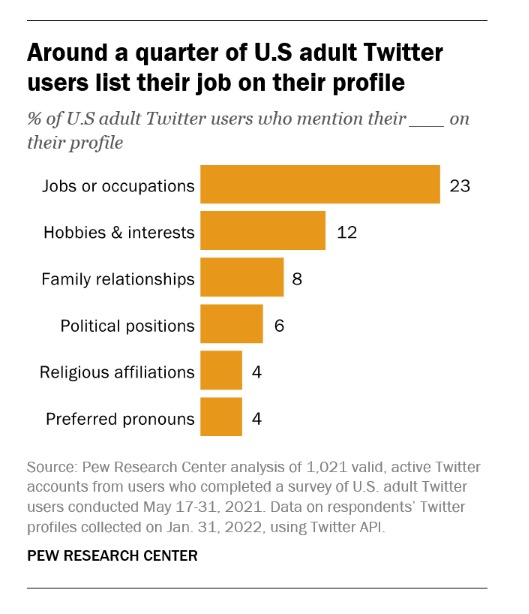 Pew's recent polling finds that nearly a quarter of U.S. adult Twitter users include their jobs or occupations in their profiles, while 12% include hobbies or interests and 8% include family relationships.
It's important for PR pros to stay up to date not only on operational changes to social media sites, but larger trends in how people are using the platforms to interact with others and promote themselves.
Read more from the Pew Research report here.
Lyft to bring back shared rides in several U.S. cities
Rideshare giant Lyft announced this week it will resume offering shared rides — similar to Uber's Uber Pool feature — this month.
We've fine-tuned Shared rides to make them more efficient and reliable for both riders and drivers. We've kept all the parts our community loved — saving money and making friends — and ditched the parts they didn't. For riders, this means a more affordable, reliable ride option. For drivers, this means Shared rides are completely optional through 2022 without penalty.
The release also contains a section on frequently asked questions like "Can I sit in the front sear for a Shared ride?" and "Is there a fuel surcharge for Shared rides?"
"As one of our most in-demand and affordable ride options, we look forward to gradually bringing Shared rides back," said Ashwin Raj, head of rideshare with Lyft, in the release. "We recognize the world has changed and our offerings need to evolve with it."
What it means: Bullet points and bolded items make the news release easy to skim through for important details — and can serve as an outline for a news story for the journalist covering the news. Lyft's FAQ section also benefits reporters, providing context about new features and policies that otherwise may not have been clear.
---
NEXT WEEK: ATTEND OUR MEDIA RELATIONS CONFERENCE
Join us in New York City on May 11 for a one-day, in-person conference all about media relations and measurement.
At PR Daily's Media Relations & Measurement Conference, you'll learn how to score the coverage your brand deserves and generate results—and then showcase those results to management. You'll also learn the latest measurement tools and methods for everything from internal comms and media relations to social media.
Each attendee will receive a Media Relations & Measurement Conference Certificate of Completion.
Register here to attend.
COMMENT
One Response to "Nespresso claims ignorance of cocaine found in coffee shipment, Lyft resumes shared rides and what personal information Twitter users share"
Thank you for this information.