Netflix apologizes for film's promo image, Estée Lauder to lay off up to 2,000 employees; Airbnb bans parties
Also: Broadway turns to Airbnb with virtual experiences, IKEA Taiwan mimics Animal Crossing, 55% of consumers expect action from brands supporting social issues, and more.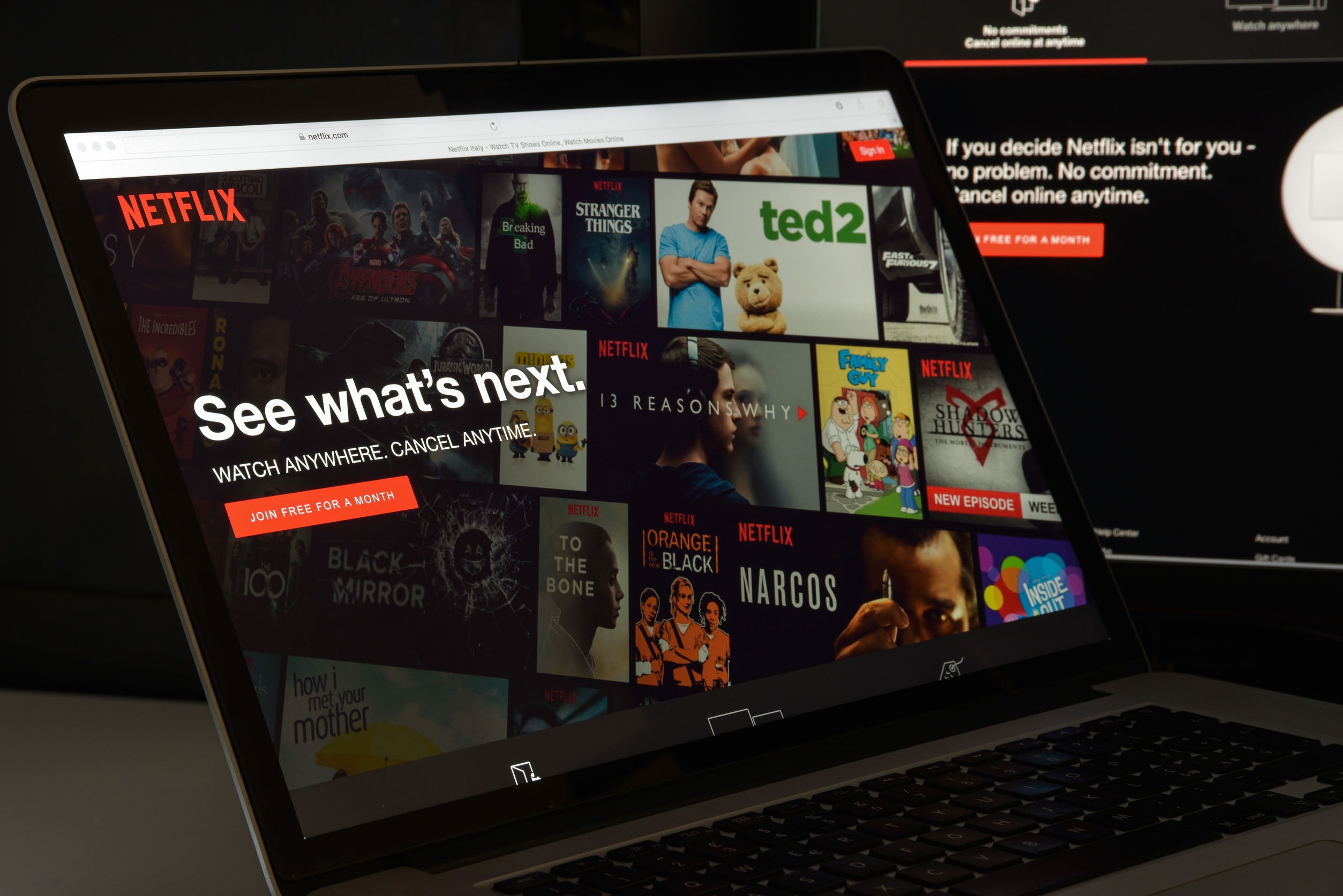 Hello, communicators:
Estée Lauder Companies are preparing to lay off 1,500-2,000 employees worldwide, representing 3% of its workforce. The move comes after the beauty brand reported declining sales from COVID-19. Moving forward, it will focus on e-commerce offerings.
While the company will eliminate some roles—mainly point-of-sale employees and related support staff—it will investment in new ones in high-growth areas like online.
Here are today's top stories:
Netflix issues mea culpa over 'inappropriate' artwork
The streaming service has apologized and pulled promotional posters for "Cuties" after swift backlash online. More than 148,000 people have signed a Change.org petition to remove the film from Netflix.
The Los Angeles Times reported:
The movie, about an 11-year-old who rebels against her family and joins a "free-spirited dance crew," is accused in the online campaign of sexualizing young girls "for the viewing pleasure of pedophiles." Originally titled "Mignonnes," the project premiered earlier this year at the Sundance Film Festival, where it won a jury award for directing.
Director Maimouna Doucouré has explained that the story aims to highlight how social media pushes girls to mimic sexualised imagery without fully understanding what lies behind it or the dangers involved.
Netflix tweeted an apology, saying the poster wasn't "representatitve" of the film:
We're deeply sorry for the inappropriate artwork that we used for Mignonnes/Cuties. It was not OK, nor was it representative of this French film which won an award at Sundance. We've now updated the pictures and description.

— Netflix (@netflix) August 20, 2020
Why it's important: The images you use are just as important as the words you select. Take care not to choose visuals that might send the wrong message. This advice is relevant for campaigns that aren't addressing sensitive or controversial topics, especially during COVID-19. For example, using images that lack diversity or publishing videos that don't showcase masks or social distancing can also muddle your message and might even damage your brand image.
---
SOCIAL BUZZ
You can now dance, learn acting tips, go behind the scenes and listen to songs from Broadway actors and actresses while staying at home. The experiences are offered in partnership with Airbnb:
Connect with @LauraOsnes @Instatituss @starringaisha and more through @Airbnb's Online Experiences!https://t.co/DhrpMnvXoJ

— BroadwayWorld (@BroadwayWorld) August 19, 2020
Airbnb is joining forces with stage and screen star Tituss Burgess, original Broadway princesses Susan Egan, Laura Osnes, Courtney Reed, Aisha Jackson, and dozens more to bring you behind the scenes of your favorite musicals. Join talented actors, singers, set designers and dancers from Broadway, the West End, and beyond as they show you the ropes of their art form.
Even the banner for the set of experiences is adapted for COVID-19, with a virtual-first spin on an old Broadway saying: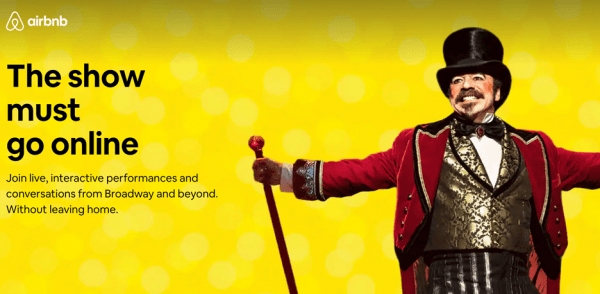 Airbnb had been highlighting its experiences before the COVID-19 crisis, and with the pandemic decimating the travel industry, the company is leaning on those experiences more than ever, which are now adapted for social distancing guidelines or offered virtually.
---
MEASURED THOUGHTS
Sprout Social reported that 58% of consumers are more likely to purchase from brands that share similar beliefs—and share those on social media platforms. However, sharing a statement is only the start—55% of consumers expect organizations to go farther than messages and donations, by pledging additional initiatives and commitments. For millennials, that expectation rises to 65%.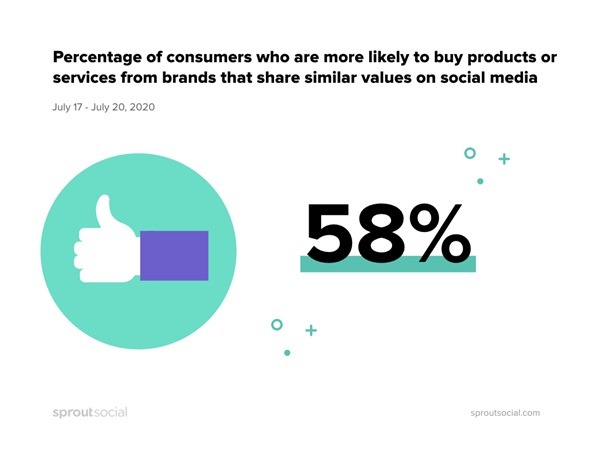 Image courtesy of Sprout Social.
Just as important as making commitments is keeping them. While 25% of consumers will unfollow your organization on social media if you don't follow through with your promises to addressing social issues, 29% say they'll boycott a brand and 42% will purchase from a competitor.
Once that trust is gone, it's hard to build up again.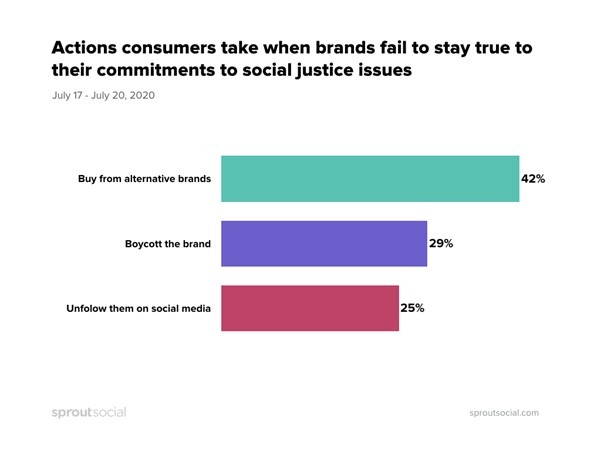 Image courtesy of Sprout Social.
---
CRISIS LEADERSHIP BOARD
Looking for more insight on how to address the current global crisis and lead your organization into a strong recovery?
Join Ragan's Crisis Leadership Board to network and brainstorm with peers, get the latest intelligence and research and start to strategize for the future of your organization.
Learn more about this exclusive membership here.
Airbnb bans parties
The company has officially prohibited house parties, now capping occupancy limits at 16 people per lisiting.
When the pandemic was declared, and social distancing became an important element in promoting public health and responsible travel, we updated our policies. We started by removing both the "event-friendly" search filter from our platform as well as "parties and events allowed" House Rules from any event-friendly listings. Most importantly, we introduced a new policy requiring all users to adhere to local COVID-19 public health mandates. At the time, most local governments were imposing strict limits on gatherings, which effectively created a form-fitting, patchwork ban on parties and events.
However, in many large jurisdictions, public health mandates on gatherings have changed – and in some places swung back and forth in response to the changing rates of COVID cases – as have regulations on bars, clubs and pubs. Some have chosen to take bar and club behavior to homes, sometimes rented through our platform. We think such conduct is incredibly irresponsible – we do not want that type of business, and anyone engaged in or allowing that behavior does not belong on our platform.
The ban is an extension of an already existing rule Airbnb implemented in late 2019, and represents the company's latest attempt to alter its business in the face of the coronavirus pandemic.
The move also comes amid a confidentially filed IPO—the latest indication that Airbnb intends to go public this year.
Why it's important: Especially after filing to become a publicly traded company, Airbnb is making sure the actions of its hosts and guests don't negatively affect the company, which is already grappling with the COVID-19 crisis. Communicators across organizations and industries can take a nod from the move by making sure COVID-19 messages and policies are clearly relayed and enforced, lest their brand reputation is tarnished during a time when consumer trust is more crucial than ever.
---
DOWNLOAD OUR REPORT
Following the deaths of George Floyd, Ahmaud Arbery, Breonna Taylor and others, organizations were pushed more forcefully than ever before to take stands against systemic racism and move to support social justice initiatives. Which responses made an impact—and which responses fell flat?
Learn from 10 of the biggest brand messages in our special report, "Organizational responses to Black Lives Matter." The report offers communicators important takeaways to lead organizations and clients in the second half of 2020 and into the future.
---
SOCIAL BUZZ
IKEA Taiwan has recreated its catalog using Animal Crossing characters and designs:
The adorable alternate world pages are shown next to the real catalog, with occasionally accurate product substitutes and humorous alternatives for things that don't exist in the game.
As more brands are jumping on the bandwagon to market inside of games including Fortnite and Animal Crossing, successful efforts can provide inspiration to better engage with audiences on a new channel.
---
WHAT YOU SAID
We asked what your organization is offering employees as many workforces remain remote, and 75% of you have created virtual "hang outs" and ways to connect digitally, while 25% of you are boosting your content and training offerings:
As many workplaces remain remote and dispersed, what has your organization offered to employees?

Share what you're doing to connect below and under #DailyScoop.

— PR Daily (@PRDaily) August 20, 2020
Is there a question you'd like us to ask in an upcoming poll? Let us know!
---
SOUNDING BOARD
Would you rather hear about brands' successes, or their failings?
Would you rather hear about brands' successes, or their failings?

Share your thoughts below and under #DailyScoop. We'll share on Monday.

— PR Daily (@PRDaily) August 21, 2020
Share your thoughts below and under the #DailyScoop hashtag, and we'll share on Monday. Until then, have a safe and relaxing weekend.
COMMENT
One Response to "Netflix apologizes for film's promo image, Estée Lauder to lay off up to 2,000 employees; Airbnb bans parties"
Ronald N. Levy

says:

This is right and most people are right about the importance of social justice. BUT in 2016 Mrs. Clinton was way ahead in the polls. Then she kept emphasizing social justice in the weeks before the election, her opponent kept emphasizing jobs and the economy, and look who won.

Now—incredibly to me because in a controversy I'm one of many in PR whose training is to often work gladly for either side—we can see the Democrats repeatedly emphasize FAIRNESS, especially fairness to minorities who certainly deserve fairness. Who's against fairness? But if one side emphasizes mainly fairness to minorities and the other side talks about the economy and jobs for everyone including jobs for minorities and women, which party may do better despite Trump's many flaws?

Drugs are approved by FDA only after testing so that we don't have to guess but know from experience how a drug is
likely to work out. In the same way there are Combat PR Principles, based on experience, that often determine what will happen.

PR PRINCIPLE #1: Voters vote not so much for candidates as for themselves.

What most members of a national audience may care about most is not "which side seems more fair" but "WHAT WILL I GET and which side will be better for ME."

PR PRINCIPLE #2: What could be called the "Magnitude of Benefit" principle is that the larger benefit tends to be more highly valued and to generate more support than other benefits. Sometimes this could be called the "Magnitude of Peril" principle. Anti-nukes can argue "nuclear can kill you if a plant explodes or leaks radiation." But pro-nukes can argue "yeah but that's not happening and what IS happening is that every coal-fired plant emits tons of cancer-causing particulate matter every day." If the perils are seen as a wash, cost may be decisive.

Importantly, what matters is not just the bigness of the benefit but the bigness of the audience that will get the benefit or suffer from the peril. A classic problem for minorities is that minorities have fewer people than majorities.

PR PRINCIPLE #3: The "PR Principle of Proximity" is that a benefit that comes sooner tends to be more highly valued than benefit or peril that may come much later. Sometimes the benefit that comes sooner is cost, sometimes it's freedom from a peril. Either way, benefit often trumps fairness.

PR PRINCIPLE #4: Always look for the "Peril of the Alternative." Whatever the other side is proposing, they are probably telling what the public will get but not how the public will lose, what the proposed alternative will cost the public. If you point out the peril of the alternative, you help the public evaluate the magnitude of peril and the proximity of peril.

It's that way with politics, where many PR professionals could easily work for either side, and that way with commercial and national accounts. What tends to determine who wins is benefits—who gets them, how much and how soon—rather than fairness.

One may feel "I'm not denying these principles but do you have to state them so bluntly?"

If you're at the table and some people are urging a decision based on "fairness," it can be dangerous to mention this but judge whether overemphasis on FAIRNESS could (with peril) be called "the f-curse."