Networking 101: Here's everything I wish I'd known before my first event
Feeling rusty on your in-person networking skills? No problem.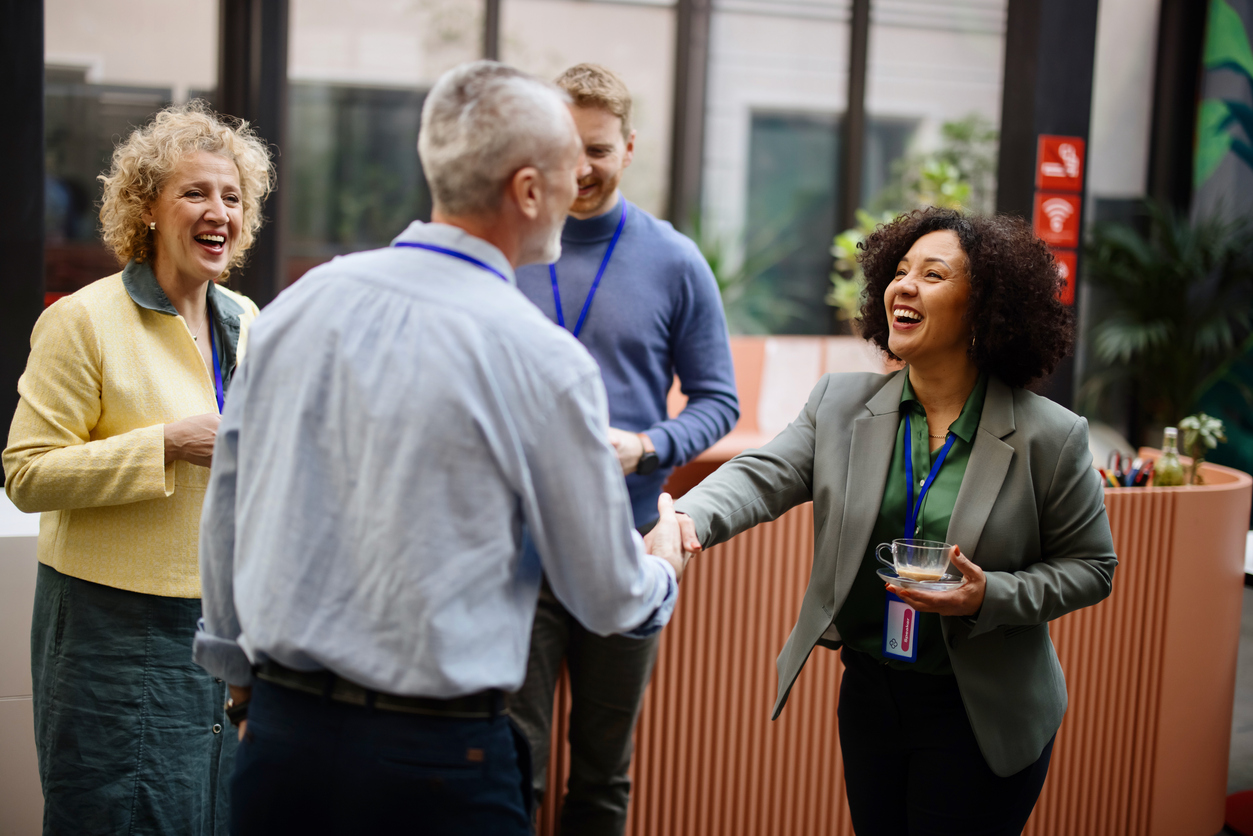 Natalie Lund is an account executive at Method Communications.

After years of pandemic-driven cancellations, in-person networking events are back and you don't need to be searching for a new job to attend one. With the right approach, there's potential to meet a new client or future colleague, or build a reporter connection. These tips should enhance your chances of making all of those connections, even if it's your first in-person networking event. 
Before the event 
Before heading out, there are a few things you can do to prepare and ease any nerves you may have. If you're going on behalf of a client, prepare a 2-3 sentence elevator pitch for both the client and yourself. Reporters will often host happy hour events to meet prospective sources or learn about an industry landscape in a particular city so you'll only have a short window of time to pitch a client and yourself. 
If the event has a specific theme or is focused on a particular industry, spend some time reading up on the latest news, which will come in handy during any lulls in the conversation. 
Also, come prepared with two to three questions to ask. I've found that asking, "How did you learn about the event?" tends to be a good opener and can lead to conversations about their background and experience. 
Lastly, set a goal for yourself. Maybe it's to introduce yourself to three new people and connect with them on LinkedIn. Maybe it's to confidently get through one conversation with a stranger. Whatever it may be, having a goal in mind can help motivate you for success.
During the event 
Unlike a job interview, networking events are supposed to be fun and easy going. I remember my first networking event, which was focused on sustainability and hosted by a Bloomberg reporter, and being so worried that I had to be an expert in climate change policy and other industry trends. In actuality, the conversations ended up being a mixture of industry news and casual topics, like what everyone's favorite grocery store was. So remember that it's OK to make casual non-work related conversation, as long as you keep it professional at the same time.
When you first arrive, the number of people may feel overwhelming, so I recommend moving around to maximize the number of people you can meet. When there's a lull in the conversation, don't be afraid to say "I'm going to get another drink or snack," or "I'm going to go mingle some more, it was great to meet you" before politely excusing yourself and finding new people to meet. 
If you felt the conversation went well, don't be afraid to ask for someone's business card or add them on LinkedIn. It's expected and exactly why people attend networking events, and the worst case scenario is they don't add you back.
Lastly, as someone still earlier in your career, it's easy to get imposter syndrome. I remember being in my head, wondering if I were deserving of being there talking to these senior PR and comms pros. Remember that you are deserving and people do want to talk to you because you are the future of PR and absolutely bring something to the table.
After the event 
The most important part of networking is not the event itself but the follow up afterwards. 
For any business cards or connections you make on LinkedIn, reach out again. One message I've sent before is, "Hi X, great meeting you at this event [insert networking event name]. I look forward to being connected and hope to see you at future events!" If there's anything in particular you discussed during your conversation, feel free to personalize as you would a pitch before sending. You never know when connections you make at a networking event will come back to help you in the future. 
If your company sent you or a manager asked you to attend, be prepared to provide a recap. It should be a short summary of the people you connected with and any potential leads to act on. It will show your team that you were engaged and they'll keep you in mind for future events. 
Remember: practice makes perfect when it comes to networking. It will get easier so don't put too much pressure on yourself for your first event.
Lastly, have fun! It can be hard to meet people outside of work so enjoy a free drink, meet some new people and just be yourself. 
COMMENT