NFL offers virtual experiences, COVID-19 efforts for Super Bowl LV, Microsoft launches new digital workplace, and Pinterest's 76% Q4 revenue jump
Also: YouTube launches personalized sports portal and expands ad markets, Instagram looks at vertical 'Stories' feature, CNN president to stay on through the end of 2021, and more.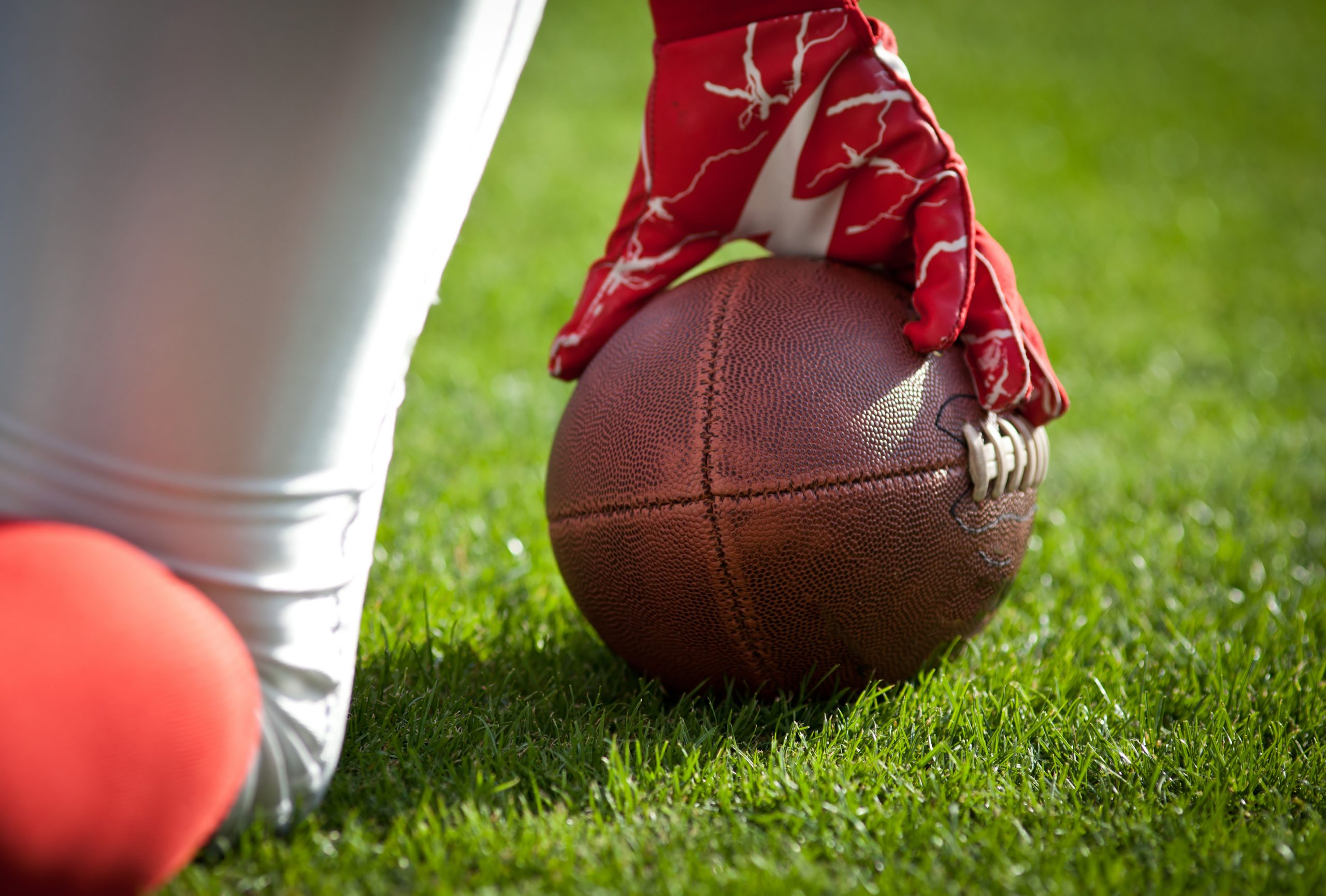 Hello, communicators:
CNN's president, Jeff Zucker, announced that he'll stay on to lead the news outlet through the end of 2021, providing some stability in a year already marked with tumultuous crises and change.
Zucker came quite close to exiting, according to associates, but decided to stay on. He told employees on Thursday morning that he will remain with CNN's parent, WarnerMedia, through the end of the year.
"The truth is, back in November and December I had basically decided that it was time to move on now," Zucker said on the company's daily editorial call. "But since then I've had a change of heart. And I want to stay. Not forever, but for another year. And I feel really good about this decision."
If your organization's chief is stepping down, prepare well in advance, so you can bolster your brand's reputation and provide support as well as reassurance to your employees.
Here are today's top stories:
NFL focuses on virtual experiences, COVID-19 efforts for Super Bowl
The National Football League—and the many brand managers looking to grab buzz on social media or in pricey TV spots—are gearing up for Super Bowl LV, and the focus is on digital experiences as well as COVID-19 initiatives.
For example, the NFL is sharing a "live visual album" from its Pepsi Super Bowl LV Halftime show:
Fans will be able to relive the @Pepsi Super Bowl LV Halftime show w/ @TheWeeknd, the National Anthem w/ @ericchurch & @jsullivanmusic and America the Beautiful w/ @hermusicx after their performances! Pre-Save the live visual album now: https://t.co/wb9yMShrSx #SBLV pic.twitter.com/T63kBWQXbZ

— NFL (@NFL) February 5, 2021
Dr. Anthony Fauci will also join the big game virtually to express gratitude to the 7,500 vaccinated frontline health care workers that are attending the Super Bowl for free, through the NFL's COVID-19 initiative:
Dr. Anthony Fauci will virtually join Super Bowl LV to express his "profound gratitude" to the 7,500 vaccinated health care heroes the NFL is hosting at the game. #SBLV pic.twitter.com/mwyrza0ApD

— NFL (@NFL) February 5, 2021
Why it's important: Life—and branding—after the COVID-19 crisis will look different in a multitude of ways, including consumers turning to technology more than ever, and more consuming information on digital- and mobile-first platforms and devices. Social good and community-wide initiatives will also continue to be a focus. Don't consider any of your efforts in these areas as a one-time thing, or temporary crisis strategies. Instead, build them into the long-term plan for your organization's brand.
---
SOCIAL BUZZ
YouTube launched a "refreshed experience" for sports fans, announcing a "more immersive destination" focusing on personalization and content engagement. Consumers can watch recent game highlights along with news and videos that are trending in users' local areas.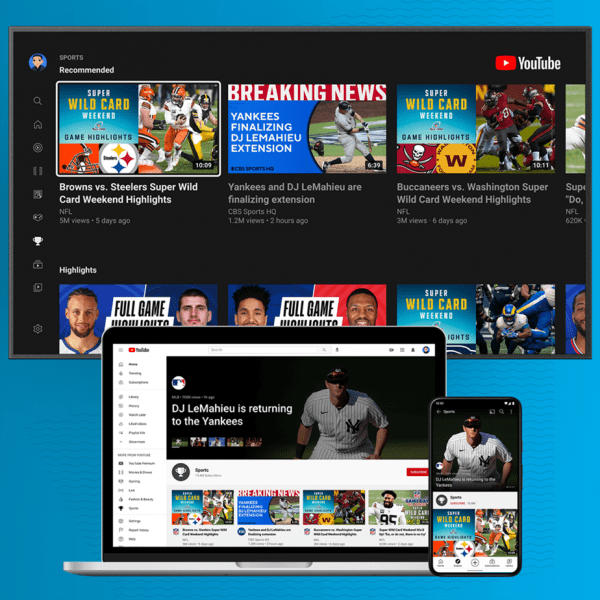 In a blog post, Google wrote:
In 2020, the number of hours of sports related videos uploaded to YouTube in the U.S. grew by over 40% year over year.
… YouTube is the place where people can find a wide range of sports content.  In fact, according to ISG, YouTube is ranked the #1 preferred platform among sports fans in the U.S., higher than cable TV.1 And in today's world (where our living rooms are now our own personal sporting arenas), viewers are tuning in on the TV screen more than ever on YouTube. Watch time on TV screens of sports videos, excluding live content, has increased by over 65% YoY.2
Marketing partners will also gain a broader, global audience reach as YouTube also launches its connected TV offering in Canada, India, Australia and Japan in 2021. Ryan Dunkley, vice president of marketing for NordicTrack, reported a 91% lift in brand terms and a 4% raise in brand awareness after making YouTube part of its digital marketing strategy.
Whether you take advantage of these new opportunities or focus on other social media platforms and efforts, keep in mind that digital-first content, especially streaming offerings, are here tto stay—even after the COVID-19 crisis.
---
MEASURED THOUGHTS
Many consumers are turning to Pinterest as they stay at home during COVID-19. In a letter to investors,  Pinterest repoted a 76% year-over-year revenue jump in 2020's fourth quarter—and revenue from U.S. users was up 67% in that time period. Pinterest also touted more than 459 million global monthly active consumers in the final quarter of last year: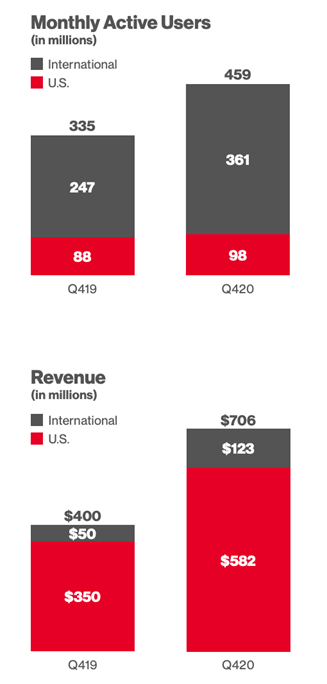 "We welcomed over 100 million additional monthly active users to Pinterest in 2020, more than any other year in our history," CEO and co-founder Ben Silbermann said in a statement. During a call with analysts Thursday, Silbermann said the company was encouraged by its growth among Gen Z consumers, who he said are well-served by other social media platforms, but come to Pinterest "because they want spaces where they can explore their own interests and hobbies."
Increased traffic and revenue for Pinterest equals greater marketing opportunities and reach for brand managers, as highlighted in this example from Made.com, which received four times more clicks on its content with Pinterest ads: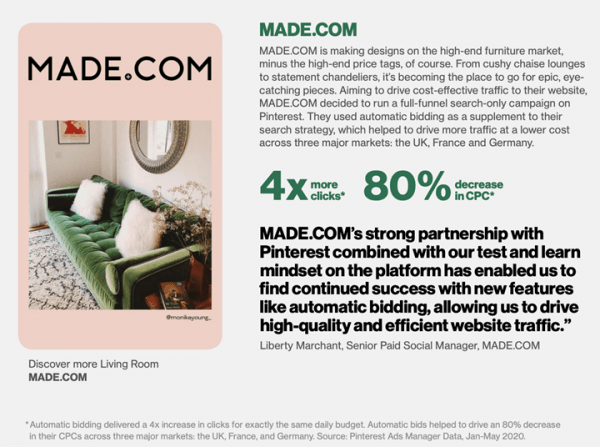 You can read the entire report here.
---
CRISIS LEADERSHIP NETWORK
Looking for more insight on how to address the current global crisis and lead your organization into a strong recovery?
Join Ragan's Crisis Leadership Network to connect and brainstorm with peers, get the latest intelligence and research and start to strategize for the future of your organization.
Learn more about this exclusive membership here.
Microsoft launches digital workplace suite
The tech company introduced Microsoft Viva, which it says is a "new employee experience platform that empowers people and teams to be their best from anywhere."
The product's "Connections" feature can help employees better connect and engage with their organizations, while its "Insights" deliver managers and other leaders employee insights that can help stave off employee burnout and increase productivity.
Viva's "Learning" tool aims to help employees learn additional skills with a content portal of integrated services, including Coursera and LinkedIn Learning, and its "Topics" feature uses artificial intelligence and user curation to create an internal type of Wikipedia, producing topic cards that list related documents, employees and more related to individual products.
Why it matters: As many organizations remain remote or grapple with hybrid workforces, the future of the workplace has shifted drastically—and many of these changes will last far into the future. Even if you're planning a return-to-the-office, embrace digital workplaces to better support, engage and motivate your employees—as well as connect them to your organization's mission and leaders.
---
TAKE OUR SURVEY
The start of a new year brings more opportunities for communicators across roles, organizations and industries to develop effective strategies and efforts that can strengthen their brands amid continuing crises, including the COVID-19 pandemic.
Ragan's Communications Leadership Council has created The 2021 Communications Benchmark Survey, and wants to know your challenges, successes and needs as you navigate the rapidly shifting communications landscape and respond to unprecedented crises as well as new opportunities.
Please share your insights with us. As a thank you for your time and insights, you'll receive an Executive Summary of the report, packed with proprietary research that can help you better shape communications strategies in 2021. You'll also be entered to win one of five $100 Visa gift cards.
---
SOCIAL BUZZ
Instagram might roll out a feature that enables users to virtically scroll through its "Stories" features, which would take a heavy nod from competing social media app TikTok.
Currently, users scroll Instagram stories horizontally, tapping or swiping the right side of the screen to move forward or the left side to go backward. In contrast, TikTok's feed is vertical, so users swipe up to get to the next piece of content. Not so coincidentally, Instagram's dedicated Reels feed (Reels is Instagram's version of TikTok) is vertically oriented, as is its main posts feed.
The vertical stories feed is not currently being tested, Instagram confirmed to TechCrunch, but code for the change is already in development based on this screenshot developer Alessandro Paluzzi shared. It's not much to go on, but it does show Instagram is at least considering the adjustment to its ever-expanding features.
#Instagram is working on Vertical Stories 👀
Swipe up and down to browse stories. pic.twitter.com/LDJje8l137

— Alessandro Paluzzi (@alex193a) February 2, 2021
The news was met with mixed reactions and snarky headlines, including Mashable's "Instagram's identify crisis deepens as it considers a vertical stories feed" and Gizmodo's "Instagram, honey, please stop copying TikTok." Nonetheless, Digital PR and marketing pros should watch for updates on the horizon, because the feature might require an overhaul to your Instagram content and engagement strategy.
---
WHAT YOU SAID
We asked what song(s) would be part of your soundtrack representing your day-to-day PR efforts, and communicator Elsa Luz selected a song of resilience:
I will survive – Gloria Gaynor

— Elsa Luz (@ElsaLuzz) February 4, 2021
Stephanie Smith, communications specialist at Hot Paper Lantern, also picked a tune that expresses PR pros' toughness and adaptability in the face of challenges:
Tubthumper by Chumbawamba

— Stephanie (@Steph_MSmith_) February 4, 2021
Is there question you'd like to see asked? Please let us know under the #DailyScoop hashtag!
---
SOUNDING BOARD
Are you watching Super Bowl LV for the game—or the ads?
Are you watching Super Bowl LV for the game–or the ads?

Weigh in below, and we'll share the results on Monday. #DailyScoop

— PR Daily (@PRDaily) February 5, 2021
Weigh in below and on Twitter under the hashtag #DailyScoop, and we'll share in Monday's roundup.
COMMENT