PR fundamentals help deliver on corporate charity initiatives during the pandemic
With many offices still working remotely, creating engaging opportunities to give back as an organization can be tricky. Classic PR strategies can help.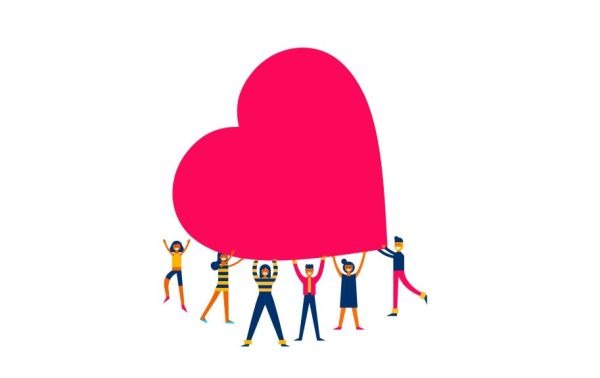 Though this year was a difficult one for many, it is now more important than ever to come together (metaphorically) as a community and support each other. December is the "Season of Giving," and whether that "giving" be a physical gift, monetary donation or even your time and efforts, everyone should strive to pitch in a helping hand. You don't have to be a Fortune 500 company or global marketing firm to make a difference. Agencies of all sizes can implement a workplace charity initiative and give back to their communities.
In other years, donating time and money to those in need could be a simple act like picking up a shift at a local food bank, but as we've all come to learn things are not as simple this year. Social distancing guidelines and other health precautions have made volunteering opportunities more challenging to find—especially for remote offices and widely distributed teams.
With many PR agencies and offices still working form home, businesses have to be creative in their new approach to workplace charity initiatives. For example, our agency has its annual "Merry Week of Giving," a longstanding tradition during which employees take part in a weeklong initiative focused on volunteering and donating to those most in need. Each year, the selected charities, which are usually on a local scale, are collectively evaluated and voted upon by employees, ranging from DC Central Kitchen to Northern Virginia Family Services. This year, since the employees can't all be together for this highly anticipated week, we turned our remote environment into an opportunity to broaden our reach and pull resources to support national charities helping those impacted by COVID-19.
One of our creative and socially distant solutions is our first ever Merrython charity virtual run to benefit No Kid Hungry. We've invited friends, family, clients and partners to participate and spread holiday cheer. Merritt Group was also lucky to continue our work with a few of the charities we support year after year, including shopping for eight children through the Salvation Army Giving Tree program and writing holiday letters for Cards for Hospitalized Kids, both activities that can be conducted from the comfort and safety of our employees' own homes.
Stuck on where to start? Planning a virtual company-wide charity initiative can use the same foundational guidelines as planning a PR campaign. Since we have our own race on our mind, let's use the "RACE" model for a helpful framework to build out a pandemic-proof corporate charity event: research, action, communication, evaluation.
1. Research: Familiarize yourself with state and local social distancing guidelines.
If you're planning a volunteer opportunity that requires employees to leave their homes, safety should be the No. 1 priority. Identify acceptable practices within your area that comply with your company policy. It is also important to get a sense of your employees' comfort levels with activities you are considering before you execute. Just because an activity is allowed by the state does not mean that every employee will feel comfortable doing it.
Tip: Gauge interest from your employees. There are so many nonprofit organizations that could benefit from volunteering and donations, whether they are nationwide organizations or locally based. Also top of mind this year are organizations with causes pegged to recent events, such as natural disasters or racial injustice. Sharing a companywide survey and allowing employees to voice their opinion on organizations or causes they are most passionate about is a great way to ensure everyone is invested in the effort and more eager to get involved.
2. Action: Get creative and bring fresh ideas.
With both safety and your charity in mind, you must brainstorm how you can combine the two. What activities can be done individually and at home? Even with everyone separated, what can be done to collectively strive toward a common goal? For example, this year to spark new ideas, Merritt Group developed a larger "Merry Week of Giving" committee with veteran participants and also our newer employees who were experiencing the initiative for the first time. This collective approach sparked different ideas and creativity across each of our business practice areas.
3. Communication: Brand it to spark engagement.

The most successful company charity initiatives are the ones that spark excitement among employees. Go all in on internal marketing and communications. Give the initiative a catchy name, make it a competition, create t-shirts and prizes for those who are most successful, and get them involved in the promotion on social media and beyond. Employee engagement will spark motivation to give back and even elevate company pride.
4. Evaluation: How did your team do?
When all of your festivities are finished, it is important to reflect and analyze the overall success of your workplace initiative. Depending on your event, success can be measured in donations received, volunteers participated, engagement from your employees and more. Circulate a survey among your team and gauge feedback from participants on what worked and what needed improvement. This feedback will be useful when your office decides to implement a similar initiative in the future or turn a new effort into a future tradition.
As the holidays near, there is an opportunity to rethink approaches so you can keep your traditions—albeit in a different way. In challenging times, there has never been a greater need to take virtual action and support nonprofit organizations that are most in need. This is not only an opportunity to do good for local and global communities, but also a way to encourage and engage your employees in a new and meaningful way.
Alisa Valudes Whyte is a senior partner & CEO for Merritt Group.
COMMENT
No Responses to "PR fundamentals help deliver on corporate charity initiatives during the pandemic"
Ronald N. Levy

says:

This Merritt Group executive's wisdom is superb but be damn careful!

Tis certainly the season of giving, and yes we should think of helping the less fortunate. But you may save your management and yourself grief if you
focus on the WHO, WHAT and WHEN of giving you will propose.

The "who" is important because you're proposing a giveaway of not your own money but someone else's.

MANAGEMENT may not love a "let's give" suggestion because (a) if they DO give it will cost them, (b) if they DON'T give they know a leak about not giving may bring the hostile question of why the hell not, and (c) no matter WHO they give to, it can bring questions of why the beneficiary group was favored but not others. Does management not think the others are worthy?

EMPLOYEES may not love your fund-raising suggestion because (a) most people feel short of money already, (b) they may worry that not giving could bring disapproval from fellow employees or the bosses, and (c) again why one good cause but not others?

Even RECIPIENTS of money may be annoyed and feel like asking why did we get this when other recipients got more?

The "what" matters a lot because you can help management recognize no-cost and low-cost ways to help. Like space may be provided in the evenings for community groups to meet, and you could throw in sandwiches plus cake and coffee. Time can be donated, like a Human Resources exec giving lectures at the school about what to study that may help get a job, and how to do a resume that helps the student to get it.

Coaches can lecture to not just kids but also adults and even the elderly about physical fitness–ways to go for it and life-protective cautions about what to stay away from. Your benefits people can lecture to grateful community groups on how individuals and groups can get their share of government cash because lots of money is available but never claimed.

The "when" of your wisdom can win you respect from management because
even a hefty and impressive sum is a whole lot less if given over a period of 20 years. "Buy now, pay later" is s popular appeal to consumers, and no less popular is the suggestion to management to "give now but pay later," partly 15 and 20 years from now! Also intended help may be shifted after a few years to a different cause that brings the company additional gratitude and benefits.

"Give and ye shall receive" is an appealing promise, and what may win you
approval from management is suggesting how giving unto others can bring benefits received by management. Like if you give a local hospital free management help by having a company executive serve on the hospital's board of directors, announcement of new hospital policies to help the public can mention the role of your exec.

If you give to a world-famous cause like Memorial Sloan Kettering Cancer Center, get photos for your website of your president and EVP mingling in a lab with world-famous doctors. Give your execs photos and they'll love you.

Be not shy: if the company donates your PR help to local hospitals or other good causes that get air time and newspaper stories, your skills may to the group mangers seem like almost magic!

Give of thy PR magic, and thy employer may goodwill receive!