RadioShack's vulgar Twitter strategy, Elmo gets vaccinated and declining trust in institutions
Also: New "Despicable Me" movie draws social media engagement.
Hello, communicators:
People are talking about minions.
And not just any minions, but the little yellow guys that are the stars of the latest installment in Universal Studio's "Despicable Me" franchise.
The be-goggled characters prompted a 25% increase in Google searches for the term "minions" and have garnered more than 800,000 tweets in the last week alone.
Here are a couple of those top tweets:
this minion only appears in the new one (which is a prequel) and gru is extremely annoyed with him within the movie implying gru killed him off screen before the first movie pic.twitter.com/astw1WRa45

— samantha 🏳️‍⚧️ (@electrotriple11) July 5, 2022
Some teens have inexplicably taken to wearing suits to theaters to see the movie:
The movie underpaid theater employee watching the 40th group of teenagers in suits walking in to watch minions:rise of gru pic.twitter.com/OO808J5v8H

— BIMBO❗️❗️❗️🐉 (@CrunchyFists) July 3, 2022
if Glee was still airing today, they'd have an episode where Sue dresses the cheerleaders as minions to sabotage the glee club and call it Rise of Sue

— Terri Schuester Updates (@terri_updates) July 4, 2022
It's a good reminder to PR pros that even the goofiest of content — plus a box office hit — can bring in tons of engagement.
Here are today's other top stories:
Radio Shack's vulgar tweets, explained
The man behind Radio Shack's recent Twitter explosion says the oft-raunchy content is borne of a desire to avoid being "boring."
RadioShack CMO Abel Czupor told Input Mag that the retailer — which now also serves as a cryptocurrency exchange platform — is figuring out its new voice. Input reports that RadioShack has about 400 stores in the U.S., down from more than 5,000 in 2014.
RadioShack drew some eyeballs on Twitter last week when it shared a very NSFW tweet.
The brand's account is full of vulgar and lurid language, but most recent tweets have garnered thousands, if not tens of thousands of likes.
"If you look at any corporate accounts, all of them are pretty boring," Czupor told Input. "That is not something people really engage with; that's more content people will be reading but not talking about."
He continues: "It's all about putting the information in front of people that this brand still exists, and this brand is way cooler than it used to be. It seems like it's working out."
Why it matters: Some social media managers will do anything to get their brands noticed — including tweeting outlandish and outright disgusting things. But, as Czupor noted, the high engagement on his tweets seem to indicate that the vulgar tweets are getting the job done. And Google search data backs up his claim; searches for RadioShack are 10 times higher than what they were just a month ago. But attention isn't always the same thing as beneficial engagement, and it's important to make the distinction between the two when measuring results.
---
MEASURED THOUGHTS
New data from Gallup shows that Americans' trust in major institutions, especially the presidency and the Supreme Court, is wavering.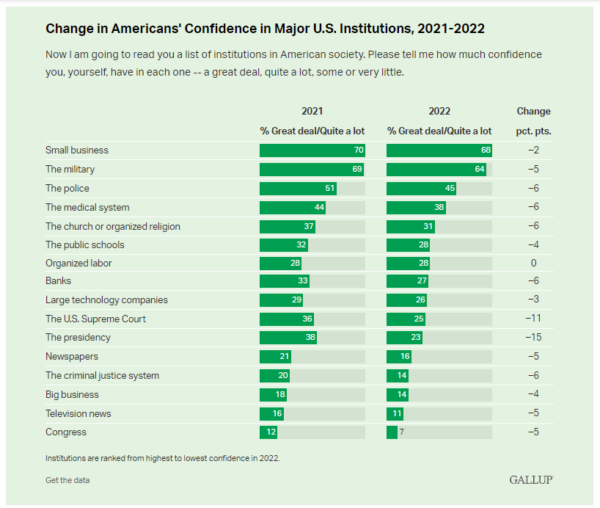 While Americans trust Congress, television news and big business the least, polling indicates that trust in the presidency and SCOTUS has fallen the furthest, down by 15 and 11 percentage points from 2021, respectively.
In this time of rampant misinformation and institutional distrust, this data is a sign that PR pros have more work to do in winning the trust of their audiences. Here are some tips on how communicators can help to break the cycle of distrust in their messaging.
CDC, Sesame Street partner on COVID vaccine initiative
Late last month, the Centers for Disease Control and Prevention partnered with Sesame Street and The Ad Council to help one very special Muppet get his first dose of the COVID-19 vaccine.
In a segment titled "Elmo Gets the COVID-19 Vaccine," the beloved red character and his father, Louie, learn about the vaccine from their pediatrician.
"Many parents understandably have questions about the COVID-19 vaccines for young children, and we want to encourage them to ask questions and seek out information. With help from Elmo and his dad Louie, we want to model real conversations, encourage parents' questions, and help children know what to expect," said Dr. Jeanette Betancourt, Senior Vice President of US Social Impact at Sesame Workshop, in a news release.
Of course, some viewers were not pleased with the partnership:
Thanks, @sesamestreet for saying parents are allowed to have questions!

You then have @elmo aggressively advocate for vaccinating children UNDER 5.

But you cite ZERO scientific evidence for this. Learn more:https://t.co/Ss20TmFTSB https://t.co/tr67QyfRyC

— Ted Cruz (@tedcruz) June 28, 2022
Why it matters: The partnership is a good example of how organizations can work with governmental entities to promote health and safety initiatives. Doing so is a good way for companies to build trust and enhance their values messaging as well, but be prepared for some backlash if the government initiative is in any way controversial.
COMMENT