Rideshare apps address surge pricing after Brooklyn shooting, Amazon defends warehouse safety record and social media a top channel for corporate activism
Also: Baskin-Robbins updates social media to match brand refresh.
Hello, communicators:
The Baskin-Robbins brand may be 77 years old, but that isn't stopping the ice cream maker from springing into action with its brand revamp.
BR has completed a redesign of its logo, packaging and employee uniforms — plus a new tagline, "Seize the Yay." The two-tone BR logo includes a hidden "31" as a nod to the company's signature 31 flavors of ice cream.
The Baskin-Robbins Instagram page now only has 11 posts, all of which display the new logo:
View this post on Instagram
It's a good example of how to scrub your social media channels when rebranding, especially when your company's previous iterations were well-known.
Here are today's other top stories:
Uber, Lyft respond to backlash after prices surge during Brooklyn shooting
Rideshare companies Uber and Lyft faced criticism yesterday after prices on both platforms surged during a shooting in a Brooklyn subway station.
Both companies responded to news inquiries about the situation.
"Our hearts go out to the victims of this morning's terrible shooting in Sunset Park," Josh Gold, a spokesperson for Uber told Engadget. "Following the incident, Uber disabled surge pricing in the vicinity and capped pricing citywide." Similarly, Lyft has told Engadget that it has "suspended prime-time pricing for riders in the area."
Katie Kim, a spokeswoman for Lyft, also said in a statement that Lyft would refund riders for surge fees charged at the time of the incident.
Both Lyft and Uber also shared tweets addressing the situation:
Statement from Uber. https://t.co/1gBcwHCNtg

— Uber (@Uber) April 12, 2022
In response to the tragedy in NYC, we've suspended our prime-time pricing citywide.

To support New Yorkers who need to get around while transit is affected, use code NYCHELP22 for access to discounted rides.

Details: https://t.co/ooYMGX4RYe
(limited availability)

— Lyft (@lyft) April 13, 2022
Much of the backlash came from social media, with rideshare users sharing screenshots of the inflated prices during and after the attack:
fare surge after a mass shooting in brooklyn when subways are shut down. shame on you @Uber pic.twitter.com/1qoKlPJhl3

— Captain Harvel (@harharbinks) April 12, 2022
Didnt see anything about 'Shooting Surge Pricing' in @lyft terms of use pic.twitter.com/99MkFqp8py

— Bob Johnsen (@job_bohnsen) April 12, 2022
And some users bemoaned the continued increase in New York-area rideshare prices the morning after the shooting:
Uber is still surge pricing in nyc rn knowing that everyone will be trying ride share so that we don't have to take the subway after yesterday. Lyft is not. Below are the prices to go to the same spot in Brooklyn pic.twitter.com/feeigYh8cD

— olivia 🪩💖 (@redIipclassics) April 13, 2022
Why it matters: Both companies responded quickly to the accusations of price gouging during a crisis, but neither statement explains how the companies might avoid a similar situation in a future crisis. As posts on social media indicate, Uber's PR troubles might continue, with evidence that there is continued surge pricing across the New York City area despite the company's promises to "cap pricing citywide." It's an important reminder to make sure your messaging matches the reality of business operations.
---
MEASURED THOUGHTS
A new report from the University of Southern California's Annenberg Center for Public Relations reveals PR pros use social media and employee communications channels to spread awareness about the corporate activism of their clients.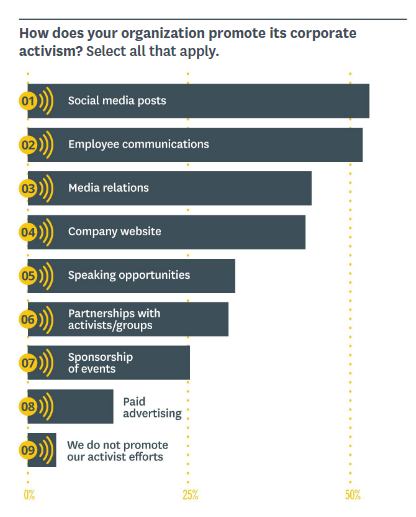 More than half of comms pros surveyed named social media posts and employee communications as their preferred tools to promote corporate activism.
A much smaller percentage support their efforts with paid advertising. The recent Super Bowl was a good example: Most advertisers felt more comfortable with celebrities than with causes. Proof that purpose remains the purview of PR.
The data speaks to the continued importance of social media and employer branding in communicating your company's values.
Read more from the Annenberg Center report here.
---
TAKE OUR SURVEY
We want to hear from our community about how their thinking has changed on media relations and its value inside their organization. If you work in communications, please take our short survey to help us chart the value of media relations for 2022.
The survey will take less than 10 minutes to complete and participants will be entered in a drawing for a $100 credit toward a Ragan event. All individual responses will be kept confidential.
Results from the survey will be shared at PR Daily's Media Relations and Measurement Conference in New York City on May 11.
Amazon downplays reports of increased warehouse injuries
A new report from labor advocacy group Strategic Organizing Center (SOC) has shown the injury rate at Amazon warehouses to be more than twice as high as rates at other warehouses — a metric an Amazon spokesperson credited to the increased number of inexperienced new hires.
The report is based on data from the Occupational Health and Safety Administration (OSHA). The authors also assert that while Amazon employs a third of all warehouse workers in the U.S., injuries at Amazon warehouses made up 49% of all warehouse injuries in 2021.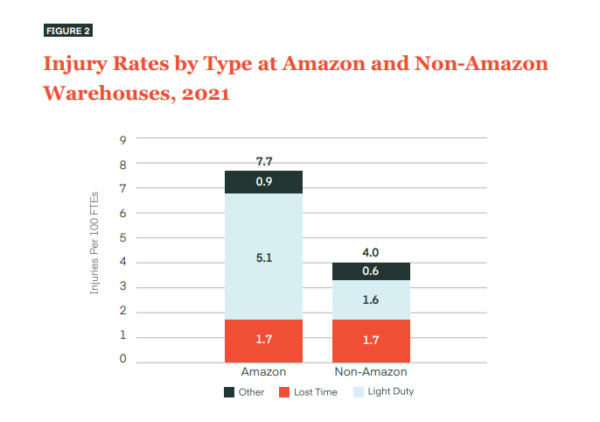 Amazon spokesperson Kelly Nantel emailed a statement to The Verge:
We hired tens of thousands of additional people to help us meet the unforeseen demand from COVID-19 and people turning to Amazon to help them safely get products and supplies during the pandemic. Like other companies in the industry, we saw an increase in recordable injuries during this time from 2020 to 2021 as we trained so many new people – however, when you compare 2021 to 2019, our recordable injury rate declined more than 13% year over year. While we still have more work to do and won't be satisfied until we are excellent when it comes to safety, we continue to make measurable improvements in reducing injuries and keeping employees safe, and appreciate the work from all of our employees and safety teams who are contributing to this effort."
What it means: Amazon's statement addresses the criticism head on, without denying the accuracy of the numbers. Nantel instead claims that the SOC study is missing crucial context: that the injury rate was due to an increased amount of new, inexperienced workers.
It's an example of how to use existing data to support your messaging, even if that data doesn't necessarily work in your favor.
COMMENT