SafeGraph stops selling data on abortion patients, Starbucks offers new benefits to nonunion workers and data supports brands taking an abortion stance
Also: CEO tweets sorrow over laying off 87 workers from the 'Cameo Fameo.'
Hello, communicators:
Stephen Galanis, CEO of celebrity video company Cameo, tweeted out some unfortunate news Wednesday: The company had to lay off 87 workers.
But he included a curious term in the announcement — he called his staff, including those who had just lost their jobs, "Cameo Fameo."
Today has been a brutal day at the office. I made the painful decision to let go of 87 beloved members of the Cameo Fameo. If you're looking to hire hungry, humble, smart, kind, curious, learning machines who love to win – and you see Cameo on their resume – look no further.

— Steven Galanis (@Mr312) May 4, 2022
Some Twitter users mocked his use of the term, especially given the serious tone of the rest of the message.
real fameos don't fire each other 🙁 https://t.co/P1Tgh5PTNw

— Rex Crapman (@Kurt_Loader) May 5, 2022
Ooof. just had to right-sizy our worky-forcy. So tough! https://t.co/Jo8azbOGAF

— Қазмонавт (@kazmonaut) May 5, 2022
If I worked somewhere that laid me off and referred to me as part of the "Fameo" I think I might be too crestfallen to ever work again. https://t.co/udL8AOpCXo

— Roger (@iamtherog) May 4, 2022
Here are today's other top stories:
SafeGraph promises to stop selling visitor data for abortion clinics
Location data company SafeGraph announced this week it will no longer sell pattern data about "family planning centers" like Planned Parenthood.
According to the SafeGraph website, pattern data includes information about how many people visit a location, how often they do and where they have been prior to and will go after visiting the location. An investigative team from Vice reported it was able to purchase data on visitors to 600 Planned Parenthood locations for just over $160. Critics worry the data could be used to target patients seeking abortions.
A blog post from SafeGraph explained the decision:
Some of the brightest data scientists in the world have extensively used Patterns for social good and have never encountered issues with data privacy since we released the data 3 years ago.

But there are always extreme hypothetical corner cases, and in some cases these are worth actively preventing.

In light of potential federal changes in family planning access, we're removing Patterns data for locations classified as NAICS code 621410 ('Family Planning Centers') from our self-serve "shop" and API to curtail any potential misuse of its data.
The post emphasizes that SafeGraph is not aware of any instance in which its data has been used for "bad purposes," and that the removal of the data about family planning centers could negatively impact researchers. Still, the blog stands by the decision: "We think this is the right decision given the current climate."
Why it matters: SafeGraph's response shows how a company can take responsibility for a ill-considered business practice and explain how change will be implemented to protect vulnerable populations. SafeGraph CEO Auren Hoffman had a fantastic response when asked about the story by Protocol: "I think it's good that we were called out."
While criticism can trigger a fight-or-flight reaction, comms pros must remind top execs that critics aren't necessarily out to tear down your brand, but rather are concerned about a stakeholder group that you might have ignored. An openness to learning and collaboration is a great way to show you take your crisis response seriously and are willing to change.
---
NEXT WEEK: ATTEND OUR MEDIA RELATIONS CONFERENCE
Join us in New York City on May 11 for a one-day, in-person conference all about media relations and measurement.
At PR Daily's Media Relations & Measurement Conference, you'll learn how to score the coverage your brand deserves and generate results—and then showcase those results to management. You'll also learn the latest measurement tools and methods for everything from internal comms and media relations to social media.
Each attendee will receive a Media Relations & Measurement Conference Certificate of Completion.
Register here before April 27 to receive a special attendance rate.
---
MEASURED THOUGHTS
A new report from Morning Consult finds more than half of U.S. voters want brands to take a stance on abortion rights — but people are divided about how companies should do so.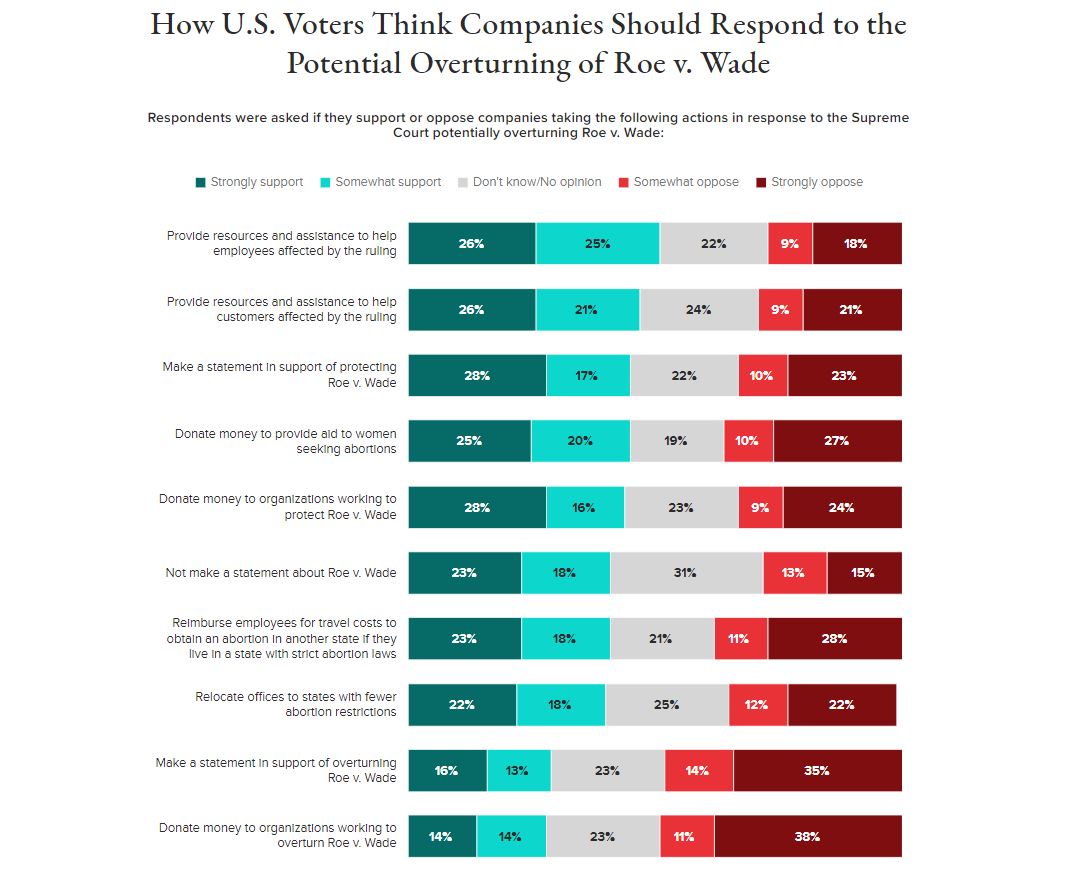 Fifty-one percent of poll respondents said they "strongly" or "somewhat" support brands' weighing in on the abortion rights issue.
Providing resources and assistance to affected employees (51%) and customers (47%) proved to be the most popular way for companies take a stand, followed by "making a statement in support of protecting Roe v. Wade" (45%).
The actions favored by the fewest respondents included "making a statement in support of overturning Roe v. Wade" (29%) and "donating money to organizations working to overturn Roe v. Wade" (28%). Anti-abortion actions were less popular than "not making a statement about Roe v. Wade" (41%).
The data has been clear for years that most Americans favor legal abortion, and customers expect the corporations they support to reflect their values and ideals. If you do decide to speak out on the issue, make sure you are focused on stakeholder groups like employees and customers, especially if they live in states poised to ban abortion.
Read more from the Morning Consult report here.
Starbucks' CEO fights unionization with new benefits for non-union stores
Howard Schultz, CEO of Starbucks, announced this week the company will implement a generous new benefits program for all employees — except those who work at unionized stores.
All employees, including union workers, will receive wage increases that were first announced last year. But Schultz has indicated that other benefits like expanded training, better sick leave accrual and upskilling programs will not be available to stores that have unionized.
NPR reports that Schultz confirmed the disparity on a call with shareholders earlier this week, saying, "We do not have the same freedom to make these improvements at locations that have a union or where union organizing is underway." Similar language appears in a Starbucks infographic showing the changes to benefits and store equipment.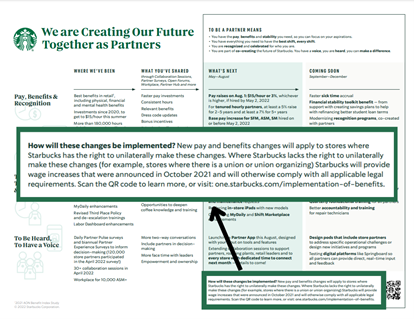 (Illustration by Emma Atkinson; image via)
What it means: The tactic of offering special benefits to non-union employees isn't anything new for union busting. However, the plan potentially undercuts the employer branding for Starbucks which has sought to project a strong support and care for its employees. Schultz and Co. might demonstrate that Starbucks can offer better benefits without the interference of a union — or it might just cement the image of a petty corporate leadership that is increasingly terrified of its frontline employees.
COMMENT