SCOTUS blocks Texas social media law, Deutsch Bank's greenwashing scandal and getting employees into the metaverse
Also: Star Wars franchise defends Moses Ingram against racist fan attacks.
Hello, communicators:
The Star Wars franchise has made it clear that it will protect its actors of color from racist attacks following a personal message from Black actress Moses Ingram about the racist backlash she has received regarding her new role in the franchise.
On the Monday following this year's Star Wars Celebration event, Ingram took to her personal Instagram account to share a selection from the "hundreds" of anti-Black, misogynist messages she's received for portraying a fictional villain who does evil things. Ingram expressed that, while she's grateful to fans who have the wherewithal to understand that actors are not the characters they play on television, she also admitted to feeling a certain degree of dejection "because there's nothing anybody can do about this."
In a tweet, the Star Wars account wrote, "We are proud to welcome Moses Ingram to the Star Wars family…. If anyone intends to make her feel in any way unwelcome, we have only one thing to say: we resist."
There are more than 20 million sentient species in the Star Wars galaxy, don't choose to be a racist.

— Star Wars (@starwars) May 31, 2022
The stand is notable due to the franchise's previous battles with racist attacks on their Black and BIPOC actors, including John Boyega and Kelly Marie Tran. It's also worth mentioning that the Star Wars franchise is owned by Disney, a corporation that faced its own controversies last month for failing to speak out against Florida's "Don't Say Gay" bill.
As people want more action from companies on issues like gun control, abortion rights and DE&I initiatives, it's unsurprising to see organizations becoming more outspoken on social issues.
Here are today's other top stories:
SCOTUS blocks Texas social media anti-censorship law
The U.S. Supreme Court has struck down a Texas law that would have penalized social media companies for censoring political speech, according to reporting by NPR.
From NPR:
The Texas law bars Instagram, Facebook, Twitter and other popular social media sites from blocking content based on viewpoint. Gov. Greg Abbott maintained that the law was a justifiable response to "a dangerous movement by social media companies to silence conservative viewpoints and ideas."
The ruling was applauded by tech lobbying groups and First Amendment advocates alike.
"As we debate how to stop more senseless acts of violence, Texas's law would force social media to host racist, hateful, and extremist posts," Chamber of Progress CEO Adam Kovacevich told NPR.
What it means: The ruling upholding social media giants' policies against hate speech, political discourse and misinformation is a win for tech companies looking to gain trust among users. These companies can point to their content restriction rules as proof of a good faith effort to keep users safe online, a topic that is worrying more Americans than ever.
---
MEASURED THOUGHTS
A new report from Morning Consult shows about 3 in 5 tech employees are interested in using virtual reality at work.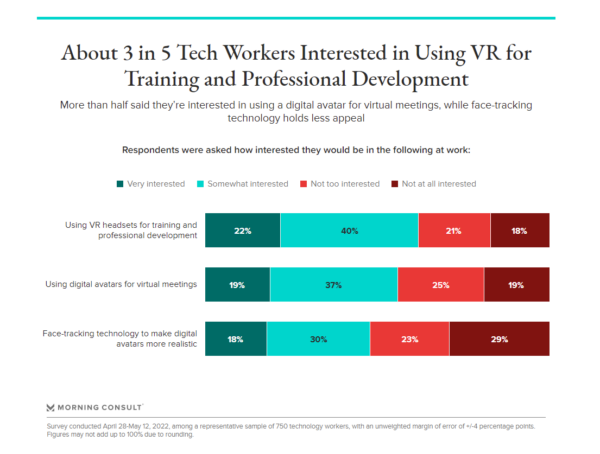 Sixty-six percent of respondents said they'd be "very" or "somewhat" interested in using VR headsets for training and professional development, while 56% said the same of using digital avatars for virtual meetings.
As more companies aim to bring their audiences into the metaverse, it's important that employees are familiar and on board with the virtual reality experience.
This data is promising for organizations that want to move further into the VR space, as it indicates their employees may have a desire to learn about and use the metaverse themselves.
Read more from the Morning Consult report here.
DWS CEO steps down after greenwashing allegations
The CEO of a Deutsch Bank subsidiary will step down next week following allegations that the company "exaggerated the green credentials of investments it sold," per CNN.
DWS CEO Asoka Woehrmann's announcement came after German authorities raided the company's offices to investigate the allegations.
"On Tuesday, German prosecutors said that 'sufficient factual evidence has emerged' to show that environmental, social and governance (ESG) factors were taken into account in a minority of investments 'but were not taken into account at all in a large number of investments,' contrary to statements in DWS fund sales prospectuses," CNN reports.
From CNN:
Shares in DWS have slumped 26% since the SEC and BaFin investigations were made public in August last year. They were down about 7% on Wednesday.

The accusations show "greenwashing is not a trivial offense," said Magdalena Senn of the German consumer advocacy group Finanzwende.

"The raid and the resignation will have a signal effect for other asset managers," she said.
Why it matters: The financial and personnel repercussions from the allegations and raids should serve as a message to PR pros that exaggerating your company's environmental do-gooding can have very real and very serious consequences. While investments and the language around them are heavily regulated, it's a good reminder to PR pros that misleading your audiences can very quickly erode trust in your organizations.
COMMENT