Venmo responds to privacy vulnerability, consumers want companies to address social justice issues, and Twitter users roast CDC guidelines
Also: Retailers relax mask rules for shoppers, Palm Springs art museum blushes over Marilyn Monroe statue, and WarnerMedia & Discovery announce a merger.
Hello, communicators:
Following the Centers for Disease Control's relaxed restrictions on wearing masks indoors for fully vaccinated people, several major retailers were quick to adjust their in-store mask policies with messaging that emphasized safety and placed a considerable—sometimes questionable—amount of trust in their customers.
"'In accordance with CDC guidelines, individuals who are not fully vaccinated are required to use face coverings over their noses and mouths while inside any Publix store,' the grocery store chain said in a statement," reports Slate. "But really the change is just a blanket green light for anyone to shop without a mask because there is no way employees could corroborate the vaccination status of their customers. 'We will not require proof of vaccination, but we ask for members' responsible and respectful cooperation with this revised policy,' Costco said in a statement updating its mask policy."
Without government direction or a tools to identify who has and hasn't been vaccinated, retailers pushing messages of good faith onto customers is being met pushback from vocal detractors who feel the relaxed mask guidelines are premature:
A day after @CDCgov #maskoff guidelines- Walmart, Costco, Trader Joe's, Publix & more revoke mask requirements for vaccinated customers

Realistically, few will #MaskUp

A foreseeable behavioral result of CDC guidelines

It's premature guidance & will harm the public's health

— Lawrence Gostin (@LawrenceGostin) May 15, 2021
Trader Joe's new policy will NOT stop me from wearing a mask. I'm a loyal customer but I feel for their workers who put their lives on the line throughout #COVID19 I feel this is too much too soon. https://t.co/sREVlPwlZd

— Peter Morley (@morethanmySLE) May 14, 2021
At Trader Joe's. No one knows whether to be angry at those not wearing a mask or proud of them. How are we supposed live like this – not knowing who to be angry at based on stereotypes? I'm still angry at anyone who buys chocolate hummus, mask or not.

— Chef Andrew Gruel (@ChefGruel) May 15, 2021
The stakeholder feedback to the messaging from these retailers echoes similar concerns from industry trade groups following the CDC's announcement. In the absence of any specific government guidance, business leaders must take a calculated risk based on data about in-store shopping patterns, customer sentiment and feedback in order to craft messaging that respects customers' right to make decisions for themselves while keeping everyone as safe as possible.
Venmo responds after security lapse exposes President Biden's transaction history
Buzzfeed reports that it has found President Joe Biden's account on peer-to-peer money transfer app Venmo after ten minutes of searching, revealing a web of the president's personal transactions that create major national security privacy concerns for the popular app. After reading that the president used Venmo to send money to his grandchildren, Buzzfeed claims it was able to find Biden's account in 10 minutes, revealing transaction records with nearly a dozen Biden family members and mapping out a social web that also included senior White House officials and all their Venmo contacts.
After BuzzFeed News reached out to the White House for this story, all the friends on the president's Venmo account were removed. A White House spokesperson did not have an immediate comment.

After this story was published, a Venmo spokesperson told BuzzFeed News: "The safety and privacy of all Venmo users and their information is always a top priority, and we take this responsibility very seriously. Customers always have the ability to make their transactions private and determine their own privacy settings in the app. We're consistently evolving and strengthening the privacy measures for all Venmo users to continue to provide a safe, secure place to send and spend money."
Why it matters:
When your company is in the spotlight over a privacy or security vulnerability, don't put the burden on your customers or external stakeholders for not making better use of your privacy settings. Partner with product and design teams to ensure that all privacy settings are easily accessible and clearly communicated.
Consider launching educational privacy campaigns for your stakeholders that encourage simple best practices, such as two-factor authentication and password randomizers, to empower them to take control over the privacy of the account while your company assumes responsibility for ensuring that best privacy practices are followed.
---
MEASURED THOUGHTS
Consumers are increasingly looking for organizations that are willing to take a stand on social justice issues, according to new findings from Porter Novelli.  Those efforts include taking internal action on diversity, equity and inclusion (DE&I).
According to the report, 62% of consumers believe companies can help normalize social justice conversations through marketing and communications and 66% believe it's good for businesses to address social justice issues.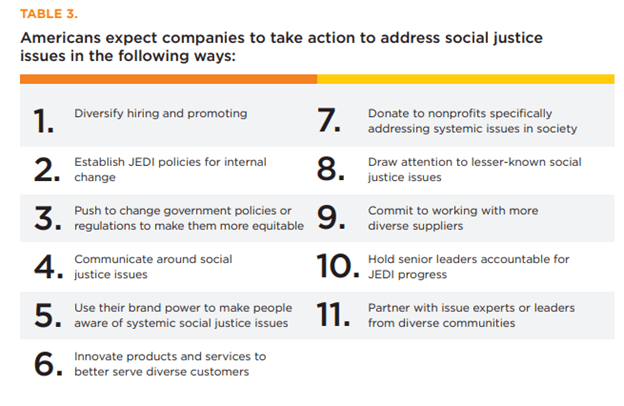 ---
SOCIAL BUZZ
Twitter is flooded with users putting their own humorous, often existential spin on the CDC's announcement that vaccinated people no longer need to wear masks.
Some expressed their frustration at a lack of clear direction by hearkening back to the nostalgia of their youth:
The CDC says they can drop off fully vaccinated people at the movies if their mom can pick everyone up but they're not doing both

— Brett (@fouryearbrett) May 13, 2021
Some took an historic view:
the cdc says that if you're fully vaccinated you can exit the cave and witness the world of Forms pic.twitter.com/LRAb2RpJr1

— Daniel Litt (@littmath) May 16, 2021
Breaking: the CDC says vaccinated individuals may now gather in groups as large as 450,000 to invade the Russian Empire without adequate supply lines or a clear strategy pic.twitter.com/M9FXr0QXfD

— Terrence Peterson (@dr_tgpeterson) May 15, 2021
Others, still, were poetic (and a little bit bleak):
The CDC says fully vaccinated people can now continue to let time slowly ravage your body in this vast abyss.

— Doth (@DothTheDoth) May 13, 2021
CDC says fully vaccinated people can stare at the blank page before them, open up the dirty window, let the sun illuminate the words they cannot find, reach for something in the distance, so close they can almost taste it, release their inhibitions, & feel the rain on their skin.

— Frank Costa (@feistyfrank) May 13, 2021
Though surreal bordering on silly, these tweets share a common absurdist sentiment that echoes the anxiety felt by many that such consequential guidelines were issued without context, details or specific directives. Communicators, take note to listen closely when a messaging campaign is mocked in the digital town square, as there are often insights embedded in the humor that illuminate where the messaging missed the mark.
---
RAGAN'S 2021 BENCHMARK REPORT
Ragan has released its annual Communications Benchmark Report, an exclusive study from Ragan's Communications Leadership Council that analyzes the major trends in the profession over the last year.
During that time, comms pros have been called on to develop and distribute messages on new policies that affect internal and external stakeholders alike. Their role has become more essential as they helped keep their organizations focused and moving forward. They've seen their access to the C-suite increase throughout 2020, and they forged important new alliances with peers in other departments, including HR, finance and workplace wellness.
Culled from more than 750 respondents, the 32-page report is available in its entirety exclusively to members of the Communications Leadership Council.
Download your copy of the exclusive Benchmark Survey Executive Summary today and get a crucial competitive advantage that will fuel your success for 2021 and beyond.
---
CRISIS COMMUNICATIONS
A giant statue of Marilyn Monroe is being reinstalled in Palm Springs, California. While many residents celebrate the return of the statue, which features the iconic image of Monroe keeping her skirt from flying up from "The Seven Year Itch," others aren't happy. The Palm Springs Art Museum is upset that the statue, which will be placed in front of the museum, will effectively be mooning guests at its entrance.
"The thought of those kids leaving our museum and having the first thing they see is the undergarments and underwear of this enormous Marilyn sculpture would be highly offensive," [museum director Louis] Grachos told the council.

But Aftab Dada, the leader of PS Resorts, contends a deep-dive into the numbers surrounding the Marilyn sculpture, including her effect on museum attendance, will be done.

"We are going to conduct [an] independent research study and notify the city what the economic impact and benefit she has been," Dada says.
The incident serves as a reminder that communicators can easily take the temperature down and work toward resolving a situation by providing detractors with data to refute negative feedback.
---
COMMUNICATIONS WEEK
Ragan is delighted to add industry event and thought leadership brand Communications Week to our portfolio. You can read the full press release here.
"We are reimagining Communications Week as a year-round endeavor," says Ragan Communications CEO Diane Schwartz. "The rollout will begin next month with thought-provoking content on the future of communications on Commsweek.com, Ragan.com and PRDaily.com, culminating with a weeklong series in November that will feature conferences, networking events, workshops, webinars and more."
The flagship event for 2021 will take place Nov. 15-19. Stay tuned for updates on the many opportunities and offerings that will help communicators connect, learn and celebrate their achievements later this year.
WarnerMedia & Discovery announce merger
AT&T's WarnerMedia and cable network Discovery have each announced that the two networks will merge into a combined company that aims to be a stronger contender against rival media companies Disney and Netflix. The decision will merge HBO, Warner Bros. studios, CNN and several other cable networks with a host of reality-based cable channels from Discovery, including Oprah Winfrey's OWN, HGTV, The Food Network and Animal Planet.
Discovery President and CEO David Zaslav will lead the new company. The future of WarnerMedia's current CEO, Jason Kilar, is currently uncertain. At the time of the announcement Kilar still holds his title, but it will be up to Zaslav to decide if Kilar still has a job with the new company.
"It is super exciting to combine such historic brands, world class journalism and iconic franchises under one roof and unlock so much value and opportunity," Zaslav said, adding that AT&T and Discovery's assets "are better and more valuable together."

The new firm's singular mission, Zaslav said, is "to focus on telling the most amazing stories and have a ton of fun doing it."
The merger is a significant about-face for AT&T, a telecommunications giant that got into the media business with its Time Warner foray. Industry experts questioned AT&T's deal, and now the spinoff indicates a failed acquisition strategy.
What it means:
Crafting messages about a corporate restructuring can be tough when the new arrangement backpedals on a widely criticized merger from the recent past. Communicators at the newly formed company must now face the challenge of demonstrating that its corporate decisions will not be influenced by the same hands that guided AT&T's past missteps, while simultaneously playing up the value of WarnerMedia's vast content portfolio.
---
CONFERENCE ALERT
Communicators are in a unique position to collaborate with other DE&I leaders to foster unity, build a stronger internal and external brand reputation, maximize innovation and improve the bottom line. The days of brands comfortably remaining silent are gone as employees and customers are demanding impactful change.
Join us at Ragan's Diversity, Equity and Inclusion conference on May 19 and glean timely strategies to educate, engage and uplift your employees and customers in the wake of unparalleled uncertainty, political upheaval and a new mandate for social justice change.
Learn powerful insights and approaches from speakers at organizations including Ben & Jerry's, Reebok, Warner Music Group, E.W. Scripps, NielsenIQ, Facebook and more.
---
 SOUNDING BOARD
Considering the AT&T and Discovery merger, we've got to ask: Have you ever crafted messaging about your company's restructuring plans that admitted to poor business decisions and demonstrated your company was learning from its mistakes, PR pros and communicators?
Considering the AT&T and Discovery merger, we've got to ask: Have you ever crafted messaging about restructuring plans that admitted to poor business decisions and demonstrated your company was learning from its mistakes, PR pros and communicators? #DailyScoop

— PR Daily (@PRDaily) May 17, 2021
Let us know in the comments below. We'll share the results in tomorrow's roundup.
COMMENT
One Response to "Venmo responds to privacy vulnerability, consumers want companies to address social justice issues, and Twitter users roast CDC guidelines"
Mike

says:

NOTE TO VENMO. The problem in the design re privacy is that "public" is the default setting. Some people don't notice or forget that they have to reset that to private. Venmo is less of a "social" site than a financial transaction site. The default should be that financial transactions are kept private unless I choose to make it public and go through that effort – not the other way around.
Simple fix.