Sesame Street introduces first Asian American Muppet, few Twitter users consider it to be the most trustworthy news source, and Google defends Pentagon cloud contract
Also: TUMS partners with comedian Ronny Chieng on Thanksgiving Twitter campaign, Shell frames rebrand around sustainability goals, and more.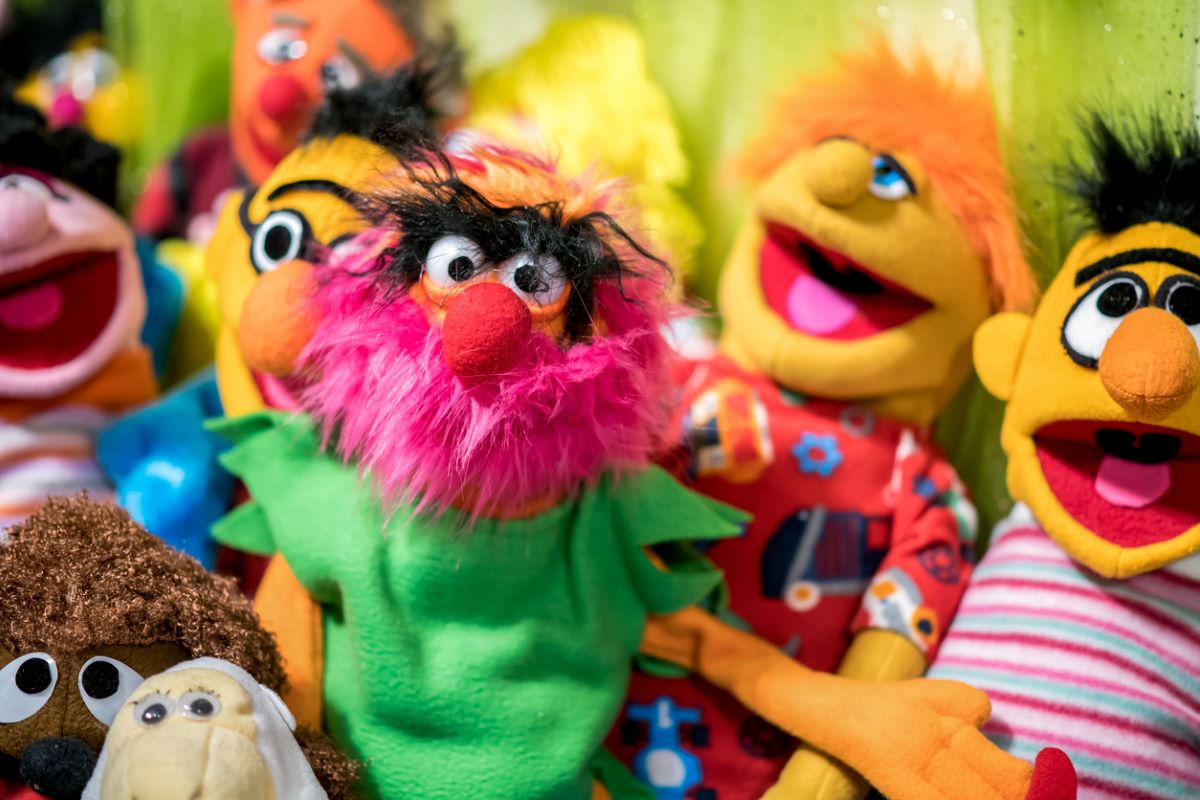 Hello, communicators.
Here are today's top stories:
While Thanksgiving campaigns often focus on food, what happens to your body after the meal has long been avoided—until now. Over-the-counter digestive aid TUMS launched a campaign offering holiday hacks and tips for reducing heartburn through a promotion with comedian and Daily Show correspondent Ronny Chieng. In the days leading up to Turkey Day, Chieng will answer "burning questions" about navigating in-person gatherings and achieving heartburn relief over Twitter:
Fired up to share that I'm joining TUMS this Thanksgiving to bring you the relief you didn't know you needed!

Tweet your burning questions @TUMSofficial Nov. 23-25 and I'll respond with #TUMSWorthyHolidayHacks that'll help you get through any ups & downs like a champ. #ad pic.twitter.com/0OjcUiZsrX

— Ronny Chieng (@ronnychieng) November 15, 2021
"They say laughter is the best medicine, and I'm excited to team up with TUMS to provide some relief to anyone who needs it this Thanksgiving, and maybe even a helpful hint or two," Chieng said in a press release. "Nothing brings people together like food and fun, and after a couple holidays spent apart, let's make this holiday season the most enjoyable one yet."
"Any holiday season is full of #TUMSworthy moments, or moments that are worth the burn, but after a few years where the holidays have looked very different for many, the anticipation and expectations are higher than ever," said TUMS director Amy Sharon. "Even when things inevitably don't go as planned, we will be there with the relief Americans need to keep the festivities going and the laughs coming so they can enjoy their holidays to the fullest."
TUMS' partnership with Chieng demonstrates how a brand's messaging can smartly deploy humor to insert itself into conversations around larger seasonal themes. It's worth noting that the hashtag shared by Sharon and the hashtag used in the campaign are different. This can create confusion among audiences, and it makes a case for mentioning one hashtag consistently in your messaging.
Sesame Street highlights approach to representation with first Asian American Muppet
Sesame Street will make history when it introduces Ji-Young, the first Asian American Muppet, during a Thanksgiving Day special. Ji-Young is a Korean American character whose passions include skateboarding and playing the electric guitar. The character's puppeteer, Korean American Kathleen Kim, said that the opportunity to shape Ji-Young's character highlighted how the Sesame Street approached its messaging around representation.
"I feel like I have a lot of weight that maybe I'm putting on myself to teach these lessons and to be this representative that I did not have as a kid," Kim said. But fellow puppeteer Leslie Carrara-Rudolph — who performs Abby Cadabby — reminded her, "It's not about us … It's about this message." For Kim, it was crucial that Ji-Young not be "generically pan-Asian." "Because that's something that all Asian Americans have experienced. They kind of want to lump us into this monolithic 'Asian,'" Kim said. "So it was very important that she was specifically Korean American, not just like, generically Korean, but she was born here."

Ji-Young's existence is the culmination of a lot of discussions after the events of 2020 — George Floyd's death and anti-Asian hate incidents. Like a lot of companies, "Sesame Street" reflected on how it could "meet the moment," said Kay Wilson Stallings, executive vice-president of Creative and Production for Sesame Workshop, the nonprofit organization behind "Sesame Street." "When we knew we were going to be doing this work that was going to focus on the Asian and Pacific Islanders experience, we of course knew we needed to create an Asian muppet as well," Stallings said.

These newer muppets — their personalities and their looks — were remarkably constructed in a matter of a months. The process normally takes at least a couple of years. There are outside experts and a cross-section of employees known as the "culture trust" who weigh in on every aspect of a new Muppet, Stallings said.
Why it matters:
Sesame Street's messaging around Ji-Young echoes how the show uses characters and plot as a springboard for having larger cultural conversations with kids. Puppeteer Kim's inclusion in Ji-Young's creation illustrates how you can avoid treating a diverse group as a monolith by encouraging your employees to share their own lived experiences.
Stallings' explanation of Sesame Street's "culture trust" also shows how strategic communications among internal and external partners can accelerate the turnaround of your DE&I communications.
MEASURED THOUGHTS
 A new study from Pew Research found that 69% of U.S. Twitter users get news from the platform. Just 8% of Twitter users consider it their most important news source, however, while 59% consider Twitter important but not paramount.
Among Twitter's news consumers, 60% have some amount of trust in the accuracy of the news, but only 7% have a great deal of trust.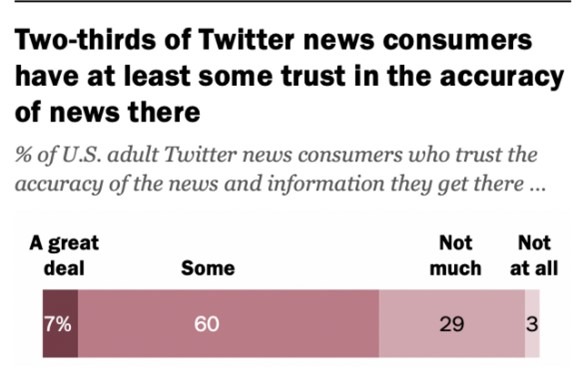 Courtesy of Pew Research
These numbers support the idea that Twitter is a reasonable place to break news about your organization. They also suggest that your company announcements should not live and die in Twitter copy alone. Instead, try to link to relevant media coverage or a company landing page in your Twitter posts to give your messaging more credibility.
Announcing the PR Daily Leadership Network
PR Daily is launching the PR Daily Leadership Network, a unique membership group from Ragan Communications offering peer-to-peer advisory and team training along with a helpful slate of resources and events to help public relations professionals break through the noise, increase their visibility and forge meaningful connections.
The network provides daily insights and coverage on a range of topics including media relations, social media, measurement, DE&I, branding, thought leadership and crisis communications.
"The fast pace of change coupled with the demand on public relations professionals to protect and sometimes defend their company's reputation make it imperative for leaders to tap into the wisdom of other communicators and continue to learn and grow," says Diane Schwartz, CEO of Ragan Communications. "The PR Daily Leadership Network provides the answers but also encourages members to question the status quo and push for positive change."
Visit leadership.prdaily.com to learn more.
TACTICALLY SPEAKING
Oil company Shell announced that it will move its headquarters from the Netherlands to the U.K., dropping "Royal Dutch" from its name and simplifying its share structure to create a structure that helps the company fulfill its carbon reduction initiatives.
"At a time of unprecedented change for the industry, it's even more important that we have an increased ability to accelerate the transition to a lower-carbon global energy system," board chairman Andrew MacKenzie said in a statement. "A simpler structure will enable Shell to speed up the delivery of its Powering Progress strategy, while creating value for our shareholders, customers and wider society."

Shell is under court order to bring greenhouse gas emissions 45 percent lower than 2019 levels by 2030 in alignment with the Paris climate accord. Shell spokeswoman Natalie Gunnell told The Washington Post via email that the company's plan "will have no impact on legal proceedings relating to the climate ruling or any other legal proceedings currently in progress in The Netherlands." She added that the company has committed to halving its emissions by 2030 compared to its 2016 levels, and has incorporated those targets into its 2022 business plan.
By framing the restructure around meeting its sustainability goals, Shell's explanation of its decision proposes more questions than it offers answers. MacKenzie's assurance that this move will not impact its cooperation with a court order to reduce its emissions is light on details. He also fails to explain how, exactly, a simplified structure will encourage sustainability. This statement emphasizes the hazards of tying your corporate messaging to sustainability efforts prematurely, without specifics or receipts.
Google defends AI ethics amid plans to bid on Pentagon contact
Google executives told employees during a companywide meeting that it will bid on a Pentagon cloud computing contract for the military.
The execs assured employees that such a contact would not conflict with its principles for how artificial intelligence technology should be ethically used. This decision reverses the company's 2018 position to not work with the Defense Department because such a contract would go against its AI principles. That prior decision was reached, and AI principles were established, after a company uproar.
Google said that the new version of the contract, called Joint Warfighting Cloud Capability (J.W.C.C), is segmented in a way that allows the company to work on it without violating its ban on weapons.
The exact scope of the work is still unclear because the government has not submitted a formal request for proposal. While it has not been invited to bid, Google has said it is interested. In a blog post published the same day as the meeting, Thomas Kurian, who oversees the company's cloud unit, wrote: "If we are invited to be part of the J.W.C.C. contract, we will absolutely bid."

At the meeting, Mr. Kurian said there are many areas where Google's capabilities and expertise can be applied "with no conflict to Google's A.I. principles. We have governance processes that provide guidance and oversight into what A.I. products we will offer and what custom A.I. projects we will and we will not pursue, and we will follow those governance processes," he said.

"We understand that not every Googler will agree with this decision, but we believe Google Cloud should seek to serve the government where it is capable of doing so and where the work meets Google's A.I. principles and our company's values."
What it means:
Google's publication of a blogpost about alongside its companywide meeting demonstrates the company's understanding that employee communications are seldom only internal. Craft content for your brand newsroom that lets external stakeholders know about your internal discussions immediately after employees are notified. This will help you retain control of the narrative, and prevent employees from venting about controversial topics before the company gets a chance to make its positions known.
COMMENT
One Response to "Sesame Street introduces first Asian American Muppet, few Twitter users consider it to be the most trustworthy news source, and Google defends Pentagon cloud contract"
Ronald N Levy

says:

Google's superb PR people can increase Google's PR success still further by announcing what Google wants to do for the Pentagon: (1) help protect American lives by using Google's cloud computing efficiency, (2) help save taxpayer dollars with Google's efficiency, and (3) set an example by holding high the AI morality principles of Google's people.