Shell responds to accusations of ESG failure, YouTube CEO takes a stance on abortion rights and how Americans think about being 'back to normal' post-pandemic
Also: The head coach of the Golden State Warriors dedicated his press conference to voicing his anger and frustration over gun control laws.
Hello, communicators:
Golden State Warriors Head Coach Steve Kerr took on U.S. senators last night during an NBA press conference where he decried the lack of action on gun control following the latest mass shooting in the U.S.
At least 19 children and two schoolteachers have died after a gunman opened fire at an elementary school in Uvalde, Texas Tuesday.
Steve Kerr on today's tragic shooting in Uvalde, Texas. pic.twitter.com/lsJ8RzPcmC

— Golden State Warriors (@warriors) May 24, 2022
Kerr was visibly upset, pounding his fists on the table multiple times. It's a good reminder to PR pros that if business leaders are going to speak out on a social issue, encourage them to do it with humanity and passion.
Here are today's other top stories:
Shell responds to resignation of consultant over ESG dispute
Operational safety consultant Caroline Dennett announced her resignation from oil giant Shell this week with an accusation that the company is "failing on a massive planetary scale" in its ESG commitments.
Shell has promised to reach net zero emissions in less than 30 years and touts its support for climate action in press releases and advertising. But the company continues to expand new drilling that all but ensures the world will barrel past 2 degrees Celsius of warming.

[Dennett's] letter of resignation stated, "Shell is operating beyond the design limits of our planetary systems. Shell is not implementing steps to mitigate the known risks. Shell is not putting environmental safety before production."
Dennett also shared the below video, in which she outlines her qualms about the company:
In a statement to Vox, a Shell spokesperson said, "Be in no doubt, we are determined to deliver on our global strategy to be a net zero company by 2050 and thousands of our people are working hard to achieve this. We're already investing billions of dollars in low-carbon energy, although the world will still need oil and gas for decades to come in sectors that can't be easily decarbonized."
What it means: Shell's statement takes issue with Dennett's overall complaints about the company but fails to address specific issues that she says are irreparably harming the environment. It's a good reminder to PR pros that representing companies whose modus operandi is bad for the earth can be tricky.
---
MEASURED THOUGHTS
New data from Gallup shows half of Americans think their lives will never "get back to normal" following the COVID-19 pandemic.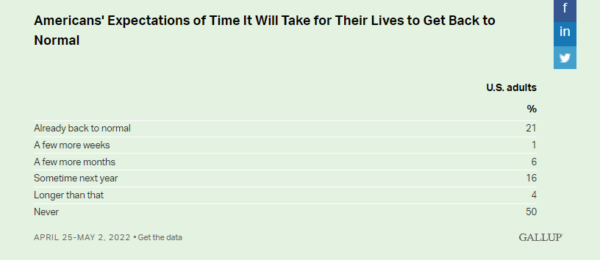 However, nearly a quarter (21%) said their lives are already back to normal, with the next-largest polling group (16%) saying they think life will return to business-as-usual sometime next year.
It's a good reminder to PR pros that some people's lives have been irreparably changed by the pandemic — your COVID-19 messaging, whatever it may be, should be sensitive to that fact.
Read more from the Gallup report here.
YouTube CEO takes a stance on Roe v. Wade, abortion rights
Speaking at the World Economic Forum in Davos, Switzerland this week, YouTube CEO Susan Wojcicki made her stance on abortion rights very clear.
"My stance is that women should have a choice when they become a mother," she said. "I believe that reproductive rights are human rights, and to take away rights and law that we have had for almost 50 years will be a setback. That's my personal view."
Wojcicki also addressed how any changes to Roe would affect YouTube employees, saying, "Because it's an early draft, we have spoken internally at a high level but are still waiting to see the language and implications, and then we will take necessary steps to try to comply with it but also to support our employees."
Many companies have changed their health benefits to include coverage of travel for medical treatment, including abortion care and transgender health care.
However, she said, YouTube would continue to allow diverse points of view to be expressed on its platform.
"Running a company that focuses on free speech, we want to make sure that everyone has the opportunity to voice their point of view provided they meet our community guidelines," she said.
Why it matters: Wojcicki's statement makes her personal views clear while also acknowledging the different views that might be held by others within a company as large as YouTube.  It's a good example of how CEOs can express their personal opinions while the companies they run remain effectively neutral on an issue.
COMMENT