Dad jokes and 'sectional positions': How social media is helping update a legacy brand
Social listening and a willingness to experiment leads Havertys social campaigns.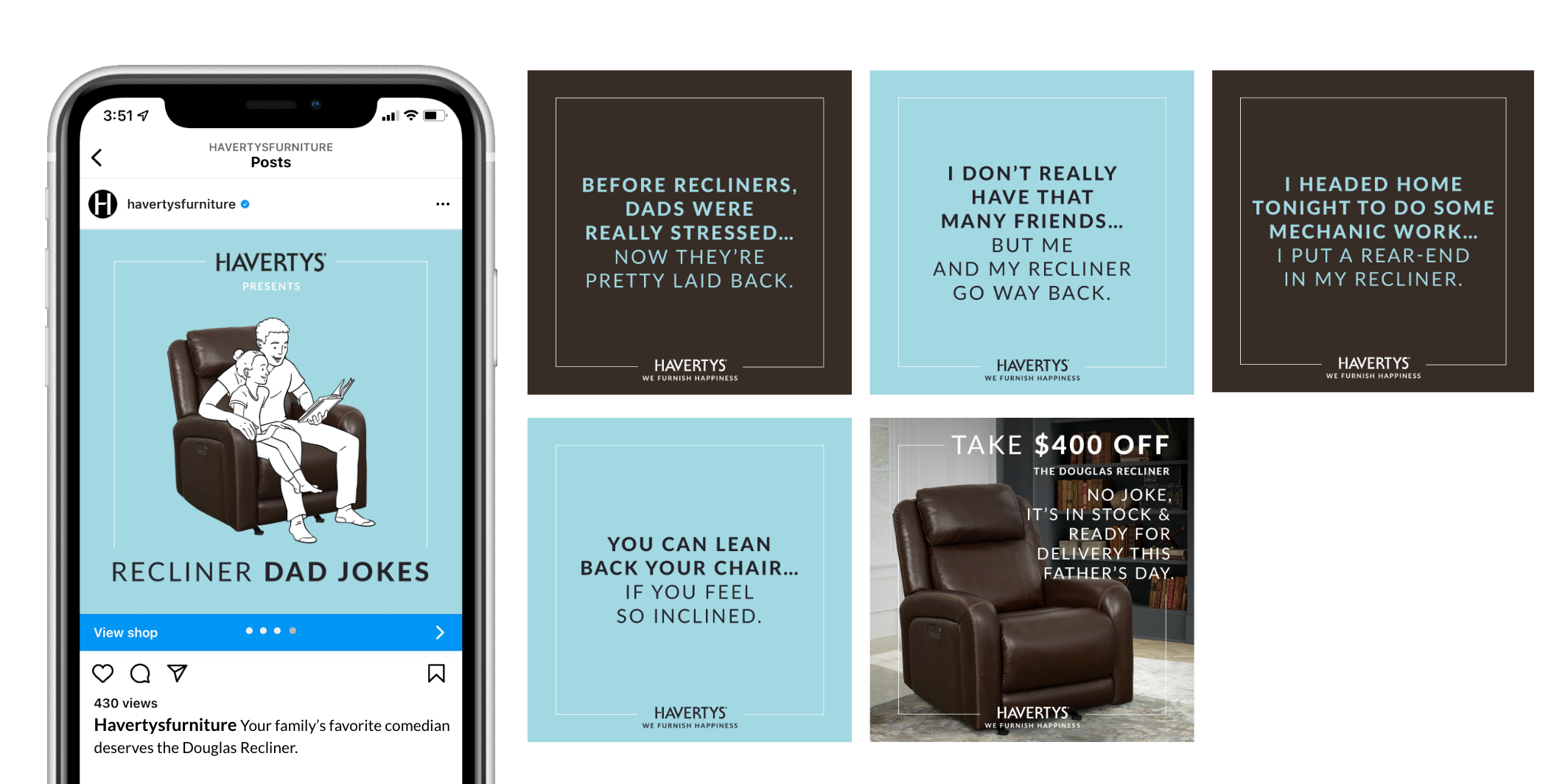 Before recliners, dads were really stressed. Now they're pretty laid back.
Just because there's plenty of room doesn't mean you need to use it. Cluster up to create the cuddle huddle.
Havertys, a regional furniture store across the South and Central U.S., has been selling places to sit since 1885. But some groan-worthy dad jokes — and a few double entendres about sectional couches – are helping bring the brand up to date on social media, with help from EP+Co.
The agency, headquartered in New York and Greenville, South Carolina, uses their social media team to identify cultural moments and help brands inject themselves into conversations in relevant, timely ways.
Their latest work revolves around the king of the recliner: dads. And what better way to celebrate Father's Day than with terrible, terrible puns?
The idea was borne out of social listening. Even beyond Father's Day, dads have become a meme across social media, like gifting dads-to-be New Balance shoes and jean shorts to welcome them into fatherhood. EP+Co saw an opportunity to be part of the conversation in a natural way – and to give some love to their recliners.
Generating dad jokes came naturally for Lance Ford, SVP and creative director for EP+Co.
"Out of a shop of hundreds of employees, I am the daddest of the dads because I have five kids," Ford said with a laugh. Together with his team, parents all, they developed a series of cards for use across paid social (mostly Facebook and Instagram) and email. They cast a broad net of both dads themselves and those who love them and want to get them a fitting throne.
But this wasn't the first time the team had used this tactic for Havertys. For Valentine's Day, they put forward a slightly edgier campaign on "Sectional Positions."
Mind out of the gutter. These are all the ways you can sit on a sectional sofa, of course. And the social cards themselves were very much G-rated.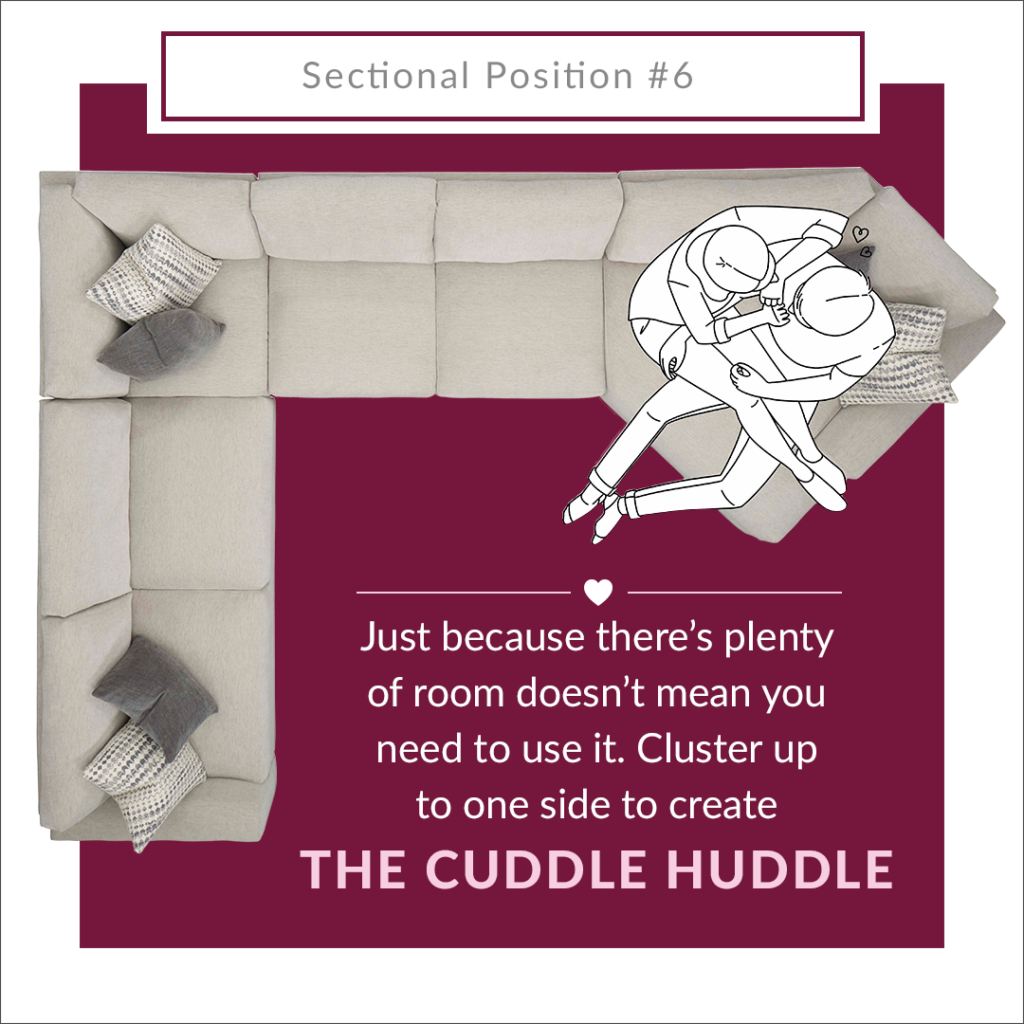 To get a legacy brand to agree to the campaign, Ford led with strategy.
"My team in general is meant to kind of help spur them along in social media, and kind of make them relevant in that space, as much as we can. And generally, that means a slightly younger target."
The strategy paid off. Not only did the campaign see click-through rate nearly double the benchmark, but they were also able to provide their client with valuable information on what kind of sectionals viewers most engaged with. Each social card featured a different sofa with its own tracking apparatus. So now Havertys has helpful information over which styles most appeal to these coveted audiences.
What you can learn from this campaign
If you're working with a legacy brand that's hoping to try some new things, especially on social media, there are a few things Ford suggests.
The first, and most key in any situation, is trust.
"Trust is a big one," Ford said, "with wanting to be open to exposing yourself to a potential new audience, with creativity on a social platform that maybe you have haven't done a lot of work."
Make sure you've done your due diligence and that whatever you suggest is keeping in line with the organization's overall brand voice. Even if you're pushing forward, make sure you're being true to who the brand is.
Also make sure your social listening encompasses both planned events – like Valentine's Day or Father's Day — and broader cultural moments, whether that's the NBA Finals or the Tony's . Be ready to find those opportunities and nudge your client with a creative idea.
And prep them to move fast.
"We need to have a good, tight knit relationship with our brand team, but also the clients to be able to move quickly on some of these," Ford explained.
And of course, make sure you only butt in where you belong.
"We never want to force our way in and have one of the 'Hello, fellow kids' moments, if you will," Ford said. "But it needs to be authentic."
COMMENT