SpaceX fires employees who criticized Musk, USA Today responds to reporter dishonesty and top social platforms for small businesses
Also: Ryanair achieves relatability, humor on TikTok.
Hello, communicators:
It's tough to make fun of your own brand on social media and not come across as disingenuous or like you're trying too hard to be relatable.
European airline company Ryanair, however, has perfected the art.
Blending TikTok trends with self-burns about the company's infamously low-cost, no-frills flights, the brand has garnered more than 1.6 million followers with short form videos like this one:
"YOU'RE MY FAVE AIRLINE!!!" text on the video reads as the audio says, "I love you."
"Yeah, cool, I love you too," a different voice says with exasperation.
The text on the screen changes to "I'd love a free drink and a window seat" as the audio says, "I want to stay with you, in your room, in your bed."
"Okay, well, that's not going to happen," the audio concludes.
It's all about the power of the trend and a company's willingness to take a risk on social media.
Here are today's other top stories:
SpaceX reportedly fired employees who spoke out about Elon Musk
According to reporting from The New York Times, Elon Musk's company SpaceX has fired a number of employees who were involved in the writing and distribution of an open letter criticizing Musk's behavior.
The Verge first reported that the letter, which was sent to SpaceX executives, raised concerns about how his behavior was negatively affecting the reputation of the company:
"Elon's behavior in the public sphere is a frequent source of distraction and embarrassment for us, particularly in recent weeks," the letter states. "As our CEO and most prominent spokesperson, Elon is seen as the face of SpaceX — every Tweet that Elon sends is a de facto public statement by the company. It is critical to make clear to our teams and to our potential talent pool that his messaging does not reflect our work, our mission, or our values."
SpaceX President and COO Gwynne Shotwell responded with an internal email to employees that shared the firing of the workers who were involved.
"The letter, solicitations and general process made employees feel uncomfortable, intimidated and bullied, and/or angry because the letter pressured them to sign onto something that did not reflect their views," Shotwell wrote in the email. "We have too much critical work to accomplish and no need for this kind of overreaching activism."
Why it matters: Shotwell's internal email also serves as a PR statement in which she rebukes the idea that the letter was indicative of the majority of employees' opinions; rather, that it was the work of a few employees who sought to pressure SpaceX administration.
However, some public discourse indicates that audiences believe the move directly contradicts Musk's views on "free speech," which could serve to erode trust in him and his companies.
---
MEASURED THOUGHTS
A new report from Hello Alice pegs TikTok as the top platform for small- and medium-sized businesses looking to be creative on social media.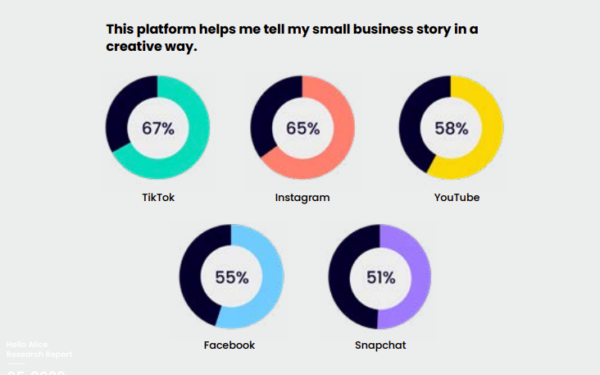 Sixty-seven percent of polled business owners named TikTok as a platform that helps them to tell their brand story in a creative way, followed by Instagram (65%), YouTube (58%), Facebook (55%) and Snapchat (51%).
"Storytelling is a highly effective marketing tool, especially for small businesses. It's an opportunity to not simply promote their products and services, but to showcase their values, personality, and creativity," the report says. "Recent trends have shown that consumers are seeking this more personalized content from brands.³ Consequently, small businesses should leverage marketing platforms that enable them to tell their unique stories in an innovative, engaging way to take advantage of this consumer shift."
Read more from the Hello Alice report here.
USA Today removes reporter's stories after quote fabrications
USA Today announced this week it was removing 23 stories from its website after an internal audit found evidence that a reporter had fabricated quotes and sources.
The news outlet shared a lengthy statement about the move, including that the reporter, Gabriela Miranda, had resigned.
"The audit revealed that some individuals quoted were not affiliated with the organizations claimed and appeared to be fabricated," the statement reads. "The existence of other individuals quoted could not be independently verified. In addition, some stories included quotes that should have been credited to others."
USA Today also shared the steps it would be taking to "reinforce and strengthen [its] reporting and editing diligence and processes," including improving the reader complaint process, ensuring that reporters take steps to verify source information and applying additional scrutiny to sources found through social media or email.
Why it matters: Damage control after an event that could seriously mar your organization's reputation is critical. USA Today quickly released a statement that was clear and comprehensive, avoiding any claim that it took too long to respond.
Additionally, by providing the steps it will take to avoid such events in the future, the news outlet is able to start to rebuild the trust it's lost — a crucial move, considering studies show the public is less trusting of journalists and news outlets.
COMMENT